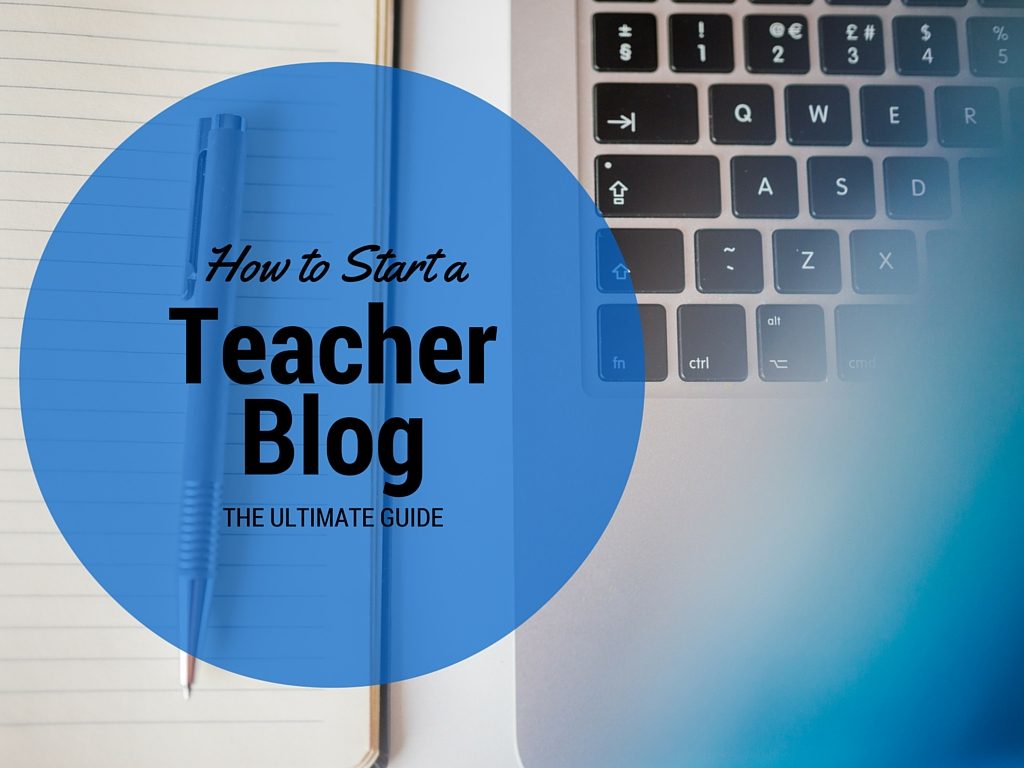 If you're a teacher, you should strongly consider becoming a blogger as well. Why? Because starting a teacher blog is an excellent way to share what you've learned with other educators, disseminate information to parents and students, and maybe even make a little money in the process (ever heard of a "teacherpreneur?").
Of course, if you've never created your own website before, starting a teaching blog might sound difficult…but it's not. Trust me–I was a teacher for 11 years, and I started multiple blogs with zero experience. Of course, I made a few mistakes along the way, because I didn't really have anyone to help me out.
But it'll be different for you because you have my guide to starting a teacher blog that will help you avoid all the mistakes I made.
The process is quick and painless, overall. Here's a quick outline of each step, and I'll go into detail on each one below.
Simple Steps to Start a Teacher Blog
Get your domain and hosting.

Setup and design your teacher blog.

Get to blogging!
There, simple, right? Let's take a closer look.
How to Get Your Own Domain Name and Hosting for Your Teacher Blog
First things first. You have to have your own web address. And here's where I made my initial mistake the first time I did this. A lot of teachers will go somewhere like WordPress.com and get their own URL and hosting for free. But they don't realize that this can cause some problems that can hinder the success of their teacher blog:
The free service will show its own ads on your teacher blog.

I ran into this one when my students were using my site during class to go through a webquest. The blog post I made to aggregate all the links randomly had an ad at the bottom–and the ad wasn't exactly appropriate. Turns out the free sites plugged in ads at the bottom of the blog posts, and I couldn't control it.

You won't get your own .com.

Want your own custom web address? A free website won't allow it. See, while you try to get "

www.myteacherblog.com

," instead you'll end up with something like "www.myteacherblog.blogspot.com." Not very clean looking, nor very professional looking. And on top of that, it's difficult for students and parents to remember your super long URL.

They own your site.

When you have a free teacher blog hosted by WordPress or Blogspot site, they own your site and your content. Do I really need to explain this one?

You won't make a dime off it.

You have great content. Maybe you even wrote an ebook for teachers. And now it's time to supplement that teacher income with some money on the side from your teacher blog. Except, you can't. Monetizing a free-hosted site is against policy. Again, they want to make money off their own ads.

You probably won't pop up in Google.

Probably the best way to get traffic to your teacher blog is Google. Except your Weebly site or WordPress.com site likely won't pop up in search results. They aren't Google-friendly and rarely are optimized properly for the search engines.
Instead, you need to get your own self-hosted site. Sound tricky or expensive? It's not at all. In fact, it's really cheap and extremely easy. Let's take a look at the expenses.
You'll only pay about $25-30 a year for your hosting. Hosting basically allows you to rent a space on the internet to park your site.
You'll pay about $10 or so a year for your own .com. Right now iPage hosting is running a special where you'll get your own .com for free! All you have to do is use their hosting.
Those are the only costs to start a teacher blog that you own 100%. That's it!
How to Easily Start Your Own Teacher Blog
Now let's talk about how easy it is to start a teacher blog with iPage. First of all, why iPage hosting?
Customer service if great

You can get started easily with 1 click WordPress installation

Plenty of free templates to make your teacher blog look great

Your own FREE .com!
To get started, simply head over to iPage, choose your domain name, and sign up. Once you're signed up, you can click to install WordPress, and get started designing your teacher blog. Need some help with that?
How to Design Your Teaching Blog with WordPress
Once you have WordPress installed on your site, it's time to make your site look great. Login to your WordPress dashboard (yourteacherblog.com/wp-admin) and look at the left sidebar. The first thing you want to do is go to "appearance" and look through the free themes. Choose one and activate it (it's as easy as a few clicks). Now a few tips for choosing a theme for your teacher blog…
How to choose a theme for your teacher blog:
Filter by responsive themes. You want to make sure your site looks good on mobile.
Find a theme with lots of options. The more basic themes are not as customizable.
Keep it simple. When it comes to a teacher blog, simplicity is key–don't choose anything that could distract from content or make it difficult to navigate.
Once you have your theme installed (which is as easy as a click or two), it's time to customize your teacher blog. Under the appearance tab, there are a bunch of different options, one of which is called "customize." Here you can add logos, create your menus, and more.
For more info on themes, check out our favorite themes.
How to Fill Out the Pages on Your Teacher Blog
Once you have your theme, it's time to build the initial pages for your site. Now, your homepage will end up being a collection of all the blog posts you've created. But you also need some standard pages in your menu to legitimize your teacher blog. Common pages to add include:
About–Here's where you can tell the world about yourself. How long have you taught? What are your specialties? What makes you an amazing teacher?
Contact–You never know when a parent or fellow teacher will want to get a hold of you. Make sure to include your contact info here. You might even use a WordPress plugin (more on that later) to include a fillable form here for people to email by.
Disclosure–Are you planning on making money off of your teacher blog? If so, you need a page that fully discloses this. It's crucial to keep it all above board.
You can create these pages under the pages tab in the left sidebar of your dashboard. You can then link them in your menu under appearance>menus.
What Plugins Do I Need for My Teacher Blog?
One of the coolest things about using WordPress for your teacher blog is that there are endless free plugins that help you add neat features to your site. And finding and installing them is just as easy as it was to find and install a theme. Here are a few plugins I recommend to get you started:
Start Your Teaching Blog Now
If you're a teacher, it's time you started a teacher blog. Click here to get your own domain name now! Once you have it all set up, don't forget to check out our checklist for how to compose a great blog post.
Have questions? Leave a comment below, and I'll get back to you to help you out!