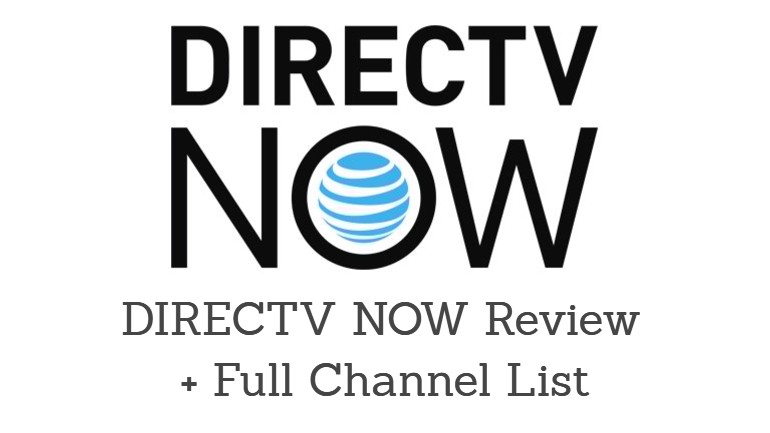 In this day and age, we are offered many options for watching TV. Just a few years ago, having cable TV was a necessity if you wanted to watch TV – today, that's simply not the case. Live streaming services like DIRECTV NOW and Sling TV are changing the game, making it worlds easier to watch our favorite shows without spending a fortune. In this guide, we'll go over a detailed DIRECTV NOW review, and list out the full DIRECTV NOW channels list to help you decide if you this service is for you.
DIRECTV NOW Review: At a Glance
What is DIRECTV NOW? Basically, it's a service that lets you watch live TV without cable TV. Priced at just $40 a month, it's a very affordable option. You can use it on all your favorite devices, to watch live sports, TV shows, news and more. Here are the basics:
Starts at $40 a month
No contract required
65+ channels in the base package, 120+ available in total
4 different DIRECTV NOW packages available
Watch live TV, news, movies, sports and more – without cable!
Access on-demand streaming from many networks
Works on most devices – smartphones, streaming players & more
Key channels include AMC, CNN, FOX News, ESPN, TNT, TBS, HGTV & more
Regional sports channels and broadcast networks available in some areas
The DIRECTV NOW channels list is quite impressive, and truly offers something for the whole family. And since the DIRECTV NOW cost is just $40 a month (compared to the average cable cost of over $100/month), it's a much more affordable option than cable. Plus, it's way more flexible because it's non-contract.
What We Love About DIRECTV NOW
Several DIRECTV NOW reviews we looked at were just a huge wall of text. To help simplify, we've broken things down into a simple DIRECTV NOW pros and cons list. Here's what we love:
Excellent base package channel selection
Affordable at $40 a month
No contract required
HD streaming quality
Premium channels available (HBO, Showtime, etc.) – HBO is only $5 a month extra!
Works on most devices
Apps work well and are easy to use
The free 7-day trial is a great way to test things out
What We Don't Love About DIRECTV NOW
While DIRECTV NOW is a great service, we can't honestly say that it's perfect. Here are some downsides to the service:
There are rumors of another price hike in 2019 (they already increased prices from $35 to $40/month)
DIRECTV NOW no longer supports ESPN3 access
For regional sports channels, you need the $55/month package
Keep in mind that if you read older DIRECTV NOW reviews, you might find complaints about glitches, lack of Roku support, etc. It's true that DIRECTV NOW got off to a rocky start, but the service has evolved significantly since its November 2016 launch date, and these issues have all been addressed. Our DIRECTV NOW review is fully up to date as of the date of publication.
Is DIRECTV NOW Worth It?
That's a question that only you can answer. Consider the DIRECTV NOW pros and cons listed above, and check out the DIRECTV NOW channels list below to advise your decision. In our opinion, however, $40 a month for a ton of great channels is a solid deal.
One important consideration is that you don't necessarily have to be 100% committed to the service before trying it out. There's a free 7-day trial, and even after that you pay month to month, and can cancel any time. Click here to try a free 7-day trial.
DIRECTV NOW Channels List 2019
There are several different DIRECTV NOW packages available, ranging from 60+ channels to over 120. The full DIRECTV NOW channel selection can be found below.
Note: you can try a free 7-day trial of ANY of these packages.
Live a Little – $40 a month – 65+ channels – featured channels pictured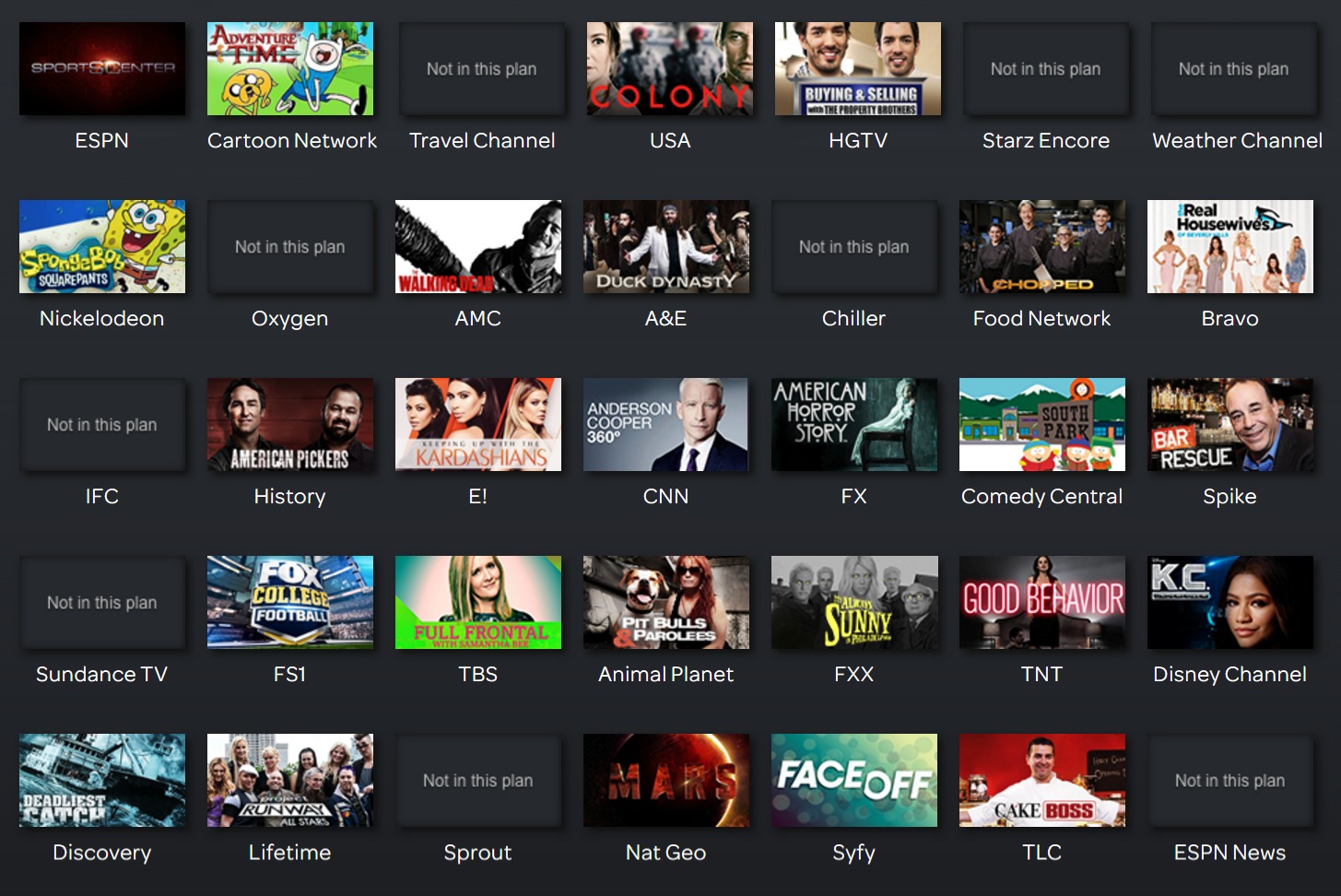 DIRECTV NOW channels in Live a Little package:
Local channels (NBC, FOX, CBS) in select areas, plus A&E Network, ABC, AccuWeather, AMC, Animal Planet, Audience, AXS TV, Baby First, BBC America, BET, Bloomberg TV, Bravo, C-SPAN, C-SPAN2, Cartoon Network, CBS, CMT, CNBC, CNN, Comedy Central, CW, Discovery, Disney Channel, Disney Junior, Disney XD, E! Now, ESPN, ESPN2, Food Network, Fox, Fox Business Network, Fox News Channel, FOX Sports 1, Freeform, FX, FXX, Galavision, Hallmark Channel, Hallmark Movies & Mysteries, HGTV, HISTORY, HLN, Investigation Discovery, Lifetime TV Shows & Movies, Motor Trend, MSNBC, MTV, MTV2, National Geographic Channel, NBC, NBCSN, Nick Jr., Nickelodeon/Nick at Nite, One American News, Paramount Network, REELZ, RFD-TV, SYFY, TBS, TCM, TeenNick, Telemundo, TLC, TNT, TruTV, TV Land, Univision USA Network, VH1, Viceland, WE tv
Best For: this package is best for folks who want the most budget-friendly option while still getting an excellent selection of channels.
Just Right – $55 a month – 80+ Channels – featured channels pictured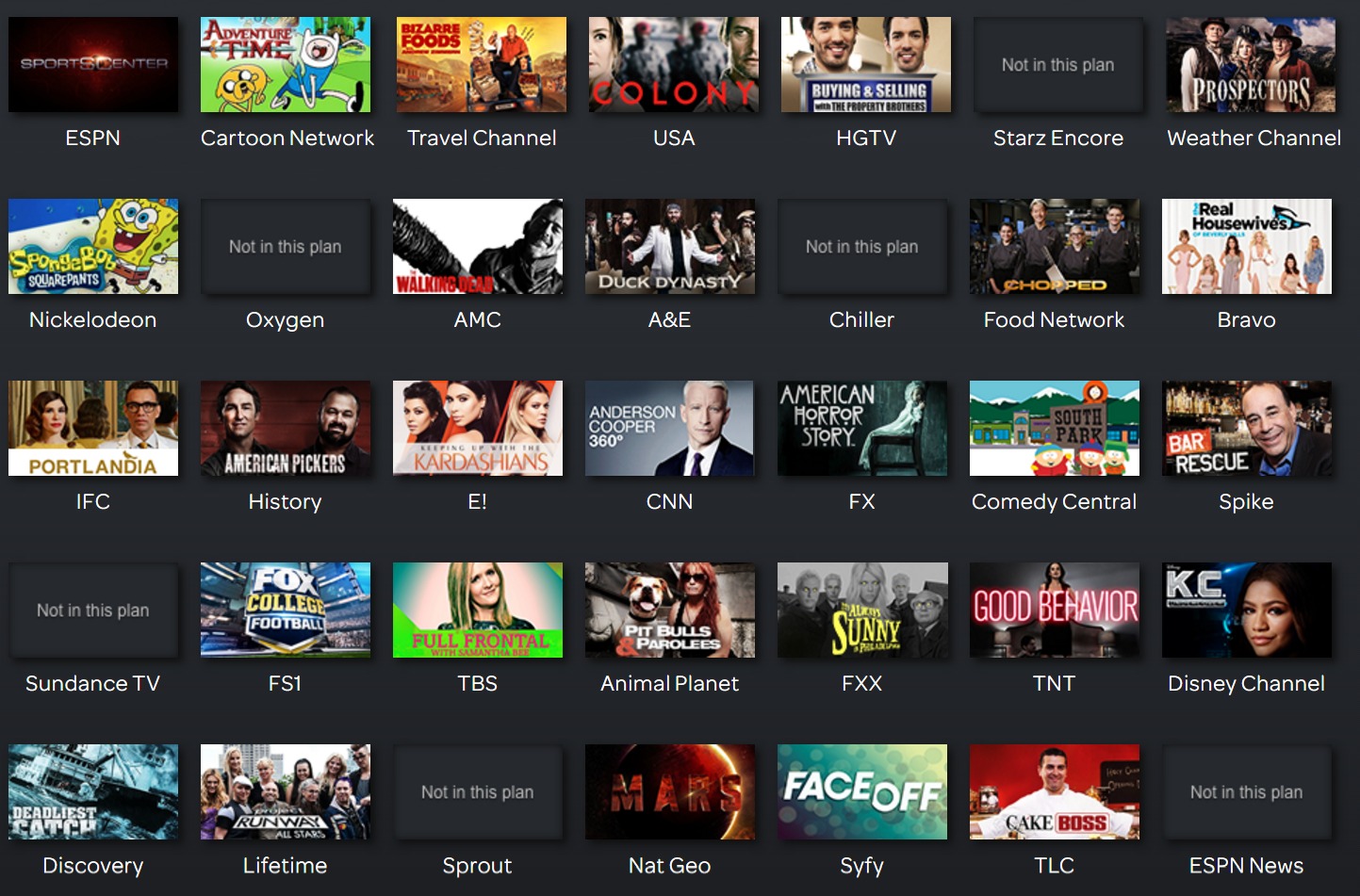 Includes everything in the previous package, plus regional sports networks, BTN, CNBC World, Comedy.TV, Cooking Channel, ESPNEWS, ESPNU, Fox Sports Prime Ticket, Fuse, Fusion, GSN, IFC, JusticeCentral.TV, LMN, Longhorn Network, MLB Network, NBC Sports Network, OWN, Oxygen, Science, SEC Network, Travel Channel, and Univision Mas.
Best For: this package is best for sports fans, as it adds regional sports networks, which can be very important for watching your local teams. It also adds many other sports networks, as well as entertainment networks.
Go Big – $65 a month – 100+ Channels – Featured Channels Pictured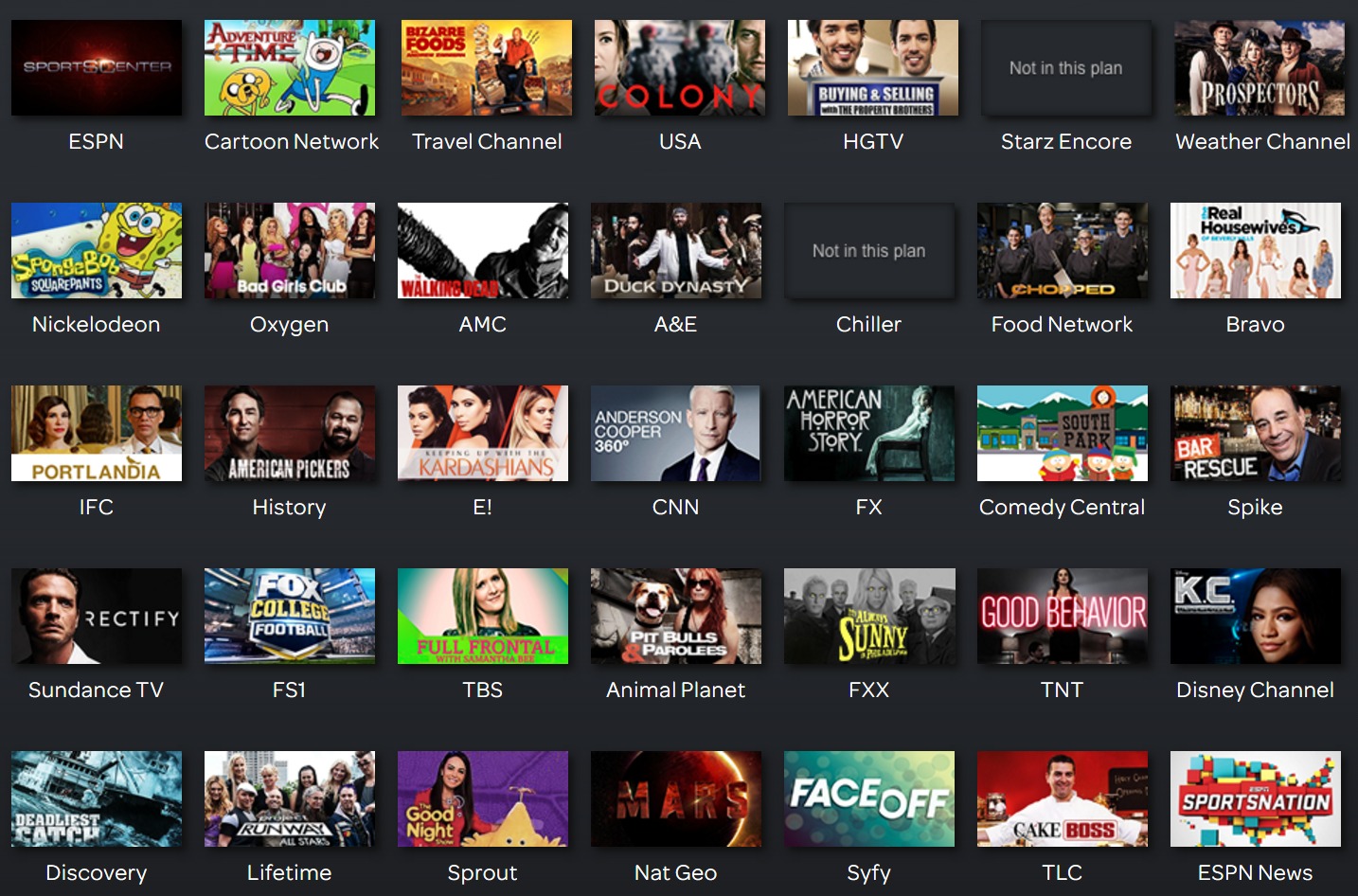 Includes everything in the previous packages, plus American Heroes, BBC World News, Centric, Destination America, Discovery Family, Discovery Life, DIY, Fox Sports 2, FXM, FYI, Golf Channel, LOGO, MTV Classic, Nat Geo Wild, NBA TV, NHL Network, Revolt, Sprout, Sundance TV, Tennis Channel, and TVG
Best For: this package is best for those craving ultimate selection. It adds a few niche sports networks like NBA TV, NHL Network and Golf Channel, plus key entertainment networks from Discovery, Nat Geo and more.
Gotta Have It – $75 a month – 120+ Channels – Featured Channels Pictured
Includes all networks from the previous packages, plus Boomerang, Chiller, Cloo, El Rey, Starz Encore, Univision Deportes, and more.
Best For: this package adds 8 networks from Starz Encore, which is great for movie buffs.
Premium Channels – Prices Vary 

HBO and Cinemax are $5 a month (a fantastic deal – HBO is usually $15 a month), while Starz is $8 a month and Showtime is also $8 a month.
How Does DIRECTV NOW Work?
DIRECTV NOW works over the internet, so you will need a solid internet connection to use it. Beyond that, you'll need a compatible device. DIRECTV NOW devices include:
Streaming devices like Roku, Apple TV, Chromecast, Amazon Fire TV, and more
Computers (web-browser)
Select smart TVs
Mobile devices from iOS and Android
To get started, simply sign up for DIRECTV NOW, download the app on your device(s), and tune in to your favorite channel. Whatever is airing on live TV is also airing on DIRECTV NOW. There's also an extensive on-demand library to explore.
How Does DIRECTV NOW Compare to the Competition?
DIRECTV NOW competitors include Sling TV, PlayStation Vue, fuboTV, and several others. When deciding if this is the right service for you, it's a good idea to see how the service stacks up:
In terms of channel selection, DIRECTV NOW shines. The basic package offers great coverage, while the larger packages round things out. There are a couple missing networks (such as NFL Network), but overall the DIRECTV NOW channels list is excellent.
In terms of features, DIRECTV NOW is fairly even since adding cloud DVR service.
In terms of price, DIRECTV NOW is in line with the competition for the most part. The DIRECTV NOW price starts at $40 a month, which is similar to fuboTV and PS Vue. Sling TV does start at a much-lower $25 a month, but that's only for 30 or so channels. DIRECTV NOW offers the best price on HBO by far, at $5 a month vs. the standard $15.
For more information, you can check out our fuboTV review, Sling TV review, and PlayStation Vue review. These are the main DIRECTV NOW competitors at this point.
DIRECTV NOW Review: Bottom Line
Overall, DIRECTV NOW is an excellent service and a great alternative to cable TV. It seems to be continually improving, as well, which is great to see. The DIRECTV NOW channels list is quite comprehensive, and we love that it's affordable and available without a contract.
Want to learn more? Click here to try a FREE 7-day trial!