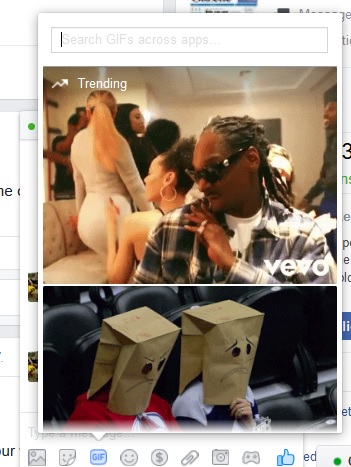 Given how many viral videos and memes are shared on Facebook every day, it's a little odd that the site has been so reluctant to embrace the simple GIF. Until this point, the files have been relegated to Messenger, absent from the news feed and comments section.
That's about to change though, as Facebook has confirmed they're working on the addition of a GIF button for comments.
It appears the feature will work much like it does in Messenger now, using some sort of search interface that lets users browse and select the one they want. Users still won't be able to post a GIF as a status (Facebook thinks that will somehow "clog up" news feeds), meaning they're restricted to only "reacting" to a post. But this addition could certainly pave the way for further expansion down the road.
Like all Facebook feature rollouts, the new button will be available to a small number of users first, and will be slowly expanded to a bigger base, helping keep bugs and glitches to a minimum. Testing is expected to begin as early as next week.
Of course, this isn't Facebook's first foray into the world of the GIF – the site has allowed them in limited fashion since 2015. But letting users comment with them shows just how far they've come. And given that other social media sites like Twitter have embraced them for quite a while now, it's surprising that Facebook took as long as it did.
"Everyone loves a good GIF and we know that people want to be able to use them in comments," Facebook said in a statement. "So we're about to start testing the ability to add GIFs to comments and we'll share more when we can, but for now we repeat that this is just a test."