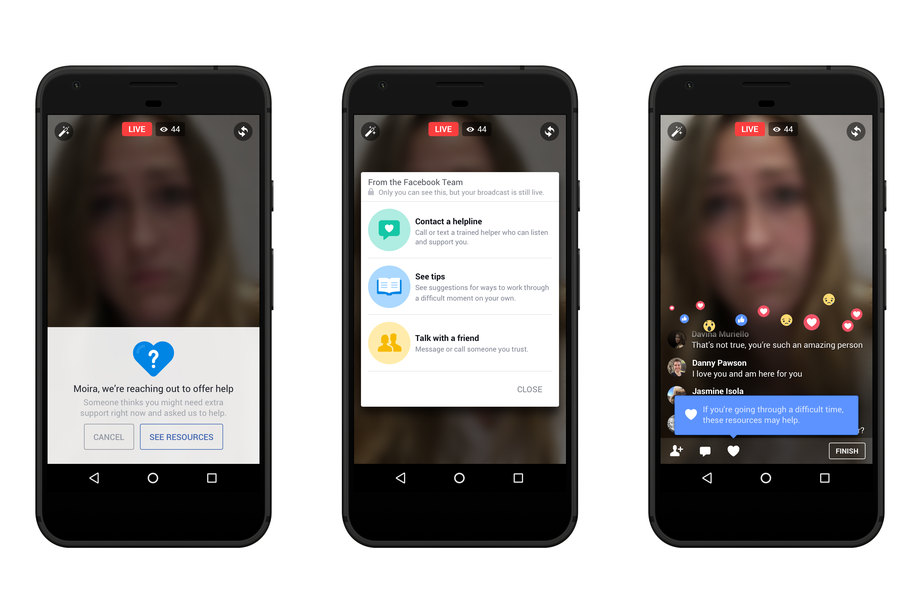 A disturbing trend of young people live streaming their suicide on social media is something Facebook hopes never happens again. While Facebook already uses artificial intelligence to help filer out offensive content in live video streams, the social network announced this week they're incorporating AI to increase their suicide prevention presence.
Facebook has several suicide prevention tools already in place, but now those tools are being brought to the site's Live and Messenger features.
In a blog post, the company said artificial intelligence will help detect users who may have suicidal tendencies. In addition, people watching a live video will now have the chance to reach out to a user directly or to report the video to Facebook, who would connect a person with support services. People watching a live video will now have the chance to click a "report" button and indicate someone is talking about suicide or self harm. The person sharing the live video would see contact information plus tips on their screen.
After a period of decline in the early and mid 90s, suicide rates have skyrocketed in young adults age 15 to 29. Suicide is now the second leading cause of death for people in that age group. And after several people used the Facebook live service to stream their suicides to an audience, the social network decided it was time to take action. Since Facebook is a popular outlet for people to share their feelings and vent or rant about their life, this is simply a way to reach people where they are – and when they're in need.
"Facebook is in a unique position — through friendships on the site — to help connect a person in distress with people who can support them," a blog post said. "It's part of our ongoing effort to help build a safe community on and off Facebook."