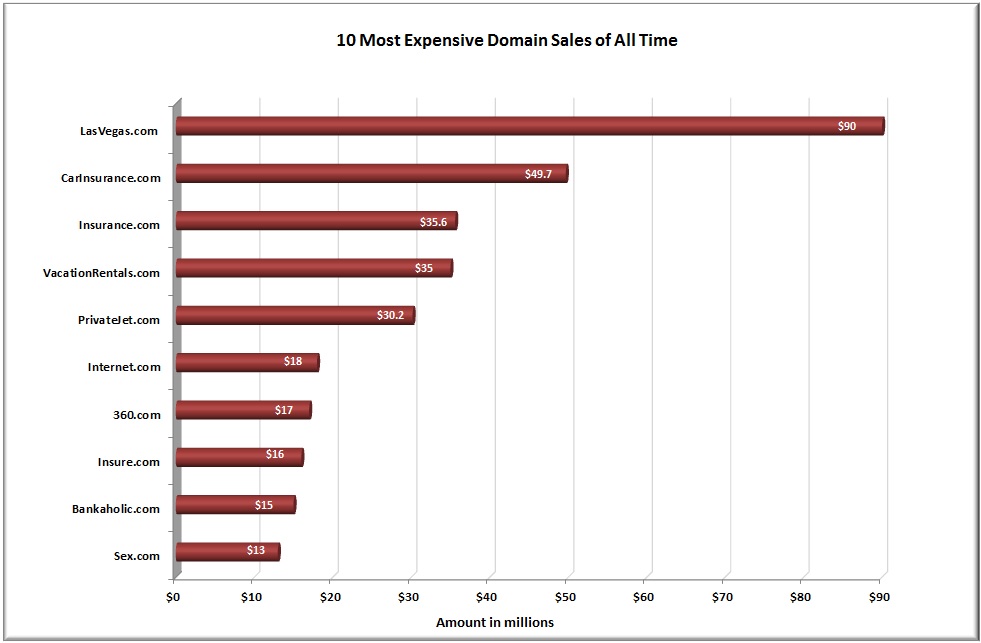 "20-years ago TODAY I saw something so big and so life changing that I just wanted to share it with the world."
These are the words of Rick Schwartz, published on his blog in December 2015.
Schwartz, also known as the Domain King, was one of the early pioneers of the internet. He hunted down domains for sale and later traded them to buyers with deep pockets.
"Domains ARE the real estate of the future. It was true 20 years ago and it is FACT today," Schwartz said.
Rick Schwartz knows what he's talking about. He has grossed over $20 million in domain sales. In some cases, he has turned $100 investments into million dollar profits. For example, in 2015 and 2016 Schwartz sold 989.com, 899.com, and 399.com for $2.3 Million. Domains he originally purchased for just $100 each.
In this article we examine the most expensive domain sales of all time. We also explore what can be learned from these and other domains for sale.
The Top 10 Domain Sales
#10 Sex.com
Domain Created: 1995
Sale Year: 2010
Sale Price: $13 million
Purchaser: Clover Holdings LTD
Appropriately, given its name, the sex.com domain name has a history of lies and scandal.
In 1995 Gary Kremen first registered sex.com with Network Solutions. At the time, Gary was busy building his new business, Match.com. The sex.com domain sat idle.
Stephen Michael Cohen, who had previously operated a membership site for swingers, had been eyeing the domain. He wasn't going to rest until he laid his hands on it. Cohen eventually acquired the site through fraudulent means.
Kremen responded by filing a law suit against Cohen. Kremen's lawsuit succeeded and he regained control of the domain.
Then, in 2006, Escom LLC purchased Sex.com. But Escom fell on troubling times and in 2010, the domain name was sold once again. This time it was auctioned on sedo.com.
On October 20, 2010, Clover Holdings LTD purchased sex.com for $13 million. Little is known about Clover Holdings, other than that it is an offshore holding company based in the Caribbean island of St. Vincent. In a 2011 interview with TechCrunch, the new owner of Sex.com predicted that the site would earn him "well into seven figures a year."
#9 Bankaholic.com
Domain Created: 2006
Sale Year: 2008
Sale Price: $15 million
Purchaser: Bankrate.com
Bankaholic.com has more modest beginnings. The domain name was originally registered by John Wu.
Wu turned Bankaholic into a financial blog. His site quickly climbed high in the search rankings for popular financial terms. This attracted the attention of Bankrate.com, who purchased the domain for $15 million.
Bankrate.com is a public company. They own a variety of websites, including creditcard.com and caring.com. In 2015, Bankrate.com reported revenue of $371 million.
#8 Insure.com
Domain Created: 1994
Sale Year: 2008
Sale Price: $16 million
Purchaser: Quinstreet
Media company, Quinstreet is not afraid to invest heavily in desirable domain names. Quinstreet is responsible for four of the most expensive domain sales in history. The first of these is Insure.com.
Quinstreet is an online performance marketing company. They generate leads in select industries then sell them to other organizations. Lead generation can be a lucrative business. In 2015, Quinstreet reported revenue of $282 million.
#7 360.com
Domain Created: 2000
Sale Year: 2015
Sale Price: $17 million
Purchaser: Qihoo 360 Technology Co Ltd
Vodafone sold 360.com to Qihoo for $17 million. After turning their back on the Vodafone 360 brand, Vodafone had little use for the domain.
Qihoo is an internet company in China. Their main source in revenue is online advertising. In 2014, Qihoo reported earnings of $1.4 billion. Clearly, the internet business is booming in China.
#6 Internet.com
Domain Created: 1997
Sale Year: 2009
Sale Price: $18 million
Purchaser: Quinstreet
The sixth most expense domain sale is another Quinstreet purchase. In 2009, Quinstreet purchased Internet.com for $18 million. Adding one more valuable asset to their flourishing media business.
#5 PrivateJet.com
Domain Created: 1996
Sale Year: 2012
Sale Price: $30.1 million
Purchaser: Nations Luxury Transportation, LLC (Nations)
In 2012, Nations bought PrivateJet.com for $30.1 million. At the time of the purchase, Nations was looking to expand its worldwide charter, aircraft acquisition, and private jet sales business.
"PrivateJet.com is a phenomenal asset," said Kenneth Starnes, Nations CEO. He went on to predict that "it will help us revolutionize the super luxury segment of Private Jet transportation,"
#4 VacationRentals.com
Domain Created: 1997
Sale Year: 2007
Sale Price: $35 million
Purchaser: HomeAway
Vacation rental search site, HomeAway, purchased VacationRentals.com in 2007. The price tag was a cool $35 million. Yet most surprising of all was the admission from Brian Sharples, founder of HomeAway, that he bought the domain to prevent Expedia from getting it.
This story speaks volumes about how high a value businesses place on specific domain names. Especially those that contain a popular search term in their industry.
#3 Insurance.com
Domain Created: 1994
Sale Year: 2010
Sale Price: $35.6 million
Purchaser: Quinstreet
2010 saw two more big sales involving Quinstreet. The first was Insurance.com for $35.6 million and the second was CarInsurance.com for $49.7 million.
Insurance.com was an established website which attracted good traffic. At the time of the purchase, an analyst asked "aren't you just buying the domain name". Quinstreet responded, "this is not a domain name". The company also valued the existing content and traffic. They were prepared to pay a steep price to obtain them.
#2 CarInsurance.com
Domain Created: 1995
Sale Year: 2010
Sale Price: $49.7 million
Purchaser: Quinstreet
CarInsurance.com was another established website that benefited from considerable organic traffic. It was the ideal fit for Quinstreet's lead generation business.
#1 LasVegas.com
Domain Created: 1997
Sale Year: 2005
Sale Price: $90 million
Purchaser: Vegas.com LLC
The number one domain sale of all time is LasVegas.com.
According to an SEC filing found by domain investor George Kirikos, Vegas.com are in the process of paying $90 million for LasVegas.com. This includes a 35-year payment plan that started in 2005.
Here's a snippet from the filing:

At the time of purchase, LasVegas.com was already an operational website. It had a global Alexa ranking of around 30,000 and was ranked number one on Google for the search term Las Vegas.
Domain Names For Sale: The Art of Valuation
As this list shows us, valuing a domain is both art and science.
There is no one formula that determines how much a domain name is worth. To the right buyer, a specific name is valued in the millions. For example, Quinstreet paid around $100 million to acquire four domains. These now contribute to a $282 million business.
Rick Schwartz, the domain king, explains his valuation process. "My basic premise that I employ is asking one simple question. How much would just one location cost in the real world. Rent, insurance the whole 9 yards. So if a small store has a $2500/month rent that is $30k a year and over 10 years is $300k plus."
Whatever formula you use when searching domain names for sale, you need to consider other potential buyers. What is the domain name worth to them?
At first sight, you may not see much value in the name Bankaholic.com. Yet Bankrate.com was willing to pay $15 million for it, making one financial blogger an instant millionaire.