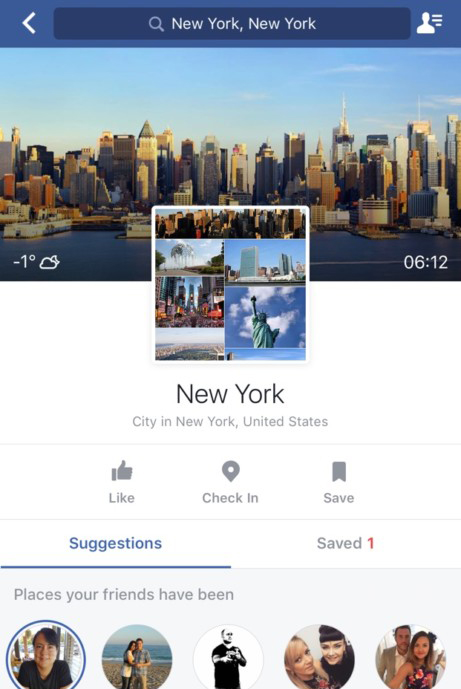 Move over Yelp and TripAdvisor, Facebook is getting into the travel recommendation game. A new feature from Facebook may just make it easier to find things to do on your next vacation, or find something to do this weekend in your own town.
Called "City Guides," the tab will showcase upcoming events in a city, along with popular attractions and a "Places the Locals Go" section. Users can also see check-in data from their friends who have visited that city. The City Guides feature was first seen back in December of last year, but it looks like its resurfacing in a different format now.
To get to a city guide, Facebook users will just click on an individual city's name. From there, they'll see a row of profile icons – their friends who have visited that city. Click on each name, and a list of the places that person visited will appear, including restaurants, attractions, hotels, and other businesses. This data is only pulled from places that person actively checked in to or posted a status from, so it's not like Facebook will show someone everywhere you went in a city – just the places you shared.
"We're testing a redesigned surface on city Pages that showcases information about your city," Facebook said. "This content already exists on Facebook, but during this test we'll be centralizing it in a way that is more personalized and relevant to you. So, this new feature can help people get a better sense of their city, or a city they're visiting through their friends' eyes."
Facebook is only testing the feature in small batches right now, so it will probably be a while before it expands to full use. It's a little surprising that Facebook has waited so long to do something with all the "check-in" data, but this is certainly a welcome feature for travelers.