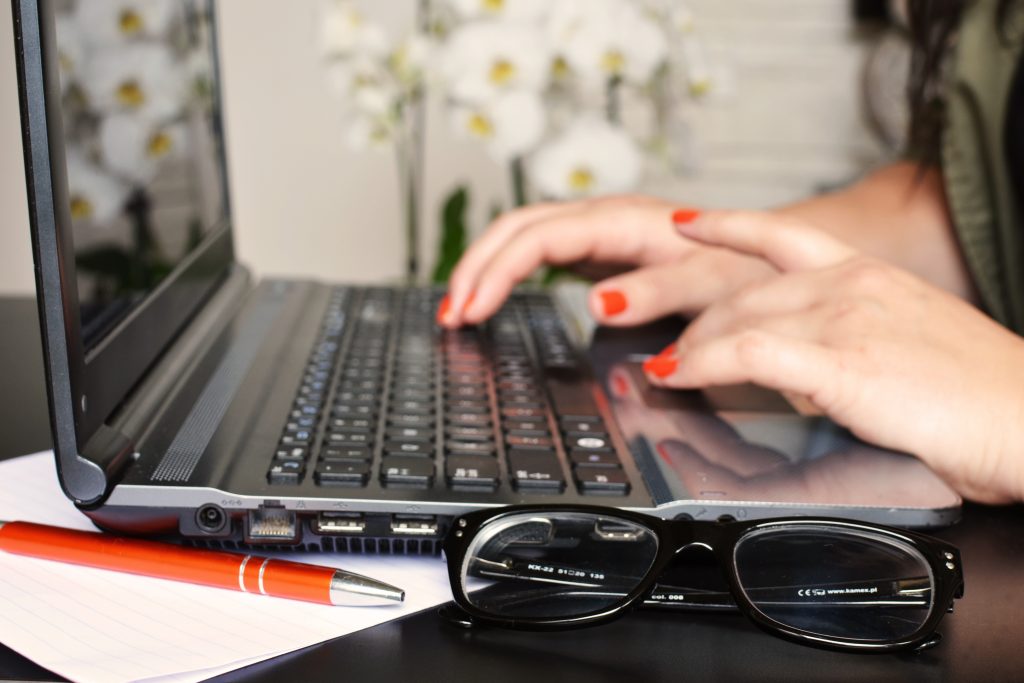 The trials and tribulations of motherhood are well worth documenting and starting a blog can help you do just that. Not only is a mommy blog a great way to share your experience, but you can connect to others by building community, help other moms that are facing challenges of their own, and bring attention to specific parenting issues like special needs considerations and toxic chemicals in plastics. What you choose to focus on with your blog is up to you.
The great news is that it's super easy to start your own mom blog (iPage can get your mommy blog up and running in just minutes). Below, we'll show you the simple steps for how to start a mommy blog, and we'll share some of our favorite mom blogs you can follow for inspiration on your journey.
The 3 Basic Steps of How to Start a Mommy Blog
Setting up a blog is easier than you think and you can be posting on your own mommy site in three simple steps:
Get a domain and hosting (I

recommend

iPage

, it's cheap and reliable).

Design your mom blog
Start posting!
Step 1: Get Your Domain and Hosting
First things first — you need to secure your domain (your website address) and hosting (this is what keeps your website up so other people can see it).
While you might be thinking about setting up a mommy blog on a free site like Weebly (or even WordPress dot com), there are serious drawbacks to doing so:
You won't have your own .com (yourmommyblog.com) but instead your address will be "yourmommyblog.theirsitename.com". Not very impressive…and harder to remember.
The free site can (and probably will) place ads within your site.
You won't be allowed to monetize your blog so any dreams of a killer side-income go out the window.
You'll have a hard time ranking in Google's search results, which is where a lot of blog traffic typically comes from. Free sites just aren't optimized for this.
Instead consider registering your own .com and purchasing a hosting plan. If this sounds complicated and expensive, I assure you it's not. If you can entertain a rambunctious toddler or sneak vegetables into the meal of a picky eater, you've certainly got this! Let's take a closer look at these two requirements.
Hosting – This is rented storage for your blog, as it is not stored directly in your computer and with iPage, costs run around $25-$30 dollars a year.
Domain – Averages $12-$15 dollars on other sites, but you'll get a free .com domain address by choosing iPage hosting!
That's it! You are now the proud owner of your brand new mommy blog!
Step 2: Designing Your Blog
Once you're set up and ready to design your site, you'll need to choose a theme. The theme is the formatting and template that makes your site stand out and look like a million bucks. A few simple clicks can change the entire look of your blog. That's right, there's no need to pay a web designer to create a design for your blog. WordPress makes it easy to design your mommy blog with a few simple clicks.
Free themes can be found on your WordPress dashboard under Appearance…but before you choose a theme, let's look at some of the best mommy blogs from around the web for inspiration.
#1 Scary Mommy is a popular parenting blog with a simple design and lots of topics to choose from on their drop-down menu. Scroll over the menu bar at the top of their home page and notice the different categories available to read about. There are sections for pregnancy help, challenging issues, travel and parenting information by age.
#2 Jolly Mom has a beautiful layout with designated sections on the home page. Notice the photo and about me section at the top right of the page. This is a great way to introduce yourself to visitors and you're sure to see this a lot as we continue through our list. As you scroll down the page, notice the other sections in Piera's sidebar. You can follow her on various social media sites, subscribe to her newsletter, and she highlights sponsors here–something I'm sure she's compensated for.
#3 A great example of a mommy blog that focuses on a specific parenting issue is LoveThatMax. Ellen's passion for sharing her experience has the added benefit of helping other parents of special needs children. Also, check out the accolades in her sidebar–inspiring!
#4 If you're planning on writing personal essays for your mom blog, you should look at The Girl Who. With a simple design and no visible menu, Monica has created an interesting and immersive experience in parenting.
#5 Looking for deals, reviews and recommendations? Janessa from Thrift Nifty Mommy makes saving money and finding giveaways look good. Of course there are still wonderfully informative articles, but this blog is a great example of affiliate marketing done right.
#6 With its clean design and crisp images, A Little Bit Of Momsense hits the design mark. Scroll over the menu for future content inspiration. Rebecca also highlights her home town in her travel section, which I'm sure makes her quite popular with locals!
#7 If you're looking for a laugh, I highly suggest Divine Secrets of a Domestic Diva. Get to know Susan in the sidebar and notice her images that double as shareable social media memes. This highly customized and humorous blog is worth repeat visits.
#8 Can't get enough humorous anecdotes? Patricia over at Insane in the Mom Brain has got you covered. Sidebar items include Old Crap I Wrote (archive posts) and The Magical Find It Box (search). This girl gets an A+ for creativity…oh, and she's super funny!
#9 Plan on doing something a little more serious with your blog? Mamavation is a beautiful site chock-full of health and safety information for parents. Leah has created a wonderful platform to share her knowledge of food, diet, and chemical additive safety. You can't help but agree that she's changing lives one mom at a time.
#10 Judy at Meaningful Mama not only shares parenting tips but also features activities, party inspiration, recipes, and holiday ideas which goes to show that you don't have to limit your blog to one specific topic.
#11 Money Saving Mom showcases how Crystal was able to combine her passions for saving money, being a mom, and helping others into one bright and beautifully designed blog. Not only does she help readers find deals, she also includes money management posts, recipes, and information on homeschooling.
#12 Mum + Business is a great example of how to combine topics for your mom blog. While it's written for moms, this site focuses on helping them find flexible and work from home careers. Maybe you have information or experience at something you could angle toward parents as well.
#13 Wanna see something cool? Pop over to My Life and Kids. Anna's design is playful and stunning. You can just picture her images circulating Pinterest…which is easy to do since she's installed Pin-It buttons on each one. Super smart!
#14 Teach Mama is an educational website from Amy, a former high school English teacher, and the goal of her blog is clear: to give parents the resources they need to be their child's first teacher…and she's doing a phenomenal job!
#15 Kimberlee at The Peaceful Mom gives visitors lots of options and ways to navigate the site in her menu. Headings include Your Space, Your Time, and Your Money, which let readers know it's all about them.
#16 Jen, The Suburban Mom, uses her blog to share crafts, activities, and DIY. You'll also find a little bit of Disney magic and a slide show at the top of the home page that highlights popular posts.
#17 For new and expectant moms, there's Pregnant Chicken from a chick (pun intended) named Amy. If you scroll to the bottom of the home page, you'll see the logos of the many impressive publications where her work has been featured. This is a great way to build social validation with readers and affiliate companies.
#18 Looking for something fun to do with the kiddos? It's Mommy Poppins to the rescue. From camps and classes to travel and play spots, this site is overflowing with great ideas. Scroll through the home page to see how posts are displayed by category, sponsor, and spotlight.
#19 This blog for city moms is tailored to specific major U.S. cities. Of course there's still something for everyone at Stroller Traffic, including a new baby checklist and first foods guide.
#20 Another big name in mommy blogs, Red Tricycle not only has a clean and functional design, but check out those menu buttons. You can also scroll through popular posts on the handy slidebar at the top of the home page.
#21 The Mother Company has branding down pat. Notice the images in the side bar that not only display the website's logo but continue the feel of the blog itself. The featured articles slide show is highly clickable and adds interest to the design.
#22 How Does She? puts their sidebar on the left, making it immediately noticeable. There is also a video highlighted there and the images used to promote posts match the style of the site. Not only that, the black banners used to divide sections of content give the page some punch.
#23 Got teen troubles? Let's not forget that our little ones don't stay little for long and eventually pose a whole new set of challenges. At Moat Blog, you can join Kay in her quest for sanity along the road of motherhood.
#24 Bright and bold colors welcome you at Annie Fox, written by (well, Annie) a parenting expert and family coach. Not only can you navigate the site by category but there are also special portals designed for teens, parents, and educators.
#25 Anne at Net Family News gives us another great example of how to spin the parenting niche. By providing tech safety and literacy information to moms and dads everywhere, she has combined her passion for parenting with her obvious experience with modern technology. Something not all moms can claim to have.
So, now that you've looked at some of the other mom blogs out there, let's get back to choosing your theme. There are literally thousands upon thousands of free and cheap WordPress themes available for you to choose from, all of which can be installed with a click of the button. Find one you like and give it a try. The good news is if you don't like a theme, you can easily uninstall it and try a different look for your blog until you find the perfect design for your site.
Step 3: Start Blogging!
Now that you've got some inspired ideas and you know how to start a blog, it's time to start blogging.
My recommendation? Just start writing and see what comes out. The first few posts will be where you find your voice and will help shape what the blog will become in the coming months and years.
Get Moving, Mama!
If you haven't started yet, get moving and click here to get your free domain name! You'll be a blogging, mommy Goddess in no time. Once you're all set up, we'll even help you create great content with our 10 Point Checklist for writing exceptional blog posts and our massive guide to all the best blog ideas so you never run out of inspiration.
Need more help or have questions about how to start a mommy blog? Check out our complete, in-depth guide for how to start a blog.