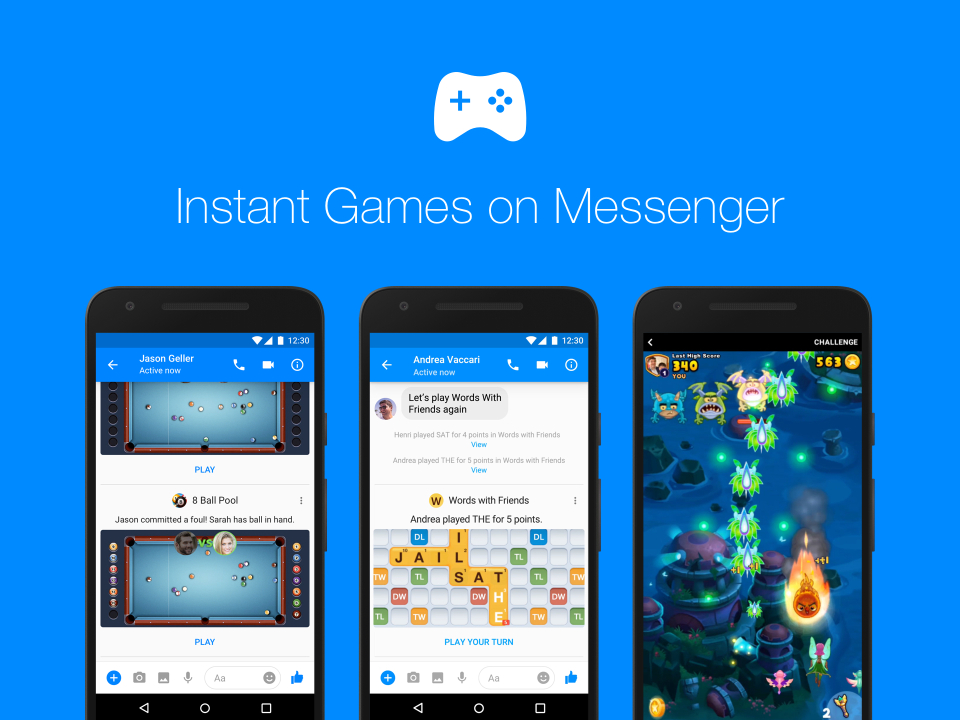 If you miss playing Words With Friends, it's about to make a comeback. In fact, it's about to get a lot easier to play a number of quick games with your Facebook friends. So easy, in fact, you won't have to leave the site. Facebook announced today that they're officially rolling out Messenger "Instant Games" to all users, also adding new games and features to the current product.
Instant Games first debuted last November, with a tab on the top of the app that allowed users to enter the "Messenger games" experience. Users who didn't have Messenger arcade as part of the initial launch should see it soon through an app update. For current users, the new version will make it easier to access and promote more social sharing.
Most of the games will be turn based, where two people actually go head to head. At present, the games are more of a "beat my high score" nature. The new turn based system will debut with one of the most popular mobile games of all time: Words With Friends. Given that game's previous success, expect the new one to be a hit.
Remember when everyone was playing 'Word With Friends' a few years back. Now it's coming to Messenger, and given its past success, the turn-based option will no doubt prove popular, especially considering Facebook has 2 billion users globally.
"Depending on what device you use and where you are located," Facebook said, "there are now up to 50 games titles available on Messenger, with more being introduced almost every week. We're also excited to be bringing the world's #1 pool game — Miniclip's 8 Ball Pool — to Instant Games very soon."
Games used to be a solid revenue earner for Facebook, taking in $1 million a year back in 2008. But as mobile games rose, the landscape shifted. Facebook has never developed their own mobile games, but Messenger games is their attempt to change that. A very simple basketball game in Messenger was played more than 1 billion times not long ago, well more than Facebook anticipated, so it's clear there's an audience for this.
For now, Instant Games will have no ads or in-game purchases. But that's likely the next stage. Facebook's new Instant Games on Messenger feature should be available in the next few weeks.