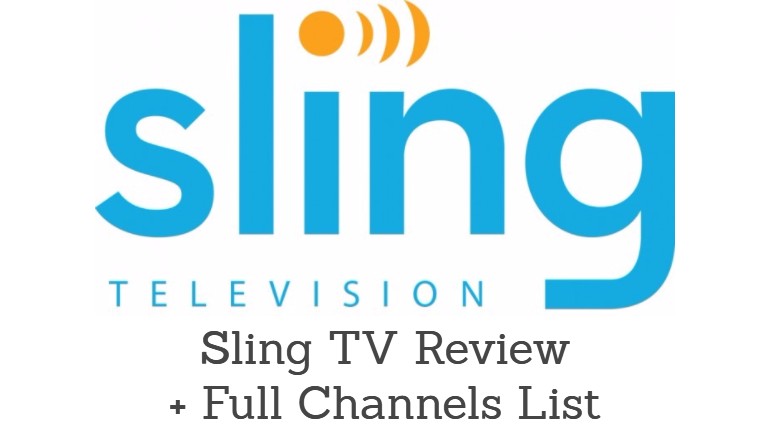 These days, the tide is finally starting to turn, and everyday folks have much more options when it comes to watching TV. Gone are the days when an expensive cable subscription was your only option! It's 2017, and folks today and presented with a myriad of cable alternatives: on-demand heavyweights like Netflix and Hulu, and now, live streaming services like DIRECTV NOW and Sling TV. Today, we'll take a closer look at this service in our full Sling TV review, and we will go over the Sling TV channels list in detail.
Let's get one thing straight: pretty much all online streaming services tend to be better values than cable TV. But simply because there are so many of them, it's important to shop around and do your homework. By comparing the Sling TV channel list to the competition, and keeping in mind other factors like cost, features, etc. you can ensure that you're getting the right service for your needs. By the time you finish reading this Sling TV review, you'll be an expert!
Sling TV Review: At a Glance
So, what is Sling TV, anyways? It's essentially a full-scale cable alternative, that works over the internet instead of over cable or satellite. It lets you watch live TV, news, sports, movies and more, just like if you had cable. The Sling TV channels list offers anywhere from 25 to 150+ channels, depending on the package you choose, and all of these channels can be watched live. Here are the basics:
Starts at $20 a month
No contract required
25+ channels in the basic package, up to 150+ available
Easy to customize channel selection
Lets you watch live TV online
On-demand streaming also available from some networks
Works on most devices (streaming players, mobile devices, computers, etc.)
Offers DVR to record shows
Key channels include ESPN, AMC, TBS, CNN, TNT, HGTV, and many more
Offers regional sports channels and local broadcast networks like NBC and FOX, in some areas
The Sling TV packages available make it simple to customize your perfect selection of channels. There are the base packages and several add-on packages, some costing as little as $5 a month, that are ideal for hand tailoring a perfect selection for you. No more paying for channels you don't need!
What We Love About Sling TV
To simplify things and to distinguish this from other Sling TV reviews, we've broken things down into a straightforward pros and cons list. Here's what we love:
The cheapest service of its kind (for the basic package)
No contract (so you can cancel whenever)
Excellent channel selection
Add-on channel packs make it easy to customize your selection
Premium channels (HBO, SHOWTIME, etc.) available
Works on most devices
Sling TV often offers free streaming devices to folks who prepay for a few months in advance
Apps work well, generally easy to use
The free trial offers a great way to test things out
Covers everything; live sports, the latest TV shows, nightly news, local events & more
What We Don't Love About Sling TV
You know the old cliché – nobody is perfect. And, unsurprisingly, Sling TV is no different. Here are some things we aren't too crazy about with Sling TV:
DVR is not included for free; costs $5 a month extra
The base package is smaller than most competitors' packages (albeit cheaper)
Sling Orange is limited to one stream per account (other packages offer simultaneous streaming on multiple devices, but Sling Orange is limited to 1)
Is Sling TV Worth It?
Given the Sling TV pros and cons listed above, is Sling TV worth it? For most folks, we think so. The Sling TV cost of $20 a month is extremely low, and provides a great value for about 70 cents a day. Of course, you'll want to check out the Sling TV packages below to see if it has the channels you want.
Another important factor to keep in mind is that you can try Sling TV for free for a full week. This is a great risk-free way to test out the service for yourself. And even after that, it's a contract-free service, so you'll never have to commit to more than 1 month at a time.
Sling TV Channels List 2017
Like most comparable services, Sling offers several different packages. Take a look at the Sling TV packages below to get a better idea of what's offered.
Sling Orange – $20 a month – 25+ channels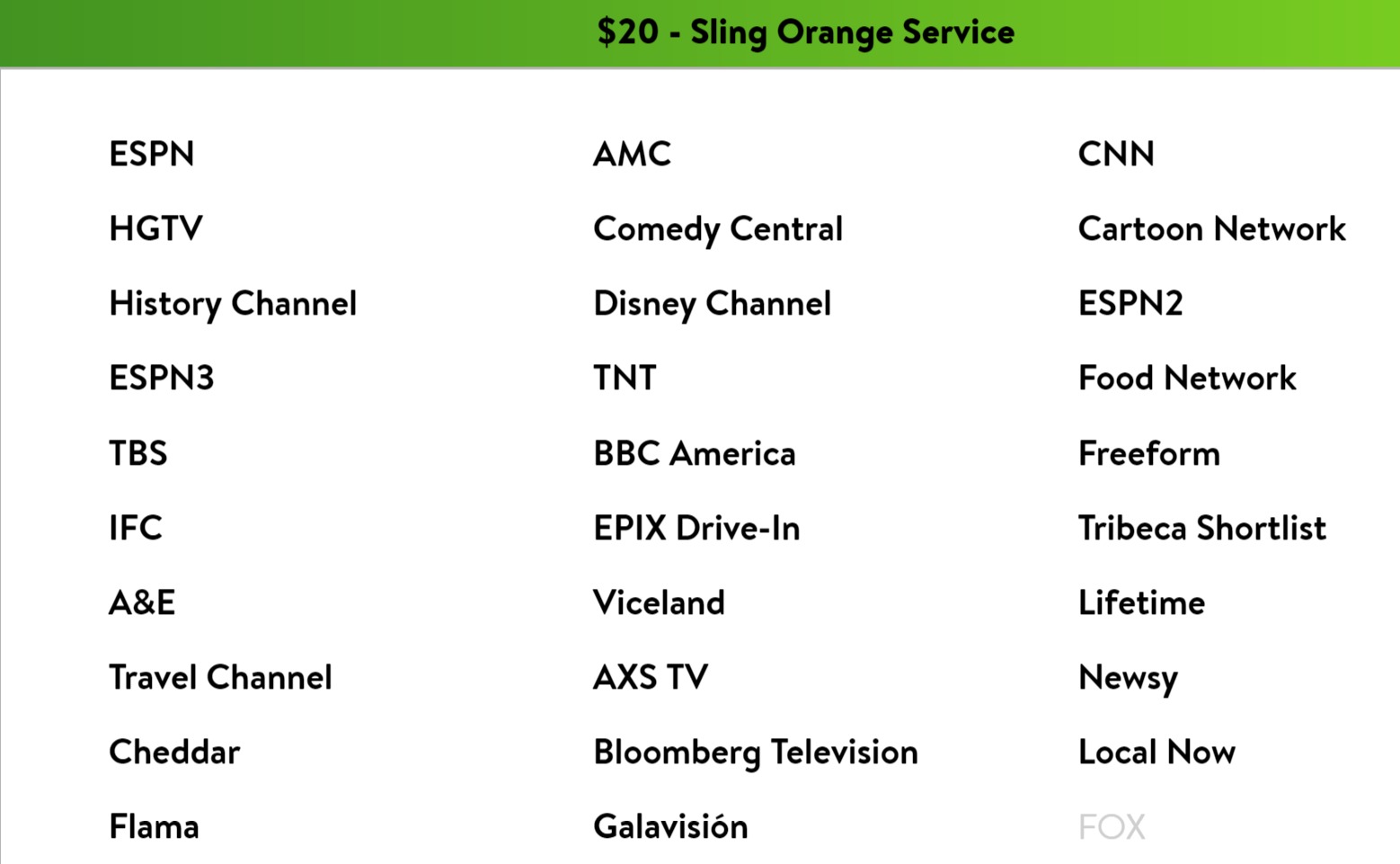 Sling TV Channels in Sling Orange plan:
ESPN, AMC, CNN, HGTV, Comedy Central, Cartoon Network, History Channel, Disney Channel, ESPN2, ESPN3, TNT, Food Network, TBS, BBC America, Freeform, IFC, EPIX Drive-In, Tribeca Shortlist, A&E, Viceland, Lifetime, Travel Channel, AXS TV, Newsy, Cheddar, Bloomberg Television, Local Now, Flama, and Galavision.
Best For: budget-minded streamers looking for a solid base package, and
Sling Blue – $25 a month – 40+ channels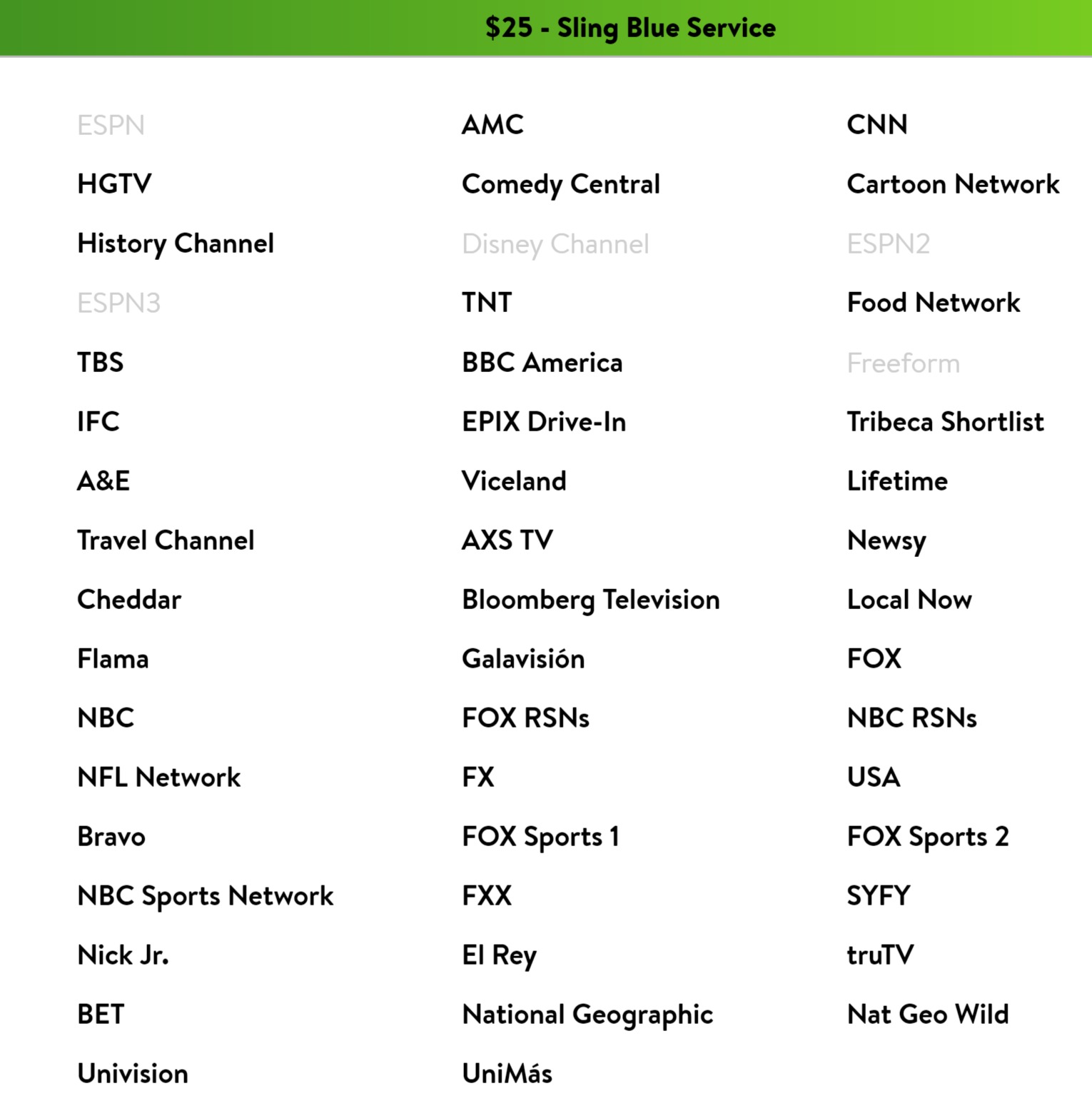 Sling TV Channels in Sling Blue plan:
AMC, CNN, HGTV, Comedy Central, Cartoon Network, History Channel, TNT, Food Network, TBS, BBC America, IFC, EPIX Drive-In, Tribeca Shortlist, A&E, Viceland, Lifetime, Travel Channel, AXS TV, Newsy, Cheddar, Bloomberg Television, Local Now, Flama, Galavision, FOX, NBC, Regional Sports Networks, NFL Network, FX, USA, Bravo, FS1, FS2, NBCSN, FXX, SYFY, Nick Jr, El Rey, truTV, BET, National Geographic, Nat Geo Wild, Univison, Unimas
Note: FOX, NBC, RSN's, Univision and UniMas are only available in select areas.
Best For: folks who want local broadcast channels and regional sports networks, and don't mind not having ESPN networks and Disney Channel.
Sling Orange + Blue – $40 a month – 50+ channels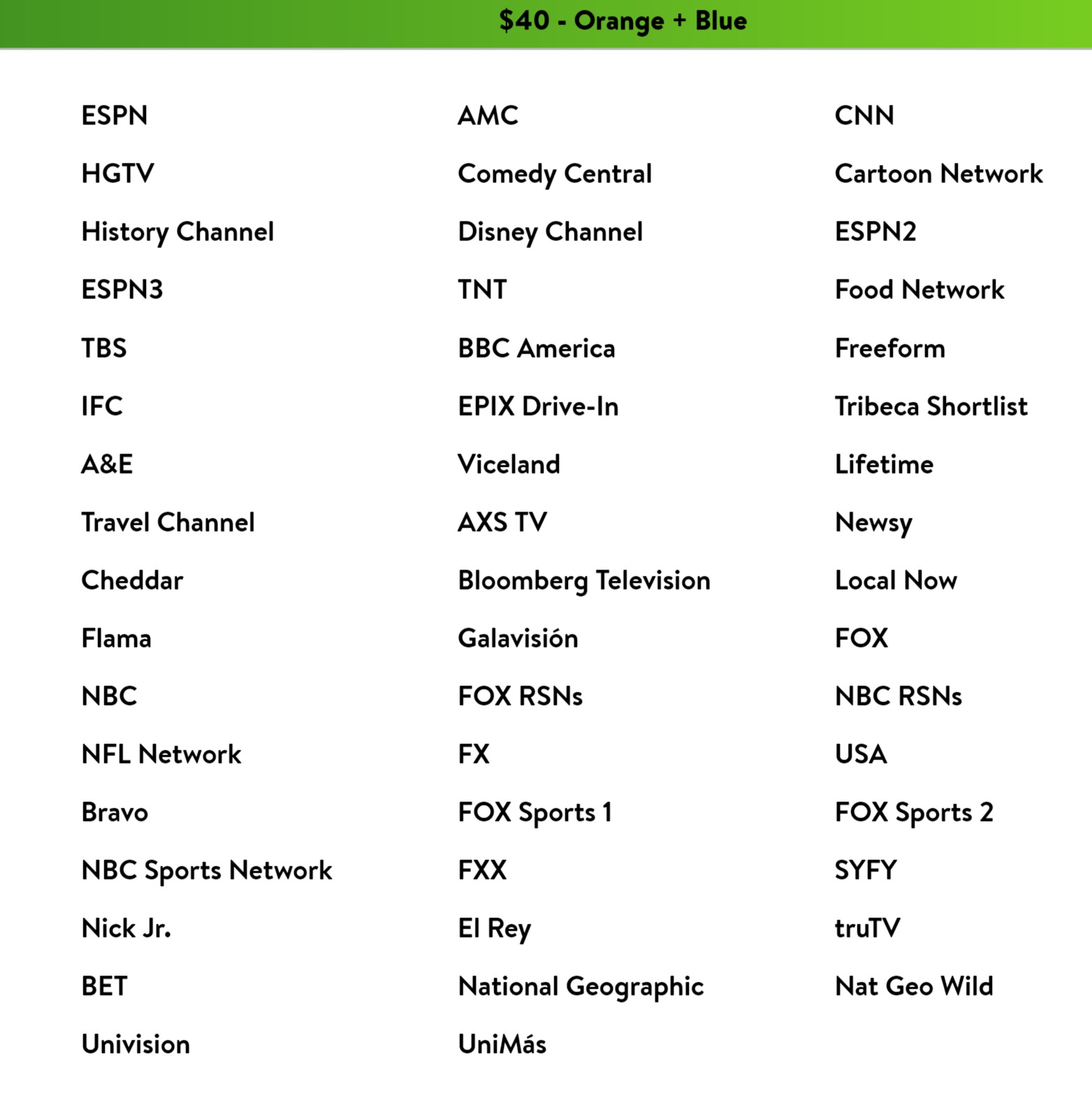 Sling TV channels included in Sling Orange + Blue:
This package contains all channels from both Sling Orange and from Sling Blue, combined. See the list above for details.
Best For: folks who want the best of both worlds; local channels, ESPN networks, and the ability to stream on up to 4 devices simultaneously.
Sling TV Channel Add-Ons
The Sling TV packages you see described above are the base packages. You'll need to subscribe to one of these in order to use Sling. Once you have a base package, you can add on additional channel packages, like the ones listed below: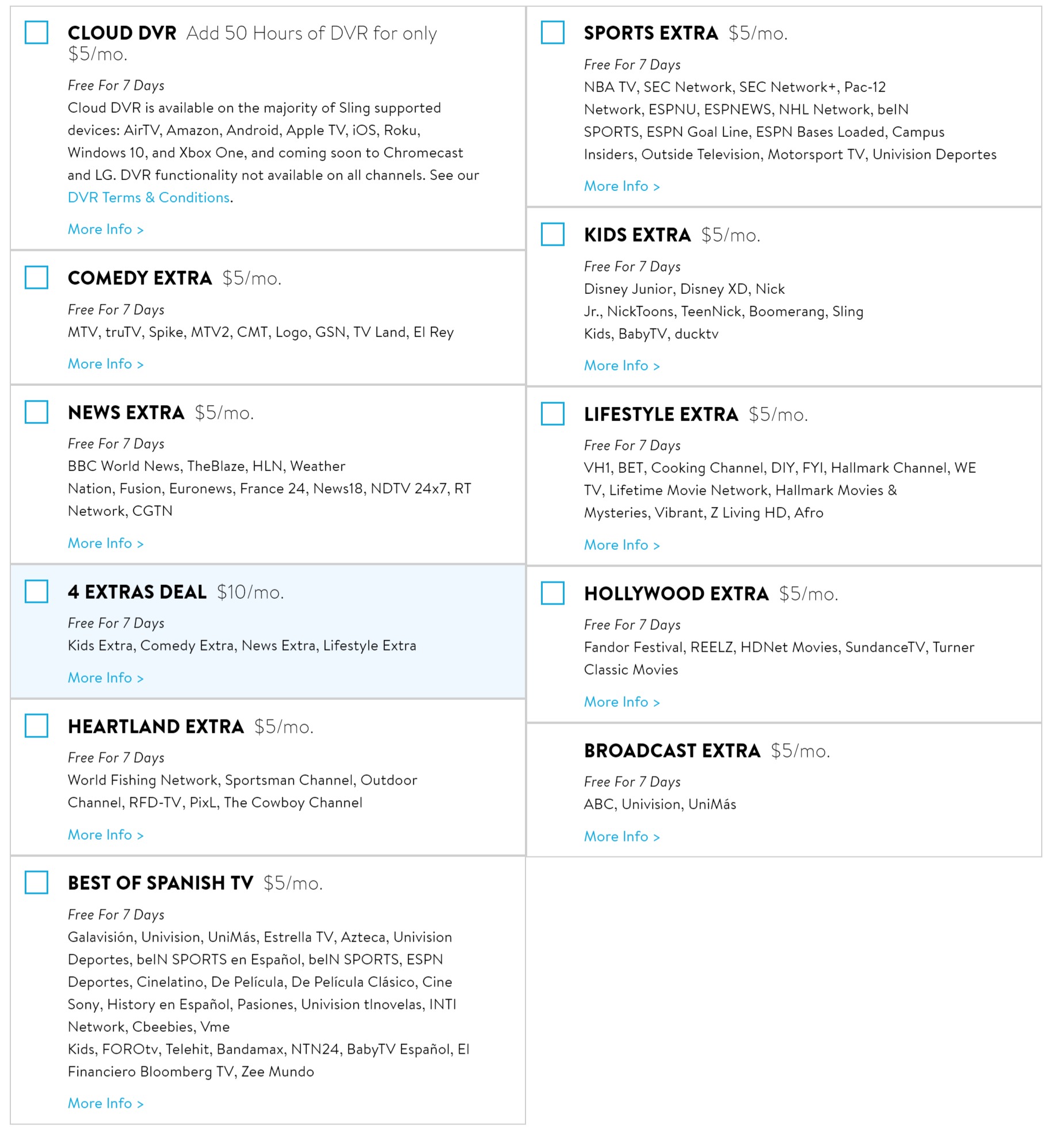 Add ons can be added during the signup process, or at any time after subscribing to Sling TV. They all offer a free 7-day trial, as well.
In addition, there are premium channels available: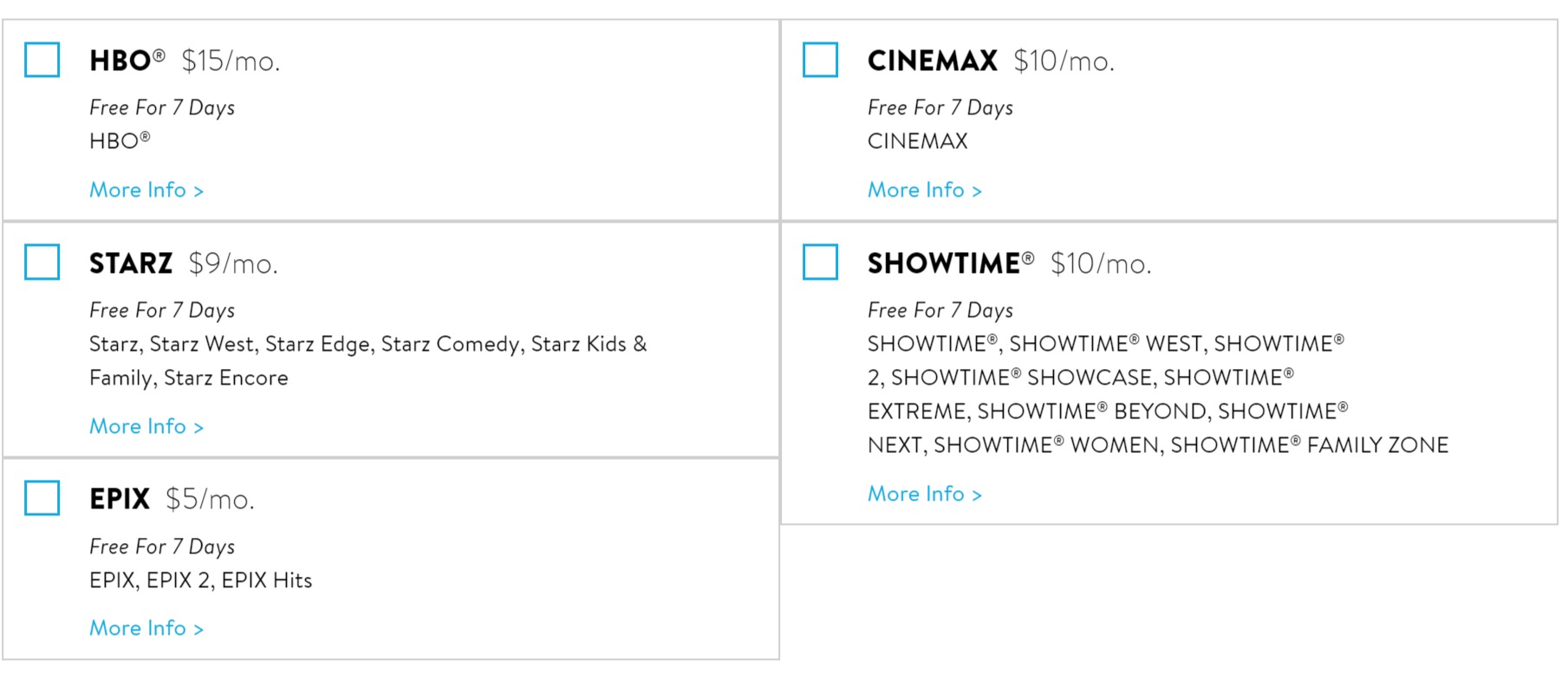 How Does Sling TV Work?
Sling TV works over the internet. You will need a good internet connection and a compatible device. Sling TV devices include:
Streaming devices, including Roku, Apple TV, Chromecast, Amazon Fire TV, Android TV and more
Computers, via a downloadable client
Mobile devices, including iOS, Android and Amazon devices
Basically you'll just need to sign up for Sling TV, download the appropriate app on your device, and start watching! Whatever is airing on live TV on a channel included on Sling TV will also be airing on Sling TV – just tune in and watch! You can also watch select content on-demand. The Sling TV FAQs are useful if you still have questions.
How Does Sling TV Compare to the Competition?
Sling TV is far from alone in the live streaming world, with services like DIRECTV NOW, PlayStation Vue, fuboTV and others creating stiff competition. We don't consider Sling TV a competitor to services like Netflix, because they simply offer different services (live vs. on-demand). Here's how Sling stacks up to live streaming rivals:
In terms of channel selection, Sling TV is in-line with the competition. The Sling TV channels list is fairly small if you just look at the basic package, but it can easily be upgraded by utilizing the add-ons. The base package is also quite a bit cheaper than the competition, so adding some add-on packages makes sense.
In terms of features, Sling TV is in-line, although it's been playing catch-up. For instance, Sling just recently added DVR support as of mid-2017, and it's still only offered as a pay-extra add-on. That said, the functionality is there, and Sling is continually working on improving itself.
In terms of price, Sling TV excels. No other service offers anywhere near the value of a $20 a month plan. DIRECTV NOW and fuboTV start at $35 a month, with Vue coming in at $40 a month. Again, it's important to understand that Sling's base package is significantly smaller than some competitors, but that's often what people are looking for when they ditch cable.
Sling TV Review: Bottom Line
Overall, we really like Sling TV. It was a pioneer in the industry, offering the first true live streaming alternative to cable, and today it remains a leader. The Sling TV channels list is comprehensive and quite flexible, and Sling TV costs less than the competition.
If you want to learn more, we recommend checking out a free 7-day trial of Sling TV. There's no better way to test out a service than to, well, actually test it out!