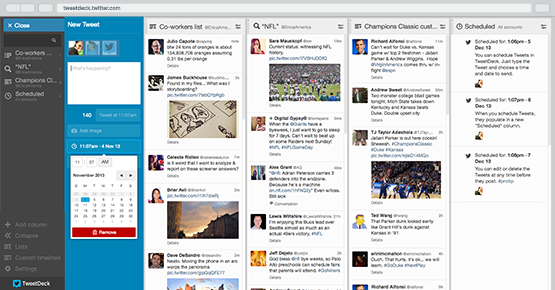 Twitter always has been and likely always will be free, but the service has announced they're on the verge of offering their first paid subscription service through Tweetdeck. And while this service doesn't look like it'll be very appealing to the average user, it's certainly enticing for people who work with social media.
The social media giant recently sent a message to certain users asking them if the would be willing to pay for "a more advanced Tweetdeck experience." The "premium experience" apparently includes features like new viewing, posting and signaling tools all on one customizable dashboard.
Added features also include bookmarks, to do lists, cross posting capabilities, and the option to manage multiple accounts at once and customize tweets for different followers. The premium service is slated to be ad free, will be available on both mobile and desktop, and will also come with several analytical tools. It's pretty clear this tool isn't intended for the casual user, but it does have a lot of benefits for power users.
Since nothing official hasn't been announced, we don't know much in the way of pricing. But a monthly subscription price of $15 or $20 sounds about right. Whatever the price is though, Twitter needs this to be a success. Just last month, they announced their slowest revenue growth since they went public as a company (citing a decline in advertising revenue for their drop in income).
For their part, Twitter isn't talking much. A rep confirmed the survey, but that's about it. "We're conducting this survey to assess the interest in a new, more enhanced version of Tweetdeck," he wrote. "We regularly conduct user research to gather feedback about people's Twitter experience and to better inform our product investment decisions, and we're exploring several ways to make Tweetdeck even more valuable for professionals."