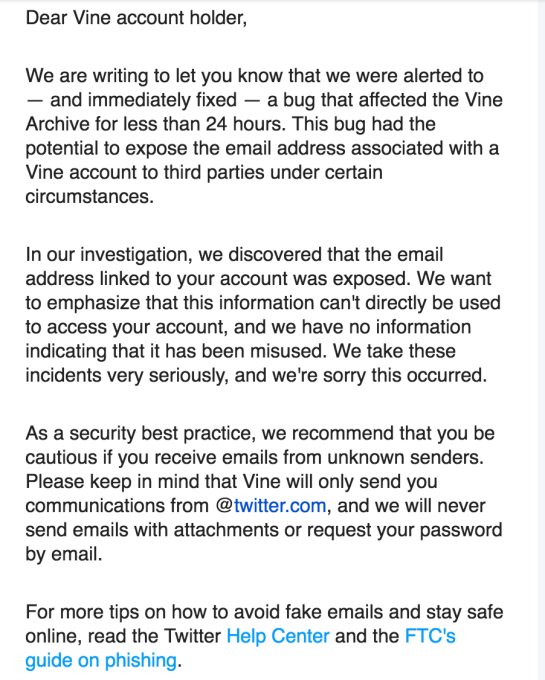 Twitter sent out notices to Vine users today telling them their e-mail addresses and phone numbers were likely exposed, but said the data wasn't misused in any way.
Nothing was actually hacked during this event, the company said, and there wasn't any kind of data breach. But a brief bug (that was only active for 24 hours according to Twitter) likely let certain third parties see some personal details that are on file for Vine accounts.
The company didn't give specifics about how many accounts were exposed, what the bug actually was (only saying that it occurred under "certain circumstances"), or how that information was seen (not even saying what percentage of users were affected), but they did say that nothing was published publicly and that someone would have had to use extra measures (like an API) to access the private data.
In short, it seems like that was pretty much a non-event and Twitter is sending out this notice simply out of transparency, not necessarily as a warning to users. The notice implored users to avoid clicking on e-mails from unknown senders, and reminded users that communication from Vine would never ask for a password or come with an attachment.
Once a pretty popular app, Vine was shut down earlier this year as Twitter renewed their focus. An archive of past videos remains, as does the basic utility for users to create short videos.
Twitter users don't need to change their passwords as a result of this incident, but should stay diligent about keeping their password guarded.
2016 was a rather disastrous year for Twitter, and while this event is fairly small, it's sure to remind users of similar events in Twitter's past. For a company that's seeing their growth stall, fears of personal security is the last thing Twitter needs.