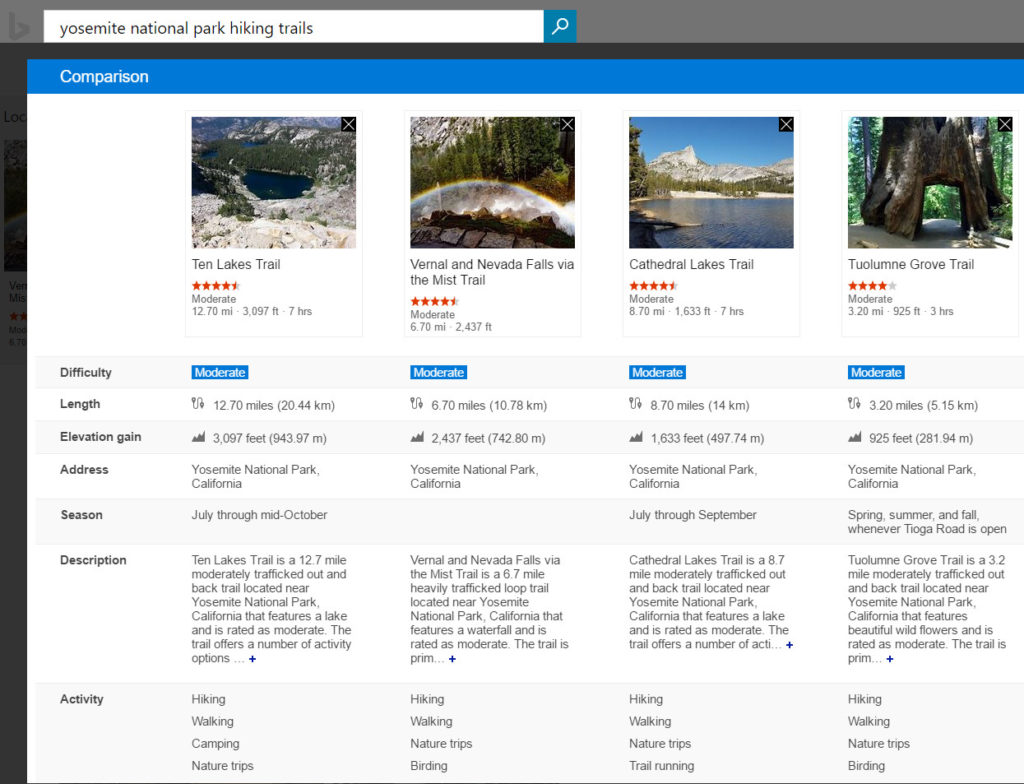 If you're looking for a new hiking trail or campsite this summer, you'll probably run in to the dilemma that thousands of people face each year: what trail to take. But the next time you go out for a hike, instead of hitting up the same old trails, you might want to head over to Bing before you venture out.
Thanks to a new feature on the site, when users search for "trails near me," they'll see a list of the closest trails, with photos of each, plus information like distance, elevation, difficulty and more. Users searching for "campsites near me" will get a list of campsites at national parks and beyond with a description and photos.
The carousel of results can be filtered by each category, letting users find the easiest trail, the highest path, or the most popular location. A "compare" option lets users see two or more trails side by side, viewing the specifics of each. The feature works on both mobile and desktop, with mobile users getting a link to live directions to the location.
The feature should be especially popular with travelers looking for a spot to rest while they're on the road, or people who are in a new town looking for a spot to get some fresh air. This isn't necessarily giving any new information to users, but it is making it much more easy to find and peruse.
This isn't the first "live" feature for Bing, as the site has included flight status and airport parking info for some time now. A recent Bing update offered better travel info to people using the site, plus purposely weeded out malicious sites. There's no denying that Google is the king of search, but there are certainly benefits should you choose to venture over to Bing.