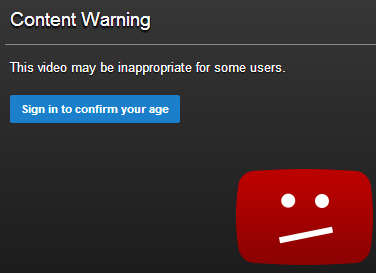 While YouTube's "restricted" category is designed to filter out potentially offensive material for younger viewers, some people are accusing the site of wrongly slapping the tag on high-profile LGBTQ vloggers, effectively blocking their content for general viewership.
YouTube's restricted mode is turned on by default, but it can be removed in the site's account settings.
The backlash began over the weekend when several users noticed that LGBTQ relevant videos were being filtered out. That community, of course, questioned what was so offensive. Many users questioned exactly how content got the "restricted" label, noting that everything from a Lady Gaga music video to advice videos for LGBT youth were getting flagged.
This isn't a new feature by any means, but a lot of people are just now realizing how wide spread the issue is. Popular British vlogger Rowan Ellis brought the issue to light most recently, and many other YouTube personalities soon joined in the discussion.
It's worth noting that almost all videos discussing sexuality get the restricted tag, but there seems to be a "disproportionate amount" of LGBT content getting the label, according to critics. Videos that normally wouldn't get a flag (i.e. a straight video titled "My Top Six Actress Crushes") suddenly get an "inappropriate" label if they focus on the same sex.
YouTube actually has commented on user concerns, saying they were "proud to represent LGBTQ+ voices on [their] platform," adding they were "a key part of what YouTube is all about." YouTube said that the intent of restricted mode is to filter out "mature content," and that acknowledged that many LGBTQ+ videos did indeed fall under that category. Although videos that discuss "more sensitive issues" were available to the general site, YouTube did say they "regret any confusion this has caused" and added they are "looking into your concerns."
"We appreciate your feedback and passion for making YouTube such an inclusive, diverse, and vibrant community," their statement closed.