You've heard people say it. Probably one of your friends. Hell, you may have even said it.
"If ______ wins this election, I'm moving to Canada."
It's nothing new. I've heard people say it every four years my entire adult life.
But this year…this year feels a bit different. Maybe it's the fact that we get a running timeline of the nation's thoughts on Twitter and Facebook. Maybe it's just that the majority of predictions were wrong.
Or maybe it's the fact that the Canadian Immigration and Citizenship site keeps crashing. That's right, all election night, the site kept crashing as Americans Googled things like "how to move to Canada."
In fact, there's even a dating site now to link Americans with Canadians, using the headline "Worried about life under a Trump Presidency?" The site goes on to explain that it "has your back," seemingly insinuating that Americans can use the site to marry a Canadian, thus having an easier pathway to Canadian citizenship.
But even more… impressive/insane… is this fact. At 10:30 this morning, I still couldn't access the site. That's right, ~12 hours later, the site still can't stay up. In fact, when I checked a few minutes ago, Canada's immigration site was down for 26 entire minutes. Then it finally popped back up, only to crash two minutes later. And it keeps happening.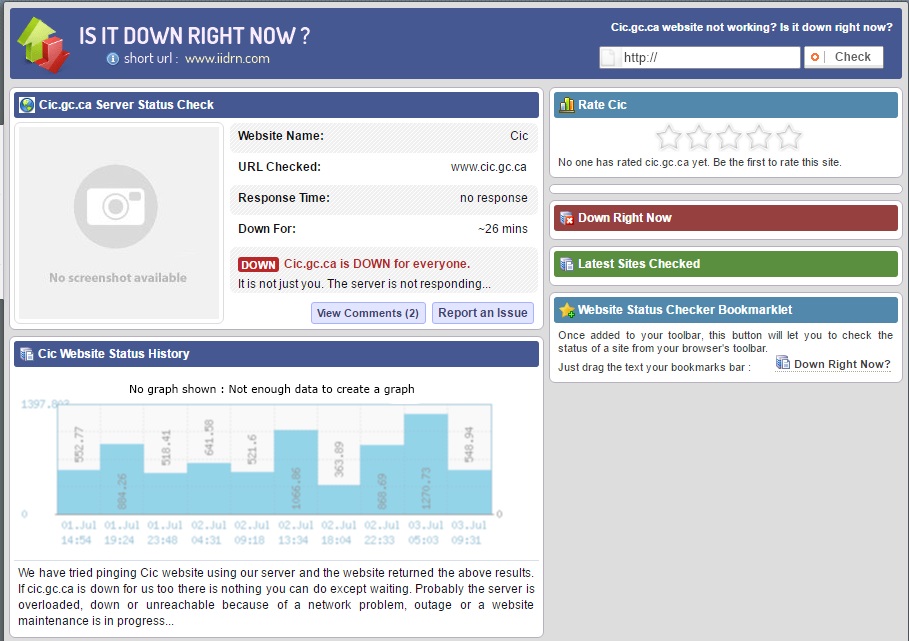 What's going on?! And I don't mean what's going on in politics. I mean, how is the Canadian government's official site crashing? You'd think that being such an important site (not to mention the fact that these "move to canada" searches have been trending up for a while now, even back on Super Tuesday) that they'd make sure the site could handle large traffic loads.
So what's the problem? Poor hosting? Bad caching? Poor optimization?
I reached out to premium hosting provider, Pagely, to see if they could offer any insight.
"It's tough with a situation like this one because it's a severe outlier with a massive number of concurrents hitting a site which isn't accustomed to handling that level of traffic," Sean Tierney
Director of Sales & Marketing at Pagely told Scribblrs.
But couldn't they fix the problem 12 hours later?
"The fastest thing they could do that wouldn't require technical work internally would be to sign up for a Cloudflare account. For the static portions of the site they should be able to use CF as poor man's HA to serve cached content and reduce load on the server." Of course, that's a short-term solution… a band-aid on the underlying issue.
As for a long-term solution? Tierney said it's "likely to outsource hosting to a managed provider like us that handles keeping the site fast, secure, stable, maintained and backed up."
He also said that they "have a number of government institutions" who use them for this purpose (although he made sure to mention with the fact that it didn't appear the Canadian Immigration site uses WordPress, so the site would either need to switch to WordPress or find a provider that could host its current CMS).
The good news is that the site now seems to be under maintenance. Maybe the Canadian government is taking Tierney's advice and disgruntled Americans can continue to research their options moving forward.