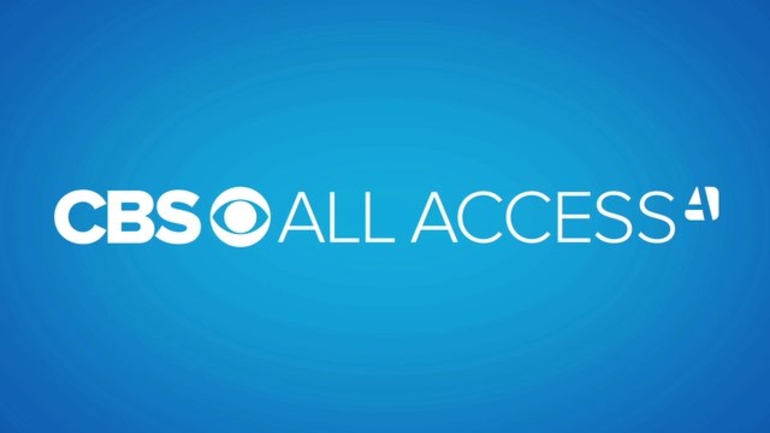 It's 2019, and it seems like the number of online streaming services is expanding exponentially. As more and more people ditch cable in search of "greener pastures" (namely lower prices), more streaming services pop up to keep pace with the growing hordes of cord-cutters. This, of course, is great news for those cord-cutters, as more options generally means better selection and lower prices. One good service is CBS All Access, a somewhat lesser-known online streaming service that definitely should be on your radar, if it's not already. Today, we'll do a full CBS All Access review, covering all the features, the CBS All Access cost, and much more. Let's get started!
What is CBS All Access?

CBS All Access is the official streaming service of CBS itself, which, as you likely know, is one of the biggest and most popular broadcast networks in the world. CBS is unique in offering their own dedicated streaming service, as most similar channels don't do the same. Here are the basic CBS All Access features:
Does not require cable
Only $5.99 a month
No contract required
Lets you watch CBS live, online, in many areas around the US
Lets you watch a massive library of on-demand TV Shows
Exclusive access to CBS All Access Originals
Commercial free version available
Free 7-day trial available
The CBS All Access price is quite reasonable at $5.99 a month, and even the commercial-free package is only a few bucks more. Is CBS All Access worth it? That all depends on how much you like CBS shows and sports coverage, and whether or not you're in an area where CBS live streaming is offered via the service. Keep reading for our full CBS All Access 2017 review.
How Much Does CBS All Access Cost?
All Access currently offers two different packages, detailed below:
Limited Commercials – $5.99 per month – free 7-day trial
No Commercials – $9.99 per month – free 7-day trial
For many folks, the extra $4 a month is worth it to avoid commercials. That said, keep in mind that only the on-demand content is commercial free; when you watch CBS live via the service, you'll still see commercials regardless of which package you choose.
What Shows Can I Watch with CBS All Access?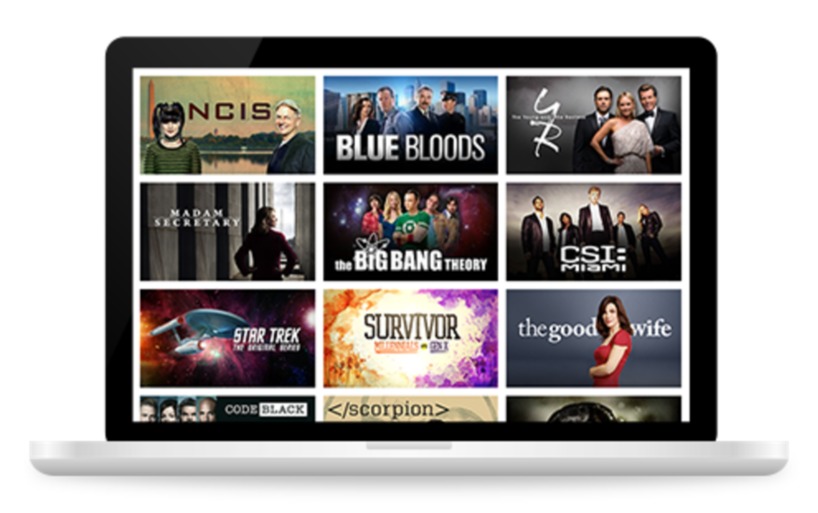 The on-demand library that is included with CBS All Access includes over 8,500 episodes of hit CBS TV shows. Yeah, 8 thousand episodes… you better get watching! With All Access, you can catch up with your favorite shows, including:
NCIS
Blue Bloods
The Big Bang Theory
Madam Secretary
CSI: Miami
The Good Wife
Survivor
MUCH more
Some shows feature the entire library of episodes for the entire show, while others have only a season or two, or even just a few recent episodes. The best way to explore the available options is to just sign up for a free trial – you have nothing to lose!
What About CBS All Access Originals?

In addition to the impressive list of standard CBS shows found listed above, CBS All Access also offers originals, which are shows that are exclusively available via CBS All Access. In other words, you literally cannot watch these shows ANYWHERE else, even if you have cable. These shows are just getting started, but here's some of the most anticipated CBS All Access Originals:
These exclusives alone are a huge perk of CBS All Access. And while CBS has a long way to go to begin truly competing with original series from Netflix and Amazon, it's certainly nice to see them pumping out high quality, exclusive content for their web subscribers. In my opinion, this helps justify the CBS All Access price (even though it's quite reasonable already!)
How Does CBS Live Streaming Work?
Beyond the huge on-demand library, the other huge benefit of CBS All Access is the direct access to a legal CBS live stream. This is not available everywhere, but it is live in most areas around the US – you can check availability during the signup process.
Basically, if you live in an area where CBS streaming is offered, you can watch CBS live, 24/7, just like if you had cable TV. This includes live news, live CBS TV shows, live NFL games, and much more.
Can I Use CBS All Access to Watch Live Sports?
Yes, you can! As long as you live in an area where CBS All Access offers the CBS live stream, you can watch live sports using the service. That means you can watch NFL games online for as little as $5.99 a month! And for many teams, CBS is the primary network for NFL coverage, so this can be quite valuable for football fans (and for fans of many other sports!) You won't see this mentioned in some older CBS All Access reviews, because the feature was added fairly recently.
Can I Use CBS All Access to Watch Live News?
Again, as long as you live in an area where CBS live streaming is covered, then yes – you can watch the news online via this service. Essentially, anything that airs nationally on CBS or on your local CBS affiliate will also air on CBS All Access!
What Devices Can I Use with CBS All Access?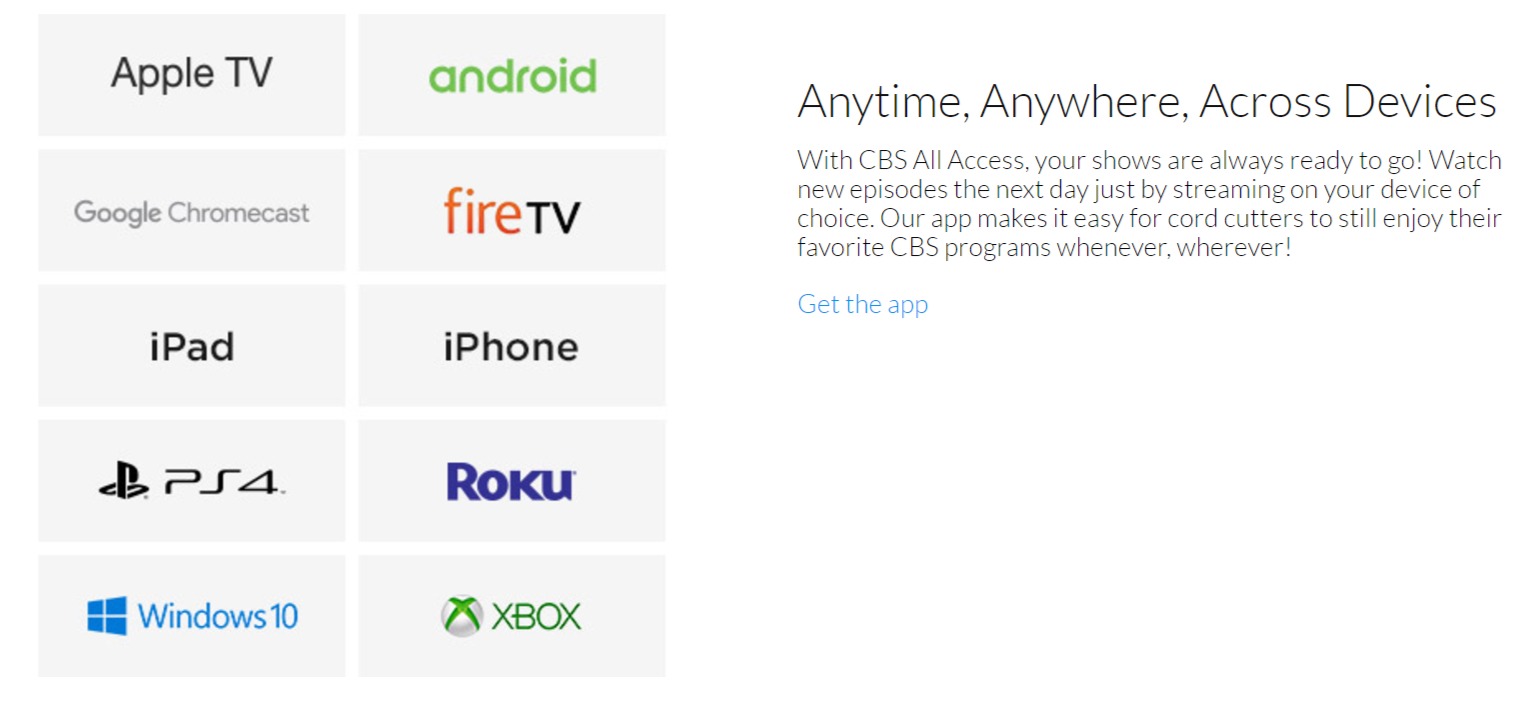 CBS All Access devices now include the majority of popular streaming options, including:
Streaming devices, like Roku, Amazon Fire TV, Chromecast, Apple TV and Android TV
Gaming consoles, including PS4 and Xbox One
Mobile devices, from iOS and Android
PC
For the most part, you can use all aspects of CBS All Access on any of these devices. The only exception is that live NFL games cannot be viewed via mobile devices on this service, due to NFL broadcasting agreements.
Is There a CBS All Access Free Trial?
Now that you've read through our CBS All Access review, you're probably ready to test it out for yourself! We don't blame you – it's a pretty sweet service for cord-cutters. And, you'll be happy to learn that there is a free trial!
Click here to start a FREE 7-day trial of CBS All Access
You can choose either the no-commercials or limited commercials plan; both offer free trials. And remember, since CBS All Access is non-contract, you are free to cancel at any time, and you'll just pay month to month until you decide to cancel.
CBS All Access Review: Bottom Line
So, is CBS All Access worth it?
Well, look at it this way. For $6 a month, you get:
LIVE streaming of CBS shows, news, sports, NFL games and more
On-demand library of 8,500+ episodes to watch
Exclusive access to shows not available anywhere else
For 6 bucks, I'd say yeah – that's worth it. Even the $10/month no-commercials package is quite reasonably priced, in my opinion – and an extra 4 bucks is worth it for me to avoid commercials when enjoying CSI and Big Bang Theory reruns.
If you're still on the fence, I suggest trying it out for free for a week. This will give you enough time to thoroughly explore the service (and construct your own CBS All Access review, if you want!) And since it's non-contract, it's truly a risk-free trial.
What do YOU think? Is CBS All Access worth it to you? What has your experience with the service been? Let me know in the comments!