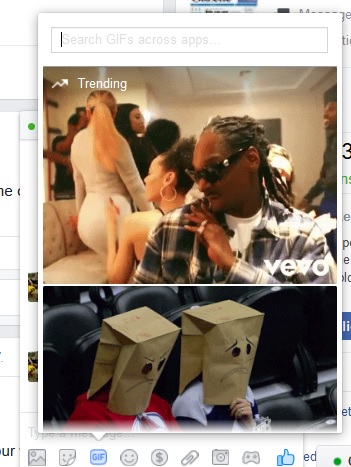 Your next Facebook comment could be a lot more animated thanks to a new site update. To celebrate the 30th birthday of the GIF, Facebook has rolled out GIF comments to all users.
Facebook began testing GIF comments back in March, and it looks like the feature is finally available to everyone.
Facebook's new GIF comment button will let users search for GIFs by keyword and post from several different sites like Tenor and Giphy. GIFs will be displayed right in the comments box and will play automatically. On the desktop site, the GIF button will also display currently trending GIFs.
Actual support for GIFs is nothing new, as Facebook added support over two years ago. But until now, the file had to be posted somewhere else. Now, the process of uploading your own GIF is simple, especially on mobile. Depending on user demand, Facebook may eventually make the feature available for news feed posts.
Facebook has been slow to embrace the GIF, afraid that it would clutter the news feed section and make it more difficult to read posts. But users kept demanding the feature, even finding workarounds to post them on their own. Once Facebook embraced autoplay video, it was clear GIF support wasn't far behind.
In addition to announcing the new capability, Facebook revealed that a staggering 13 billion GIFs were sent over their Messenger service in the past calendar year. On New Year's Day 2017 alone, over 400 GIFs were sent.
Facebook's new feature is being deployed to all users, but as with all of their new features, it takes a little to arrive for everyone. So if you don't have the feature yet, know that it's on the way.
Now, the only question is…. will you be uploading "GIFs" (like "gifts" without the "t") or will you be uploading "GIFs" (like "jiffy").