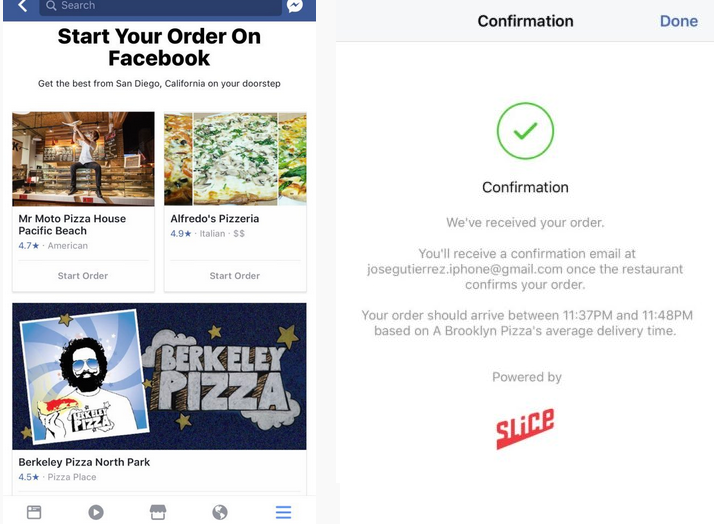 If a friend's social media photo of a mouth watering dish from the new restaurant in town has your mouth watering, there's good news coming from Facebook: you will soon be able to order from certain spots without leaving the Facebook app.
The new "Order Food" option is bring rolled out to certain users this week, indicated by an icon shaped like a hamburger. When selected, users will be given a list of nearby restaurants that offer takeout or delivery, and can place an order using Slice or Delivery.com.
So while the ordering system itself isn't actually Facebook's, it's still pretty nice to be able to order without ever navigating away from the site. Selecting a restaurant, browsing the menu, adding items to a cart, paying and choosing a tip all happen within Facebook's framework.
People using the feature will see a list of available restaurants on one page, plus a photo of each one, along with a general price range (indicated by the traditional dollar sign system), user star ratings, and type of cuisine. Also shown will be whether delivery, pickup or both options are available.
On the restaurant's side of things, the order will appear like a normal order placed through Delivery or Slice.
For Facebook, this is just the latest in features designed to either mimic or integrate other apps (like their recent "city guides" feature designed to make finding events easier or the option to apply for jobs in the Facebook app) while keeping users on the site. And while the rollout has been a little buggy according to initial reports (it is a brand new feature after all), it does appear that users are accepting it nicely.
Since this is just a test, the feature isn't available to all users at this time. A timeframe for full rollout hasn't been given at this point.