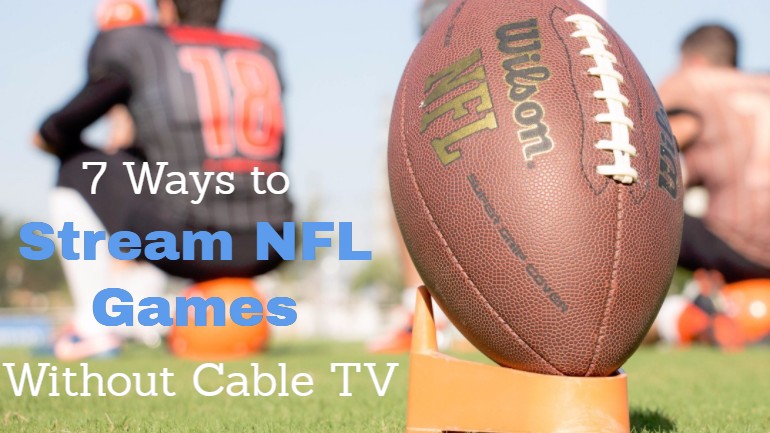 Football season is back at long last, and fans everywhere are gearing up for another great season. And, being that it's 2019, more and more people are ditching cable TV and looking for "greener pastures", so to speak. This season, it's easier than ever to watch NFL online without cable, and to watch TV in general without forking over hundreds of dollars for cable TV. Today, we'll look at the best 7 ways to stream NFL games to help you cord-cutters out there!
First, a caveat: NFL broadcast rights are a bit complex. Depending on the game, the NFL live stream could be on NBC, FOX, ESPN, NFL Network, your local regional sports channel, or (new this year) Amazon Prime! Because of this complication, you will find it hard to get access to ALL games without cable, but you can use the options below to watch many or most NFL live streams season. So, without further ado, here are the best ways to stream NFL games for the 2019/2020 season!
Are you a sports nut? If so, a new service named fuboTV should be right up your alley. This service is specifically designed for sports fans, and it's a great way to get the NFL live stream, as well as live soccer, baseball, basketball, news, and more. Some basics for watching NFL online with fuboTV:
fuboTV is mostly meant for sports fans. It offers NFL streaming on both NBC and FOX, and although the channels are region-restricted, fuboTV carries these networks in a lot of areas and also provides access to NBC/FOX streaming apps. That said, ESPN is NOT included, which is a downside. Oh, and it's also a great way to watch NFL preseason games online!
Looking to trim some fat from your budget? Sling TV is an excellent option for NFL streaming on a tight budget. The service is similar to DIRECTV NOW, but plans start at only $20 a month. Sling has both sports and general channels, so it can easily serve as a complete replacement for cable TV. Here are the basics:
Sling TV is a budget-friendly option, but keep in mind that not all channels are available in the basic package – you might want to select one of the upgraded packages, depending on what channels you want and what's available in your area. Also, if you time it right you can use the free trial to watch NFL games online free for a week! Sling TV is another good way to stream NFL Preseason as well.
CBS has the rights to tons of Sunday NFL games. Luckily enough, CBS actually has its own streaming service, and it's called CBS All Access. Here's how it works:
This service will only be useful for games hosted by CBS, so it's far from a complete solution. With that said, it's 6 bucks a month – so, it may be worth using this service in conjunction with another service for more NFL coverage.
Another service that is similar to DIRECTV NOW and Sling TV is PlayStation Vue. This service, offered by Sony, is another solid method to stream NFL games online without cable TV. Here's why:
Vue is a good service, but keep in mind that areas with NBC/FOX/CBS coverage will cost $40 a month, so it's a bit pricey.
Chances are, you know what Amazon Prime is. The ultra-popular subscription gets you free 2-day shipping on Amazon, free on-demand streaming of thousands of movies and TV shows, free digital photo storage, and an endless list of other perks. But did you know that you can actually watch NFL online this season with Amazon Prime?
This is an interesting development, for sure. Last year, Twitter had the rights to stream these 10 games, and apparently Amazon is taking over this year.
The NFL actually has its own streaming service, called NFL Game Pass. It's a useful service, with some serious restrictions. Basically, it's only for on-demand streaming, so it's not useful for folks who want/need to watch games live. However, if you're looking to watch Preseason games live, this is a great option. Here's how it works:
If you don't mind waiting until a few hours after the game ends, this is a good way to watch NFL without cable. If you want to stream NFL games live, look elsewhere.
If you're looking for an all-in-one cable replacement that will let you watch NFL online while also keeping up with your favorite shows, news, movies and more, DIRECTV NOW is a great option. As the name suggests, the service is brought to you by DIRECTV – but don't worry, you won't need a satellite or cable subscription to use it, as the service is 100% internet-based. Here's the cliff notes:
So, in short, for $35 a month (and with no commitment/contract), you'll be able to access NFL streaming as well as regular TV shows and more. CBS, NBC and FOX are all region-restricted, meaning they are only live in some areas. You can confirm channel availability in your area during the signup process.
Questions About How to Stream NFL Games?
The above options are currently the best ways we know of to watch NFL online. That said, if you have any questions or suggestions, feel free to leave a comment.