Starting a Blog in 2016? 10 Facts You Need to Know First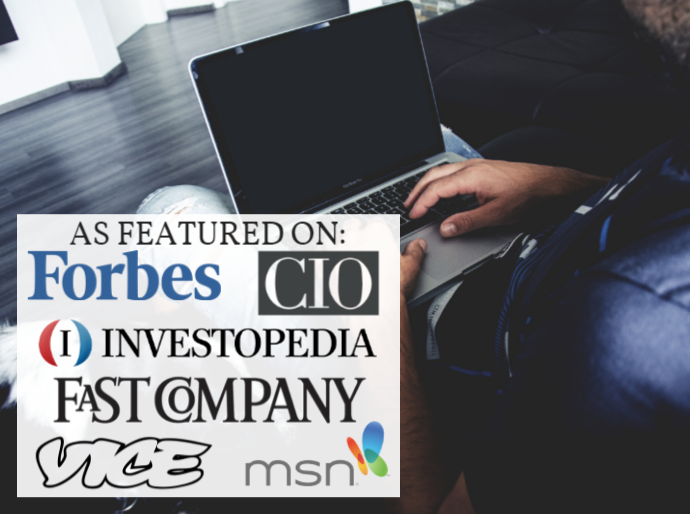 Are you thinking about starting a blog in 2016? Awesome! You'll definitely want to read this then.
Starting a blog can be an incredibly rewarding experience. Whether you want to know how to start a blog for fun or you have dreams of trying to make money blogging, the ability to create something that's totally yours and that can connect you to billions of people across the world is something truly special. And the best part is anybody can create a blog quickly and easily, even if you don't know a lick about web design, coding, or any of that.
But before we get into the actual steps of how to start a blog, there are some facts and tips I want to share with you. I think you'll find this info interesting, insightful, and useful.
1. Over 46% of the world's population is now online — 3.4 billion people.
Key Takeaway for Starting a Blog: There is a HUGE audience out there looking for interesting content. You just need to tap into them.
In 2016, 46.1% of the world's population is now online (sources for calculation: InternetLiveStats.com, GeoHive). By comparison, only 1.3% was online back in 1996 and 17.6% in 2006. With your own blog, you have the opportunity to reach readers in all corners of the world. And over half the world (53.9% to be exact) still doesn't have internet access, meaning your potential audience will only continue to grow in coming years. Whether you're looking to start a blog for fun just as a hobby or you're serious about making money blogging and driving tons of traffic to your site, finding your audience online is essential to reaching your goals as a blogger.
2. There are over 1 billion websites live right now.
Key Takeaway for Starting a Blog: Creating a blog is really easy (billions have done it!), but you need to have a clear vision for your site to succeed.  
At the time of writing this post, there are 1,024,816,803 websites live right now, according to Internet Live Stats. For one thing, that proves just how easy it is to start a blog. Anybody can do it.
Of course, with so many sites out there, it's a pretty safe bet that someone is already blogging about the same topic you want to cover. But that's not necessarily a bad thing. There's almost always room for a fresh angle on a topic, and that also means there are plenty of things you can learn from studying all of the different blogs across the web.
3. About 4.3 million blog posts are published every day. That's 51 posts published every second.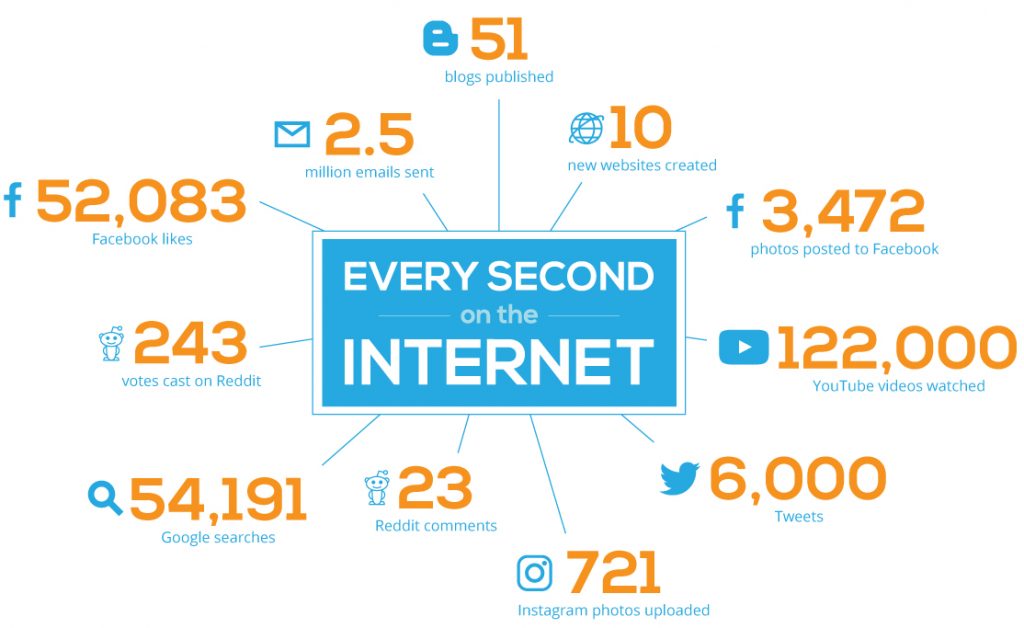 Key Takeaway for Starting a Blog: Billions of people read blogs daily and crave something great to read. You can give it to them.
That's an insane amount of content being pushed out to readers, and there's a good reason for it. The majority of internet users read blogs more than once a day, they spend the majority of their time online devoted to social networks and blogs. In other words, people are craving something new and interesting to read, and you could be the person to deliver it to them.
4. The top 4 results in a Google search get 83% of page one organic clicks.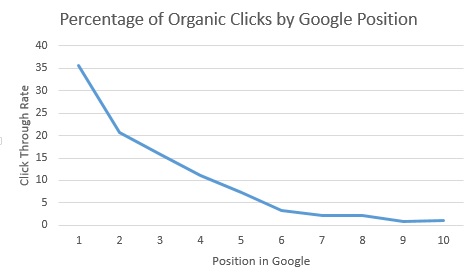 Key Takeaway for Starting a Blog: Search engine optimization is an essential tool in building a successful blog.
If you want to get significant traffic to your blog, it's important that you have a strong Google presence. Remember, there are over 54,000 Google searches conducted every single second. You want your articles to turn up whenever somebody is searching for the topics you cover, and they need to turn up at the top of the search results if you want anybody to click on them.
According to one recent study, the first results in a Google search get 83% of the clicks. The first result alone gets clicked as much as 40% of the time, some studies find. With that in mind, you need to be taking the right steps to get your blog dominating the Google rankings. Check out our blog for plenty of great online marketing tips that get results.
5. The average first-page result in Google contains 1,890 words.
Key Takeaway for Starting a Blog: If you want your blog to rank well in Google, you need content that is comprehensive, in-depth, and authoritative.
Many recent studies have found that Google tends to give preference to longer, more in-depth content that covers a single topic comprehensively. Backlinko reported that the average page on a result in Google has just under 2,000 words, noting that "pages with longer content ranked significantly better than short content."
If you're trying to get your blog discovered by people searching Google, you need to create content that goes above and beyond what other sites are doing. Explore topics more in depth, include links to more sources to back up your claims, and simply put, make sure your content is excellent on all levels. This is what will signal to Google that your page is worth ranking highly, and it will lead to more people linking and sharing your blog.
6. The average blog dies after just 100 days.
Key Takeaway for Starting a Blog: Set goals for your blog — both short and long term — and have a plan for reaching them.
The reality is that most bloggers end up quitting pretty early into the game. Whether they just get bored with it, run out of ideas to blog about, become frustrated they aren't making money yet or move on to another new blog idea, the fact is most blogs don't survive long.  
The good news is we can help you avoid this fate. Scribblrs is loaded with helpful resources you can use to start your blog on the right foot and achieve whatever your individual goals are as a blogger. Together, we can get your new blog to day 100, day 1000, day 10,000, and beyond.
7. The most expensive domain name ever sold on record was LasVegas.com for $90 million. Don't worry, you can get a domain for your blog for a few bucks.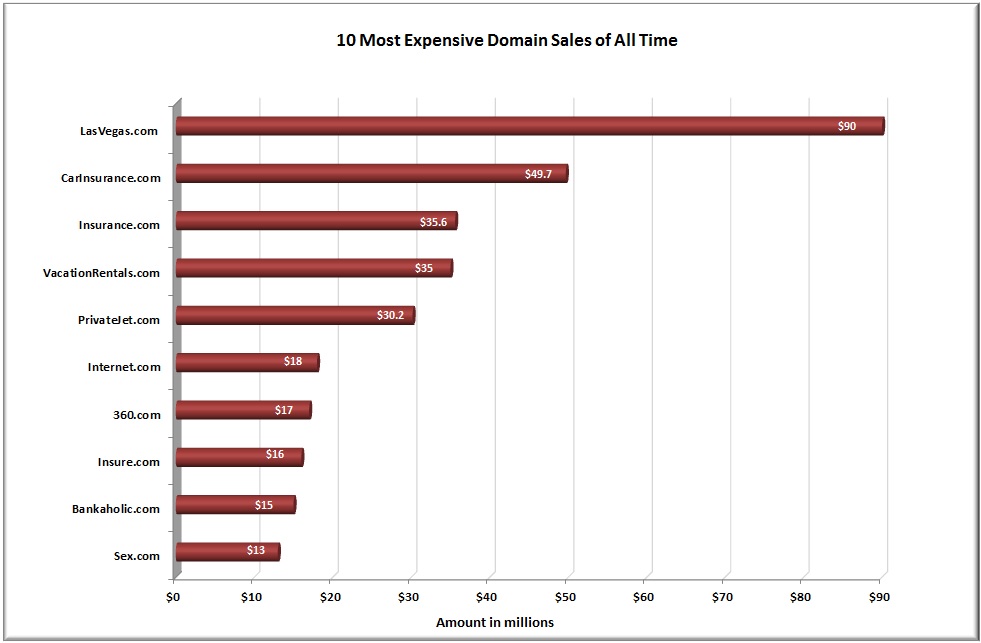 Key Takeaway for Starting a Blog: A great domain name can play a key role in promoting your site and building a killer online brand.  
To create a blog, you need to get your own domain name. This is your URL, your website address. For example, the domain name of this site is www.Scribblrs.com.
You want to put serious thought into choosing your domain name. This is part of your brand as a blogger. It needs to be memorable, easy to spell, and not too long.
You can register a new domain for no cost in some cases (average cost for a new domain is typically about $10 a year), but if the domain you want is already owned by somebody else, you may have to pay more. For example, the people who owned Vegas.com desperately wanted to own the domain LasVegas.com, so they bought it for an eye-popping $90 million in a deal that's scheduled to be paid out over 35 years, from 2005 to 2040!
8. WordPress now powers 25% of all sites across the web and nearly 60% of all blogs, almost 10 times its closest competitor.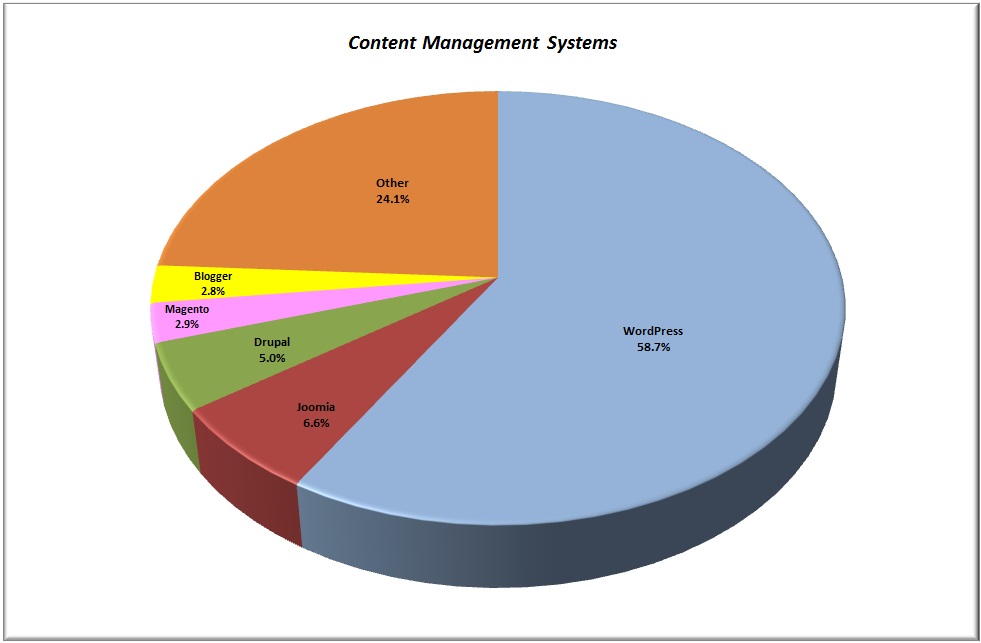 Key Takeaway for Starting a Blog: WordPress is the most popular blogging platform because it's easy to use, takes seconds to set up, and offers a ton of features every blogger will enjoy.
Before you can start blogging, you need to choose a blogging platform. This is the interface you'll use to tweak the design of your blog, publish new posts, moderate comments, and so on. There are a number of blogging platforms to choose from, including WordPress (my personal favorite), Blogger, Tumblr, Drupal, and more.
But consider this — over 25% of all websites are powered by WordPress, making it the most popular blogging platform and it's not even close. The next two closest blog management systems combined are only used by 4.9% of sites, not even one-fifth as much as WordPress. And among all the different blogging systems out there, WordPress has a 58.7% market share.
Bloggers love WordPress because it's easy to use, offers millions of design themes to choose from, and requires little-to-no technical skills to set up. We recommend choosing the self-hosted version of WordPress rather than hosting your site as a sub-domain on WordPress.com. Check out our article on why you need to avoid so-called "free" blog sites.
9. About 30,000 websites are hacked every day.
Key Takeaway for Starting a Blog: The right hosting service and WordPress plugins can help secure your site against would-be hackers.
A website is hacked every 3 seconds. Now, I know what you're saying to yourself, "Who would want to hack my site? What are the odds that my blog gets hacked out of the billions of websites out there?" That's a dangerous way to think, and it's a good way to lose everything from your blog and end up with a major headache.
We've had hackers try to break into our various blogs countless times over the years. Thankfully, we have a dependable hosting plan (check out our tips for choosing the best blog hosting) and use some great security plugins for WordPress that keep our sites safe, but you must always remain vigilant. Whether you're blogging for fun or trying to make money blogging, make sure you protect your site.
10. 63% of bloggers earn less than $3.50 a day on their own blogs.
Key Takeaway for Starting a Blog: You can make money blogging (tons of it if you know what you're doing), but you need to have a sound plan and a willingness to work your butt off (at least at first).
Just because you create your own blog and write a bunch of great posts doesn't mean you're going to make money blogging. The sad fact is the vast majority of bloggers only make pennies with their own sites, definitely not enough to keep the lights on.
But here's the good news. You can make a real living blogging. Hell, you can get wealthy blogging, making a high six-figure income or more as a blogger. But it won't happen overnight and it won't be easy, at least not at first. Blogging is just like any other business if you want to succeed you need to have a sound plan in place for growing your online brand. Our site is loaded with resources to help you make money blogging!
If you ask us, there has never been a better time to start a blog than now. The audience of blog readers continues to grow by the second, creating new opportunities to share your thoughts and ideas with a like-minded group of people all across the world.
Ready to start your own blog? Click here for our simple 3-step guide on how to start a blog.