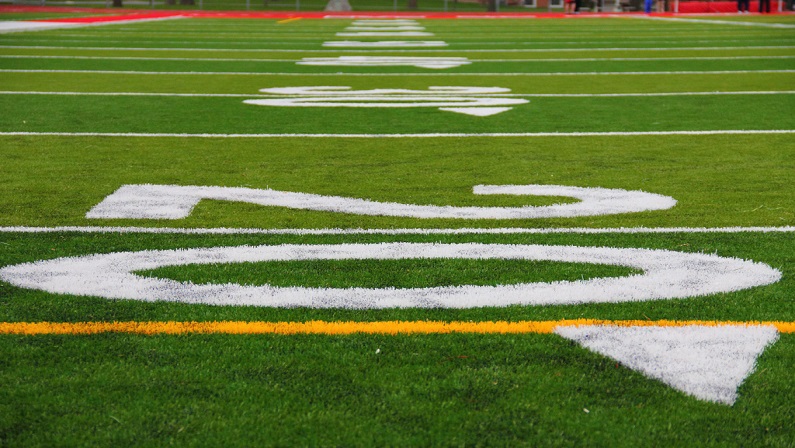 Today on Sunday, February 3 at 6:30 pm ET, Super Bowl LIII will take place between the New England Patriots and the Los Angeles Rams. It's sure to be a great game, and with 2 out of 3 adults we surveyed indicating they'll be watching the game and 12% planning to streaming it, you don't want to miss out on the year's biggest sporting event. If you're looking for a way to watch the Super Bowl online without cable, we'll go over your options below.
But first, let's take a closer look at how people will be watching the big game in 2019.
Survey Results: How Americans Will Watch the 2019 Super Bowl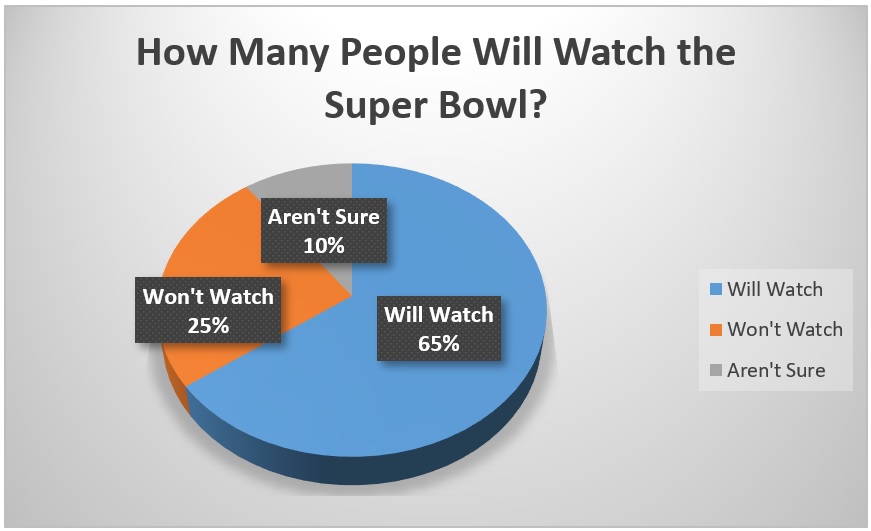 We surveyed 1,600 respondents earlier this week to learn how people plan to watch and celebrate the Super Bowl this year. The results were quite interesting.
Here are some key takeaways:
About 2/3 (65%) of those surveyed plan on watching the Super Bowl. 25% said they definitely won't be watching, while the remaining 10% weren't sure if they'll tune in or not.
Of those who will be watching the big game, 12% plan on streaming it.
17% of respondents said they plan on throwing a Super Bowl viewing party at their house; 29% plan on attending a party at someone else's home; 10% said they'll be watching at a bar or restaurant; the remaining 44% will be watching alone or with immediate family at home or not watching at all.
Surprisingly, 15% of those who self-identified as NFL fans who follow the sport closely said they won't be watching this year's Super Bowl.
Some viewers seem to have Patriots fatigue. 27% of the total survey group said New England being in the Super Bowl makes them less invested in the game, 13% said it makes them more interested, and the remaining 60% said it doesn't make a difference to them.
How to Watch the Super Bowl Online
The Super Bowl will start at 6:30 pm ET. Cable is not required since the game is broadcast on free, over-the-air TV, but many people plan on streaming the game. Luckily, there are some low-cost options available that will allow you to watch the game online.
With that in mind, here are five ways to watch the Super Bowl online without cable!
1. CBS All Access
CBS All Access (free 7-day trial) is offered as the standalone CBS streaming subscription service. It is meant to offer you the best of CBS. It starts with the CBS live stream, which is available in over 90% of markets. You also receive an on-demand library. Thousands of episodes and event shows are included. All new shows add new content within 24-hours of airing. Many classic shows are also included with their full series. As CBS frequently airs sporting events and event shows on top of their normal programming, CBS All Access makes a great add-on service to consider.
$5.99 per month
No commitments – cancel at any time
Most areas of the country will receive their local CBS live stream
Thousands of episodes available in the on-demand library including original content
Watch sports, award shows, events, news, and CBS daytime and primetime programming
If you want to watch the Super Bowl online, you'll need access to CBS to do it. After the Super Bowl live stream, you'll still have the chance to watch award-winning TV, news, and plenty of sports, too. Check out our CBS All Access review for more info.
2. fuboTV
If you're a sports fan you need to be acquainted with fuboTV (free 7-day trial). The focus of this streaming service is live sports streaming. The package is one of the largest in basic packages with over 80 channels and more than 30 of them are sports channels. In addition to live TV, you'll have an on-demand library and a cloud-based DVR, so you shouldn't have to miss anything whether you watch it live or later. Some local channels are available, depending on your location. CBS is available in most markets across the country, making it easy to stream the Super Bowl.
Over 80 channels and 30+ sports channels (check out the full fuboTV channels list)
Pay $40 for the first month and $45 after that
Watch on mobile devices, computers, Roku, Chromecast, Apple TV, and more
Watch basketball, college sports, football, golf, tennis, soccer, cycling, and more
3. Hulu with Live TV
The nice thing about Hulu with Live TV is it fills two needs in most cord cutting homes. A $40 monthly subscription includes 50+ live channels and Hulu's on-demand content including films, TV shows, and Hulu Original content. Hulu Live offers local channels like CBS to most areas of the country, so you should be able to watch the Super Bowl online. You can watch Hulu Live on most devices including Apple TV, Chromecast, Fire TV, Roku, mobile devices, gaming consoles, and even some smart TVs.
One package with 50+ channels for $40
Watch local channels in most areas of the country along with dozens of other channels
Something for everything is included in the main package or add movie channels
Hulu's on-demand library is included
The cloud-DVR offers 50-hours of space
Watch on multiple screens or upgrade to unlimited
Hulu with Live TV offers a free one-week trial, which gives you a way to watch the Super Bowl online for free!
4. PlayStation Vue
When you think of the PlayStation console, the first thing you might think of is gaming. However, the PS4 does so much more than just games. Take PlayStation Vue, for example. This streaming service is becoming a popular option for many people thanks to multiple package options and plenty of streaming perks. More than 50+ channels are available in the smallest package (check out the PlayStation Vue channels list for more info). Streaming is easy thanks to the wide range of compatible devices and the ability to stream on five devices simultaneously.
Packages from $44.99/month
The included cloud-DVR will save recorded shows for 28 days
PS Vue can be watched on PS3 and PS4 consoles. You can also watch on Apple TV, mobile devices, Fire TV, Roku, computers, and more
Local channels in most areas mean that you can watch the Super Bowl live stream
PlayStation Vue offers packages free of commitments or contracts
If you're interested in PlayStation Vue and want to give it a try, they offer a free 5-day trial.
5. YouTube TV
YouTube TV is one of the newest streaming services available despite being backed by a user-created content giant. You'll find a lot of similarities to other services. The package includes 50+ channels for a price of $40 per month. Local channels are included in most of the areas where YouTube TV offers service. You can stream on most devices, though Amazon Fire TV devices of any kind are not compatible. Here are some other details:
Over 50+ channels with plenty of diversity so everyone has something to watch
Add movie channels for a small fee or pay $40 for the main package
Watch on mobile devices, Apple TV, Chromecast, Roku, and more
Some channels like HGTV, MTV, and Food Network are missing despite being common in streaming packages
The included cloud-based DVR offers unlimited space
YouTube TV also includes a one-week trial, which allows you to try the contract-free package for yourself.
As you can see, you don't need cable to watch the Super Bowl online. You can ditch cable and still enjoy your favorite shows for less!