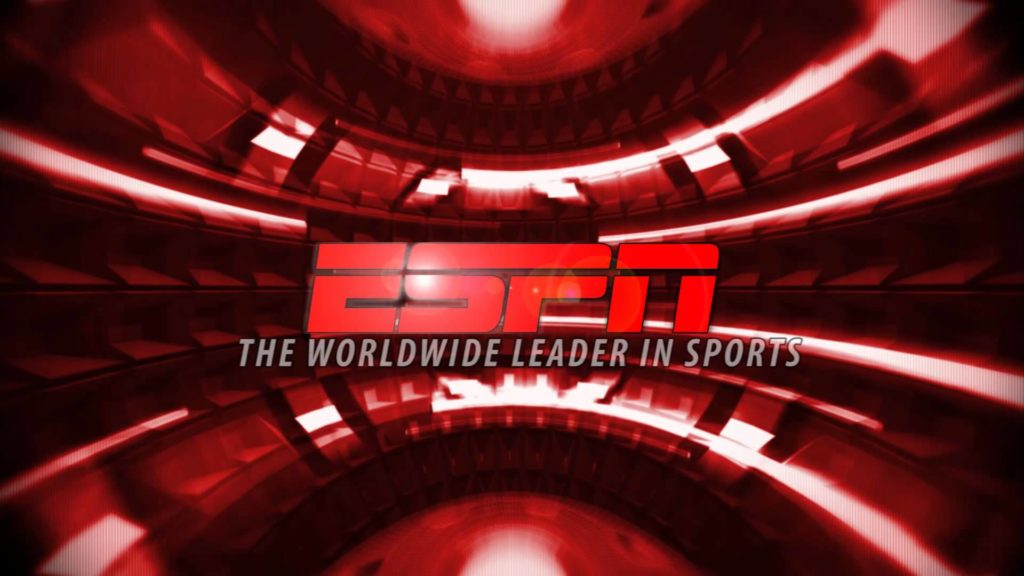 Sports channels remain one of the biggest reasons many households have not yet cut the cable. Streaming services have been offering loads of groundbreaking original and hard-to-find content for years, yet professional sporting events are only just recently beginning to move into the streaming world. ESPN is still the undisputed leader in sports coverage, and luckily there are more ways than ever to stream ESPN channels without the need for a cable subscription.
Want to cut the cord and still watch an ESPN live stream? Check out these five ways to watch ESPN online without cable.
Hulu's live TV service has become an all-in-one cable cutting solution in many homes. A monthly subscription includes access to dozens of live streaming channels as well as Hulu's video-on-demand content which now features many award-winning original series and films. Hulu's live TV service costs just under $55 a month and gives you another way to watch ESPN without cable. Hulu's live TV is currently supported on Android, iOS, Xbox One, Apple TV, Roku, and more.
Over 50 live channels including ESPN, ESPN2, ESPNews, and ESPN U plus several other sports networks

Access to the entire Hulu library, which adds new content regularly

Most of the major cable networks are included, plus plenty of family-friendly content

Local sporting events and channels are available in many cities

50 hours of cloud DVR storage

Allows for two simultaneous screens
Hulu offers a seven-day free trial of their live TV service. Note that some network restrictions apply based on one's local area.
Sling TV offers another all-purpose cable-cutting solution for a low price. Five ESPN channels are included, plus loads of other sports networks. Aside from sports, dozens of major cable and broadcast networks are included with a Sling TV subscription for all of your television needs. Sling TV is a great way to cut the cable for a low monthly subscription while still retaining most of the most-watched networks.
A basic Sling TV package is only $30 per month (includes ESPN live stream and more)

Sling TV includes five major ESPN networks across various packages: ESPN, ESPN2, ESPN3, ESPN U, and ESPNews (check the full Sling TV channels list)

Sling TV can be streamed on multiple simultaneous devices, making it a great solution for households

Sling TV is supported by most major streaming-ready devices including Roku, Apple TV, Chromecast, Amazon Fire TV, Xbox consoles, iOS and Android mobile devices, or through your computer's web browser.

No contract required; users can subscribe month-to-month
Like most major streaming services, Sling TV offers a free trial period for new users. This is a great way to test out the service while you watch ESPN online free for a week.
The new service, Vidgo, is quickly becoming a cable-cutting option for many households. You get a whole lot more than just an ESPN live stream!
Service starts at $40 per month 

60+ channels included
No contract, cancel at any time
Want to cut the cable? Give Vidgo a shot with their 7-day free trial.
AT&T TV NOW is one of the best all-in-one cable-free streaming services. For $65 a month, subscribers can watch ESPN online plus over 40 streaming channels including many of the biggest cable networks.
Over many channels including ESPN, ESPN2, ESPNews, and ESPN U (check our guide to the AT&T TV NOW channels list)

Option to upgrade to larger packages with up to 120+ channels

No contract: users can unsubscribe at any time

New content including more channels are added all the time

An easy-to-use interface that should feel familiar to new cable-cutters
Still not convinced? You're in luck: DIRECTV NOW offers a 7-day free trial period. Give it a shot to see if it's right for you.
5. WatchESPN App
If you're a die-hard sports fan who doesn't watch a lot of other content, ESPN's WatchESPN app is a great low-cost solution to stream ESPN programming without the need to pay for other channels. Anyone with a high-speed internet subscription or using a computer on a college campus or military base can access ESPN3 content without the need for a cable subscription, although cable subscribers can stream over ten more ESPN networks.
WatchESPN is supported on Android, Amazon Fire TV and Kindle devices, Apple TV, Chromecast, Roku, Windows 8, Xbox One, or through your computer's web browser.

With a cable subscription, users can access ESPN, ESPN2, ESPN U, ESPNews, SEC Network, ESPN Deportes, ACC Network Extra, and Goal Line/Buzzer Beater/Bases Loaded.

No monthly subscription required

Easy-to-use interface which allows users to filter streams by sport, channel, or program.
With so many different ways to watch ESPN online without cable, you can finally say goodbye to your expensive TV package!