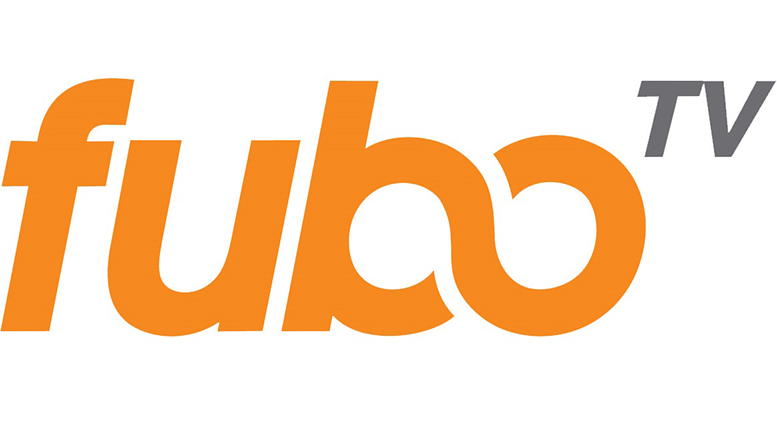 It's 2020, and the world of live TV has changed significantly in recent years. Gone are the days when cable TV was a must-have if you wanted to watch TV. These days, we have giants like Netflix, Amazon Prime and Hulu for on-demand binge-watching, and we have newcomers like Sling TV, AT&T TV NOW, and fuboTV to cover live TV. It's a good time to be a cord-cutter, with an ever-growing list of options. Today, we're going to do a full fuboTV review (including the full fuboTV channels list for 2017), to give you a better idea of what this service is all about.
fuboTV Review: At a Glance
So, what is fuboTV, anyways? Basically, it's a service that lets you watch live TV over the internet. It offers a solid lineup of over 90 channels, with its primary focus being on sports. You don't need cable or satellite to use it, just an internet connection and a streaming device. Here are the basics:
$55/mo, no contract
90+ channels
Mostly focused on live sports
Watch live TV online
Use on your smartphone, tablet, computer or streaming device (Roku, Apple TV, etc.)
Cloud DVR feature to record games & shows
Key channels include FS1, FS2, BeIN Sports, NBCSN, CBSSN, regional sports networks, NBC/FOX/CBS in select areas, and more
Great way to watch March Madness online
For the most part, fuboTV focuses on giving subscribers access to live sports. That said, there are general channels too, like FOX News, MSNBC, USA, etc.
What We Love About fuboTV
For this fuboTV review, we'll do a simple pros-and-cons breakdown. Overall, we like this service, and here's why:
No contract, so you can cancel any time
HD quality streaming
No cable required
Reasonably priced
Works on most devices
Provides local channels like NBC, FOX and CBS, as well as regional sports networks (in select areas)
Great for watching live soccer, football, NBA, NHL & more
Good selection of sports networks
Decent selection of non-sports networks (news, entertainment, etc.)
Seems to be expanding rapidly and adding new channels
Cloud DVR recording feature
Generally easy to use
What We Don't Love About fuboTV
Alas, no streaming service is perfect. fuboTV is a solid offering overall, but not without its flaws:
No ESPN coverage. For a sports streaming service, this is a huge con
The price point isn't the best
Is fuboTV Worth It?
Given the fuboTV pros and cons, is the service worth it? The fuboTV cost is $55 a month, and at that price, we think it's worth it for sports fans. If you're after more of an all-around service, and are less interested in sports, then this service isn't the right choice for you. But, for sports fans, fuboTV is definitely worth the money in our opinion.
What's really nice is that you can demo the service yourself, to see how you like it, for free! Click here to try a FREE 7-day trial of fuboTV!
fuboTV Channels List 2019
The main fuboTV package, fuboTV Premier, offers over 80 channels, as you can see in the image above. The fuboTV channel list includes:
Local sports on Comcast SportsNet and other sports regional channels (select areas)
Live national sports on NBCSN, FS1, FS2, NBA TV, TNT, truTV, BeIN Sports, Big Ten Network, FOX Soccer Plus, BeIN Sports 2-10 (9 channels), Golf Network, Olympic Channel, Eleven Sports, Football Report TV, and fuboTV Network
Live entertainment on Bravo, National Geographic, USA, CNBC, CNBC World, Viceland, E!, SyFy, HGTV, Food Network, Travel Channel, A&E, History, Lifetime, LMN, Hallmark Channel, Hallmark Movies & Mysteries, Chiller, Sprout, Nat Geo Wild, El Rey Network, Fuse, Revolt, FYI, Oxygen, and Fusion.
Live news on Viceland, FOX News, FOX Business, MSNBC, The Weather Channel, and Local Now.
Spanish TV on Univision, Univision TDN, NBC Universo, UniMas, and GalaVision
New channels are added regularly, as fuboTV is a new service that is still expanding. Overall, the fuboTV channels list is extensive, and particularly useful for sports fans.
fuboTV Add-Ons
In addition to the channels listed above, fubo gives you the option to add on additional channels to your selection, via the following add-on packages: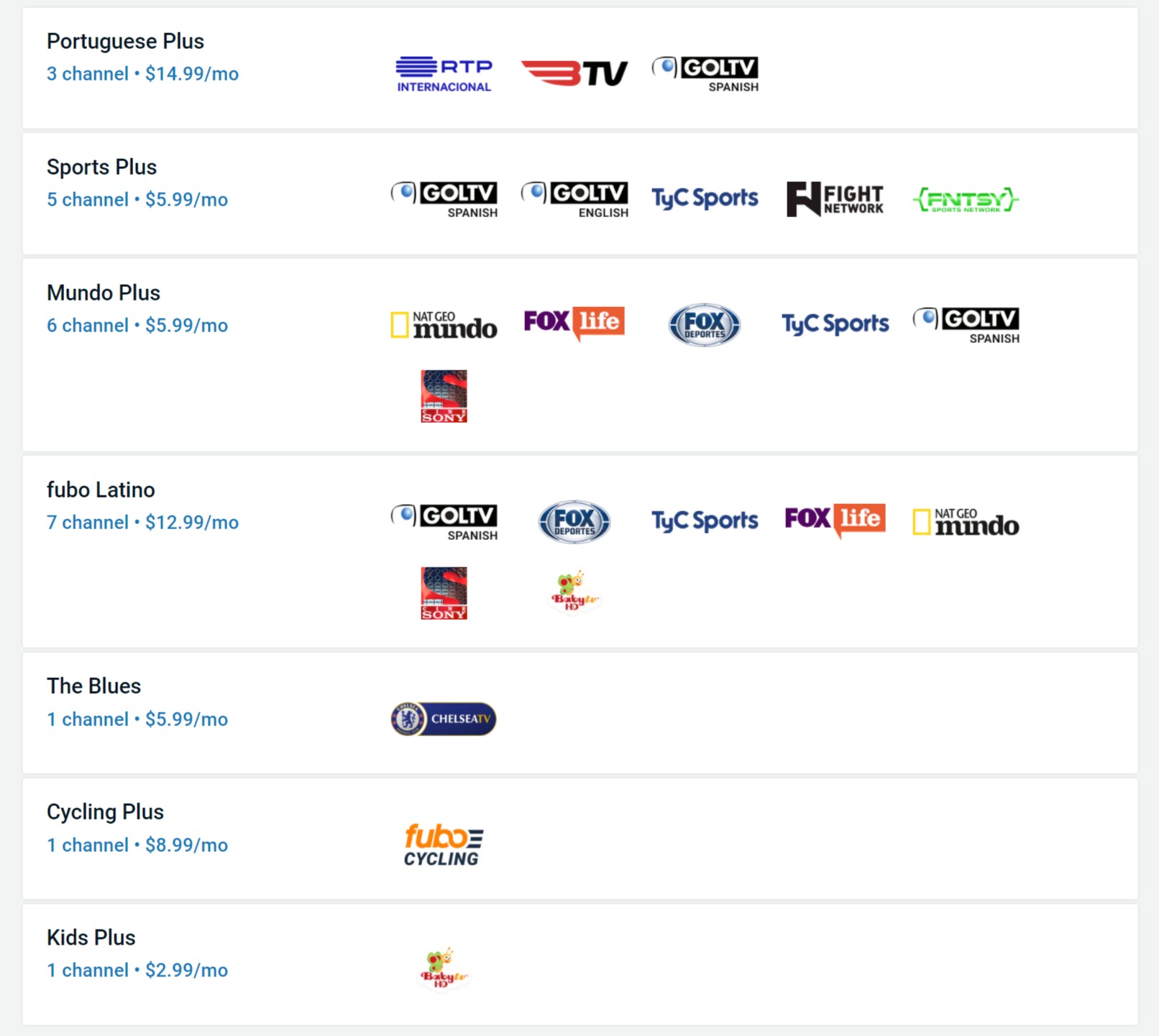 These add-ons are fairly limited at this point, but we anticipate this is one area that fuboTV will be expanding on in the future.
Are There Other fuboTV Packages?
FuboTV Premier is the basic package described above in the full fuboTV channels list. There are two other packages, meant for Spanish speakers and Portuguese speakers, respectively. These are not add-ons, but rather separate fuboTV packages – which means these can be subscribed to on their own.
fubo Latino:

fubo Português

How Does fuboTV Work?
This service is 100% online, so all you'll need to use it is a reliable internet connection, a fuboTV subscription, and a compatible device. You can use fuboTV on:
Streaming players like Roku, Apple TV, Chromecast, Amazon Fire TV and Android TV
Your computer, via a web browser
Your iOS or Android mobile device (phones & tablets)
Other than that, fuboTV works quite simply: download the app, log in to your account, and start watching! Whatever is airing live on the included channels is also airing live on fuboTV, so from here on out it's not much different than a cable or satellite package (except it's much cheaper!)
fuboTV can also be used to authenticate more than 30 TV Everywhere apps, which means you can access the official apps of many channels, including NBC, FOX and more. This can serve to bypass some of the region-restrictions of certain channels, as well. For instance, FOX as a channel is only available via fuboTV in certain areas, but, anyone with a fuboTV subscription can access the FOX Sports Go app to watch live sports on FOX, regardless of where they live.
How Does fuboTV Compare to the Competition?
fuboTV is far from alone in the online streaming world, with competitors like AT&T TV NOW, Sling TV, and Hulu Live, with more on the way. How do these services stack up?
In terms of live sports coverage, fuboTV excels, serving up the most sports networks of any streaming service. That said, it lacks ESPN, TNT and TBS, which is bad news for NBA, NFL and college sports coverage for some people.
In terms of general channels, fuboTV is way up there.
In terms of price, fuboTV is about in line with the competition.
fuboTV Review: Bottom Line
Overall, we think fuboTV is a great option for sports fans, particularly those living in an area with FOX/NBC/CBS/regional sports coverage. The fuboTV channels list is extensive and continually growing, albeit with a few notable holes. The overall experience is good, with apps working smoothly in our tests, and HD picture quality.
If you're interested in trying it out, we recommend signing up for the free trial. This is a risk-free way to take a look around and test things out without spending any money.
Have you tried fuboTV? What did you think of the service?