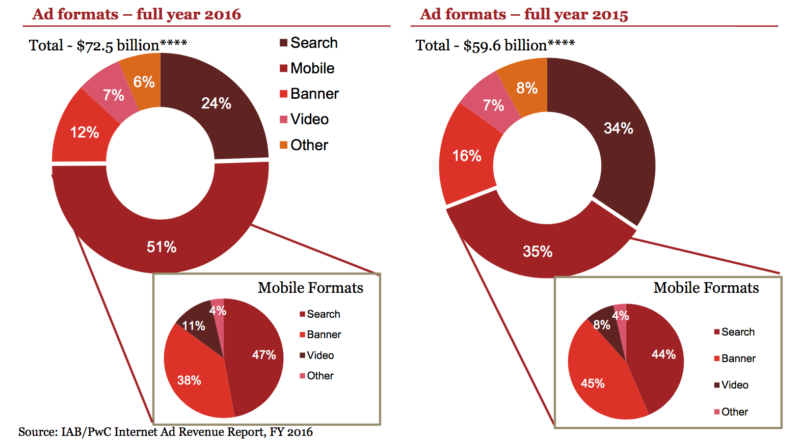 When it comes to digital advertising, a new IAB Internet Advertising Revenue Report shows that companies are spending more than ever, but they're spending it in new areas. In the overall online ad landscape, paid search advertising is at the top of heap – by a good bit.
In 2016, companies spent more than $35 billion on search ads, up $6 billion from the previous year. But what's new is that companies are moving away from a traditional desktop computer approach.
In terms of digital search ads, the divide between mobile and desktop was split fairly evenly. But this was the first year that mobile search advertising actually outpaced desktop (51% to 49%). Even though overall search revenue was up by $6 billion from the prior year, desktop search actually declined about 10% while mobile grew 77%, showing that consumers really are trending more towards mobile.
Ads on podcasts and other streaming mediums were categorized for the first time and accounted for right at $1 billion for the year.
It's not surprising to find out that the rise in mobile video was a key factor in the increase in mobile ads. Videos on mobile ads rose by nearly 150% from the prior year to reach over $4 billion. Social media also accounted for a big increase in ad revenue, growing over 50 percent from 2015 to hit more than $16 billion in 2016 and accounting for 22 percent of annual digital ad revenue this year. When you consider that many mobile users today are utilizing ad blockers, it makes sense they'd seek out search, an area that ad blockers often miss.
Speaking on the landscape change, David Silverman from PricewaterhouseCoopers echoed the numbers seen here, saying, "Mobile, social, video, and programmatic trends combine to redefine the digital landscape, providing unprecedented access for advertisers to reach consumers. Digital audio, generating $1.1 billion in 2016, speaks to the continued evolution of new formats that enable marketers to find audiences at home, behind their desks, or wherever they are."