Editor's Note: PlayStation Vue will be shitting down January 30, 2020. We recommend checking out a similar service like fuboTV. 
We seem to be entering the Golden Age of online streaming, with more and more options popping up each week. It seems like only yesterday that we were practically forced to have cable in order to watch our favorite shows, sports, and news – but that's simply not the case any more! It's great news for cord-cutters and budget-minded folks, who are sick of the sky-high prices of cable. Today, there are several popular live-streaming options, including PlayStation Vue. Today, we'll go over the PlayStation Vue channel list, and give you a full breakdown in our 2019 PlayStation Vue review.
While most people will be familiar with on-demand services like Netflix and Hulu, PlayStation Vue is part of a lesser-known but rapidly expanding segment of the streaming universe: LIVE streaming of popular TV networks, without cable! Vue joins competitors like DIRECTV NOW and Sling TV in the ever-expanding world of cable alternatives. Let's dive in and explore this new service, shall we?
PlayStation Vue Review: At a Glance
So, what is PlayStation Vue? Basically, it's a way to stream live TV over the internet, without a cable subscription. In many ways, it's similar to cable – you get a channel package of 45-90+ channels, all of which you can watch live, and many of which you can also watch on-demand. The difference? Price, and commitment. Vue starts at $45 a month, and requires no contract. Here are the basics:
Starts at $45 a month, no contract required
45+ channels in the base package, up to 90+ in larger packages
Covers a broad range of channels, ranging from sports to news to entertainment
Watch live TV online
Use on streaming devices (Roku, Apple TV, etc.), PlayStation consoles, mobile devices & more
Cloud DVR included to record shows
Watch on up to 5 devices simultaneously
NBC, ABC, FOX and regional sports networks also available in some areas
The PlayStation Vue channels list is generally well-rounded, with something for the whole family. It's also beneficial for households because more than 1 device can be used simultaneously, while watching different channels (up to 5 devices at once).
What We Love About PlayStation Vue
To simplify our PlayStation Vue review, we'll do a straightforward PS Vue pros and cons list. Here's what we like about Vue:
No contract (you can cancel any time)
HD streaming quality
Great selection of channels for the whole family
Reasonably priced
4 different PlayStation Vue packages make it easier to get the channels you want
Works on most devices
Coverage of many local channels in select areas
Good selection of channels for sports, news, entertainment & more
DVR feature works well
Simultaneous streaming on 5 devices is great for families
Apps work well, easy to use
What We Don't Love About PlayStation Vue
No streaming service is perfect, and Vue definitely has some downsides, outlined below:
A bit more pricier than some streaming services like Sling TV and Philo
Recently raised prices (from $40 to $44.99)
Has lost some channels since launching
Is PlayStation Vue Worth It?
Given the PlayStation Vue pros and cons, is Vue worth the cost? We think so.
The PlayStation Vue cost of $44.99 a month is still quite affordable compared to cable TV, and the channel selection is solid. Before making a decision for yourself, take a look at the PlayStation Vue channels list below to see what networks you can get with the service. Or, you can explore first-hand with a free trial period.
Note; if you read older PlayStation Vue reviews, you might note other complaints such as a lack of Apple TV support, glitches, etc. These issues have all been worked out, and this review is up-to-date as of the publish date.
PlayStation Vue Channels List 2019
Like most of its competitors, Vue offers several different options. The PlayStation Vue packages range from $45 a month to $80 a month, for 45+ to 90+ channels, respectively. Here are the different PlayStation Vue packages available:
PlayStation Vue Access Plan – $45 a month – 45+ channels
PS Vue channels in Access plan:
(in select areas): NBC, FOX, ABC, CBS
(nationwide): AMC, Animal Planet, BBC America, Bravo, Cartoon Network/Adult Swim, CNBC, CNN, Cozi TV, Destination America, Discovery, Disney Channel, Disney Jr, Disney XD, DIY Network, E!, ESPN, ESPN2, Food Network, FOX Business, FOX News, Freeform, FS1, FS2, FX, FXX, HGTV, HLN, Investigation Discovery, MSNBC, National Geographic, NBCSN, OWN, Oxygen,  PlayStation Emerging Filmmakers Program, Pop, SCI, Start TV, SyFy, TBS, TLC, TNT, Travel Channel, TruTV, USA, and We TV.
Best for: budget-minded consumers looking for a solid selection of channels at the lowest price possible.
PlayStation Vue Core Plan – $50 a month – 60+ channels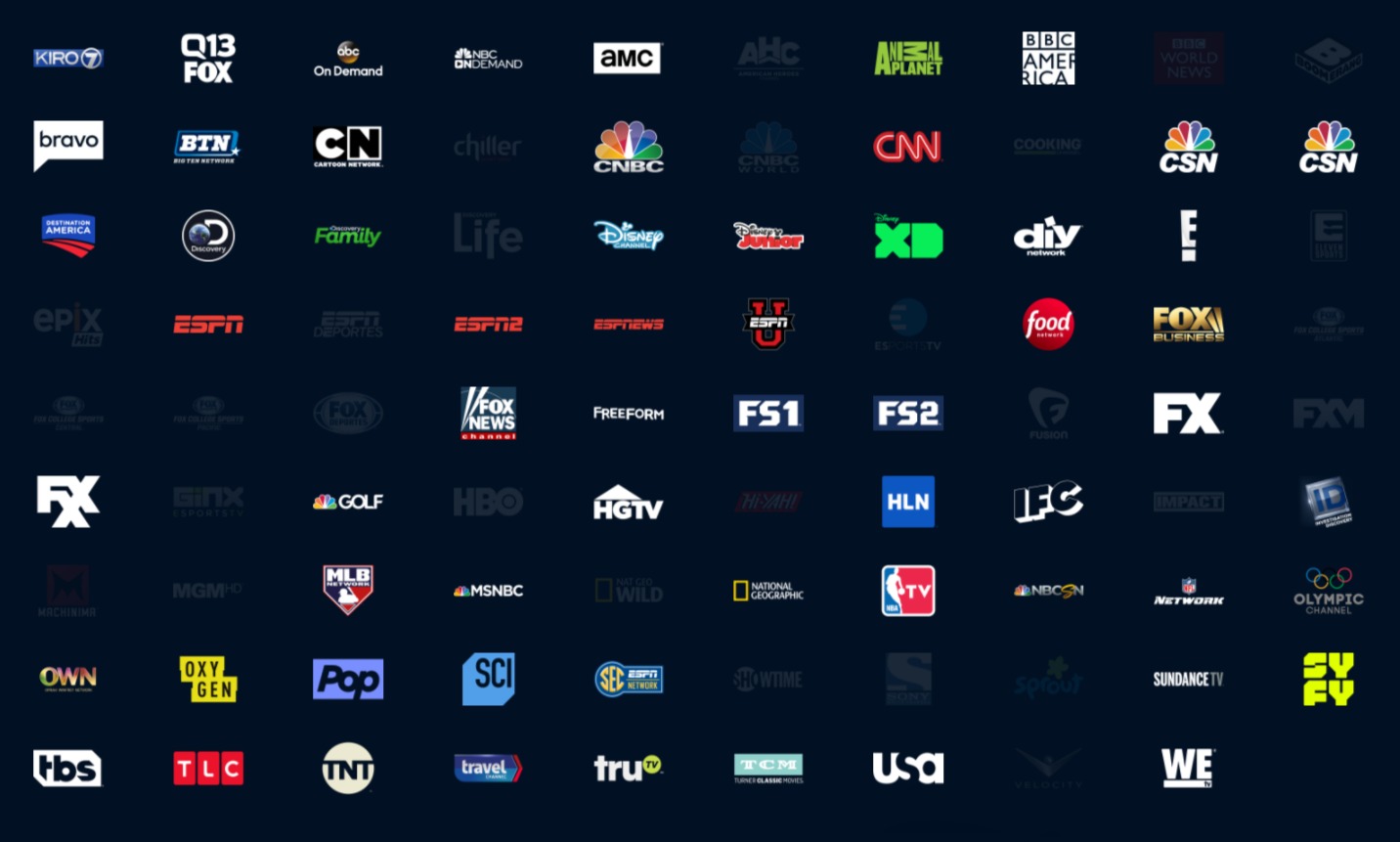 PS Vue channels in Core plan:
Includes all channels listed in the Access plan, plus:
Big Ten Network, CBS Sports Network, Cheddar Business,  Comet,  FOX Sports regional networks (select areas), NBC Sports regional channels (select areas), Discovery Family, ESPNEWS, ESPNU, ESPN College Extra, Golf Channel, IFC, MLB Network, Longhorn Network, NBA TV, NFL Network, Olympic Channel, SEC Network, Sundance TV, TCM.
Best For: this package adds a ton of sports channels, so it's definitely worth the extra $5 a month for folks who like to watch live sports.
PlayStation Vue Elite Plan – $60 a month – 85+ channels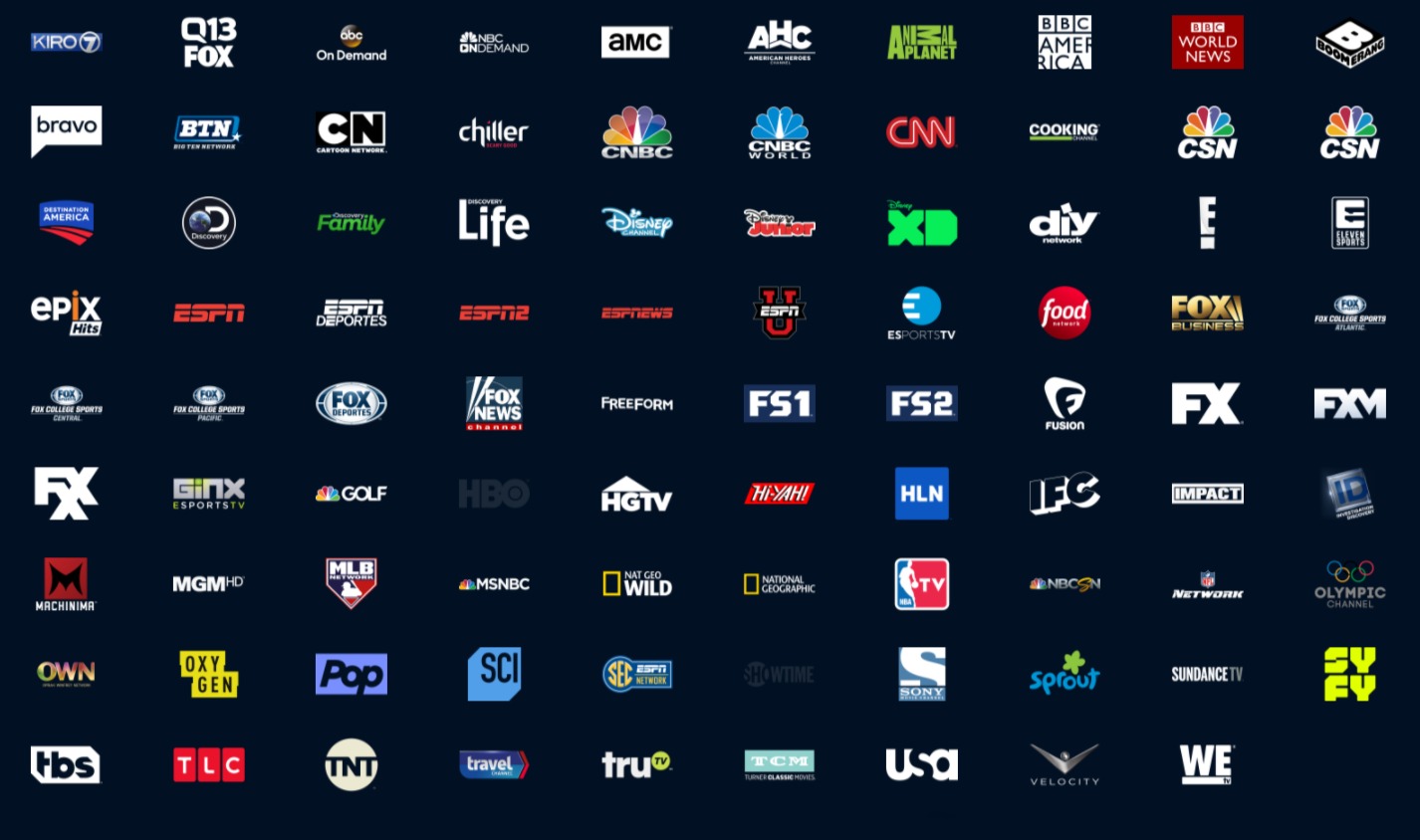 PS Vue channels in Elite plan:
Includes all channels listed in the Core plan, plus:
American Heroes Channel, BBC World News, Boomerang, Chiller, CNBC World, Cooking Channel, Discovery Life, Eleven Sports, Epix Hits, ESPN Deportes, Esports TV, FOX College Sports Atlantic, FOX College Sports Pacific, FOX College Sports Central, FOX Deportes, Fusion, FXM, GinX Esports TV, Hallmark, Hallmark Drama, Hallmark Movies & Mysteries, Motortrend, Nat Geo Wild, Sony Movie Channel, Stadium, Sprout, Tastemade, Tennis Channel, Universal Kids, and Velocity.
Best For: this package adds a ton of awesome channels, mainly covering sports (especially college sports), movies, eSports, and some more niche channels. For those craving selection, this is a great option.
PlayStation Vue Ultra Plan – $80 a month – 90+ channels
PS Vue channels in Ultra plan:
Includes all channels listed in the Elite plan, plus:
HBO and Showtime.
Best For: this package adds only two channels, but they are two incredibly entertaining channels; HBO, and Showtime. These channels are leaders in the premium network market, and home to hit shows like Game of Thrones, Ballers, Homeland, and Shameless. If you gotta have it all, this is the plan for you.
Reminder: there is a free 5-day trial for each of these packages.
PlayStation Vue Channel Add-Ons
In addition to the PlayStation Vue packages described above, there are also various add-on packages that can be added to any plan to further extend your selection. See the image below for details: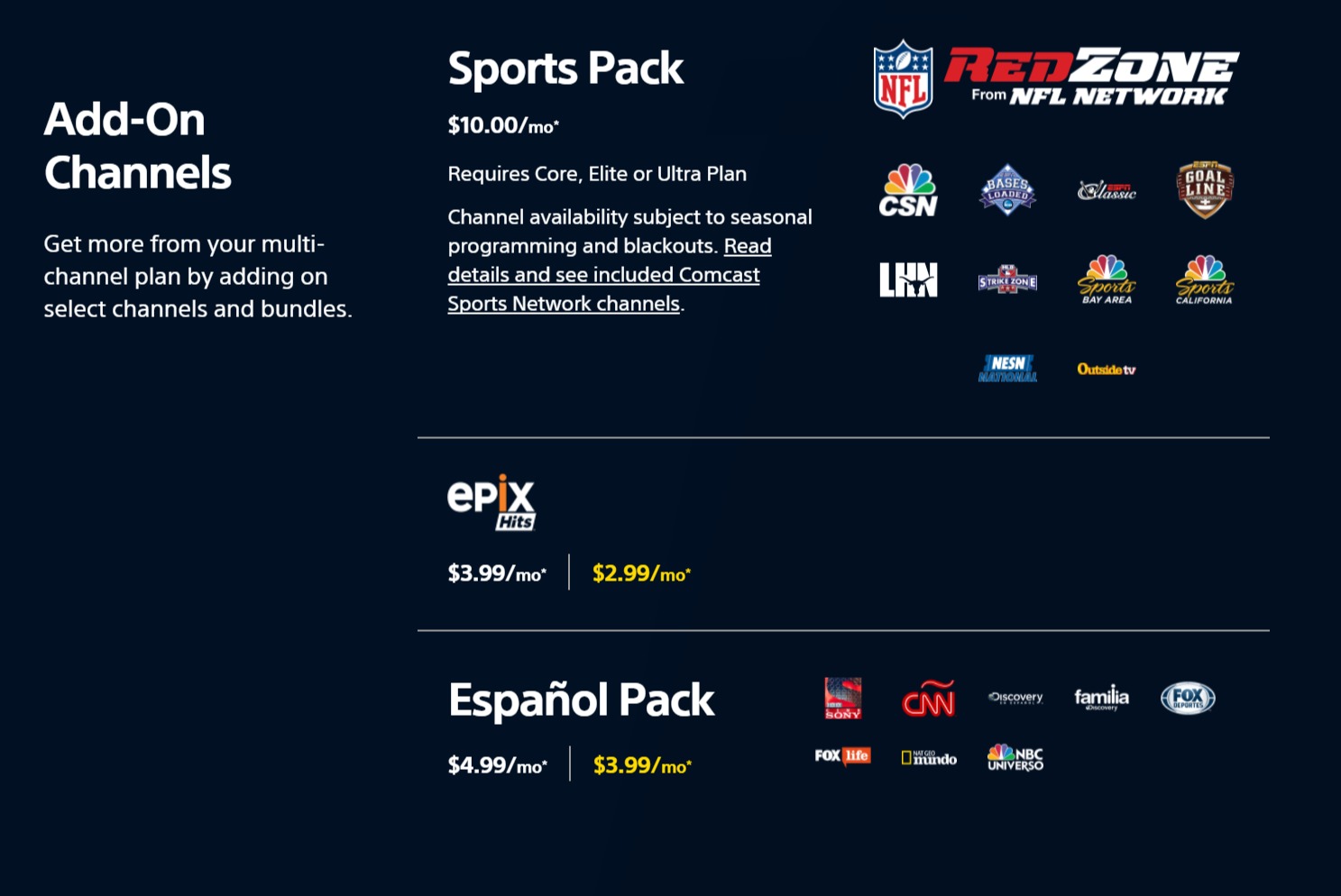 You can also add HBO for $15 a month, or Showtime for $10.99 a month. These two premium channels are available as standalone options, meaning you don't actually need a Vue plan to get them, while the add-on packs above do require a PS Vue plan.
How Does PlayStation Vue Work?
Vue works over the internet. All you will need is a solid internet connection, a compatible device, and a Vue subscription. Vue currently is compatible with:
PS3 and PS4 consoles
Streaming devices, including Roku, Apple TV, Chromecast, Amazon Fire TV, and Android TV
Computers, via web browser
Mobile devices, including iOS, Android and Amazon devices
Once you're signed up and have downloaded the app, it's as simple as choosing the channel and kicking back to enjoy the show! Any program on any network on the PlayStation Vue channels list will air on Vue, just as if you were watching with cable. See the FAQs for more info.
How Does PlayStation Vue Compare to the Competition?
PlayStation Vue is definitely not alone in this industry, with intense competition from established services Sling TV, DIRECTV NOW and fuboTV, plus incoming competition from newly-launched/beta services like YouTube TV, Hulu Live, and more. How do they all stack up?
In terms of channel selection, PlayStation Vue is in-line with most main competitors. The PlayStation Vue channels list is comprehensive and covers a lot of different niches, with something for the whole family. Regional/local coverage is also solid, as well.
In terms of features, PlayStation Vue is a leader. The DVR feature works very well, while most competitors are just beginning to roll out DVR functionality. The 5 simultaneous streams is industry-leading, and device compatibility is excellent.
In terms of price, Vue is slightly on the pricey side, although others have been raising their rates recently. Sling TV starts at $25 a month, DIRECTV NOW at $40, Hulu Live at $40 (soon to be $45), and fuboTV at $40-$45. Vue recently raised their price to $40/month for the basic package.
PlayStation Vue Review: Bottom Line
Overall, we really like PlayStation Vue. It's got a solid channel selection, great features, widespread device compatibility, and an intuitive interface. It's a touch expensive, but has the channels to back up the price.
Curious to learn more? Click here to try Vue for free for 5 days. That will give you a chance to test things out for yourself before spending a dime. And remember – since Vue is non-contract, even if you do sign up and try out a full month, you're never locked in to more than a month at a time.
What do YOU think about PS Vue? Have you tried it yet? Let us know in the comments!