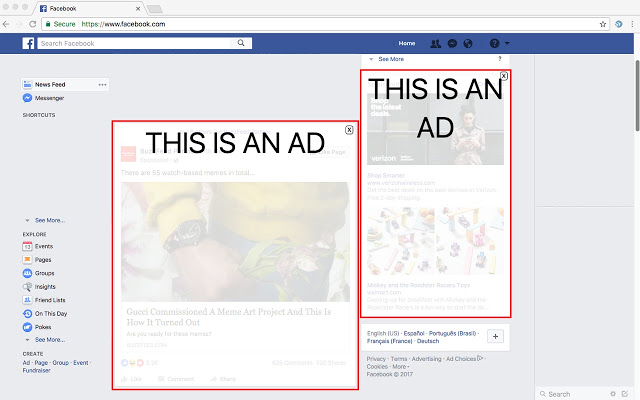 Is the ad blocker about to make a triumphant return?
The online ad blocker has been around for decades, but it seems like in recent years, websites have found ways around them. Even though more than 600 million devices currently have an ad blocker, site owners are getting more creative and users are seeing more advertising than ever before.
But the ad blocker could be rising to prominence again as a team of researchers from Princeton and Stanford has created a new kind of ad blocker that's being touted as "undefeatable."
What makes this one different? The software, developed by computer scientist Arvind Narayanan and colleagues, actually looks at the content on a site instead of the site's code. Of course, this wouldn't work for ads that appear in the middle of a video, similar to what Facebook has in the works.
Titled the "Perceptual Ad Blocker," the program searches for words like "Sponsored" on a page to determine what's an ad, and what's real content. Instead of totally removing an ad like most programs though, the software will just cover up a potential ad with words like "This is an ad."
The team behind the program doesn't quite see it as infallible, though. Narayanan said, "We don't claim to have created an undefeatable ad blocker, but we identify an evolving combination of technical and legal factors that will determine the "end game" of the arms race."
The blocker is currently available to downlad as a Chrome extension if you're interested in checking it out.
For people who make money with their own blog, this isn't necessarily good news. Because if users aren't seeing ads, the site owner isn't making any profit. But for users who cringe at the sight of a web page brimming with ads, this is nothing but welcome.