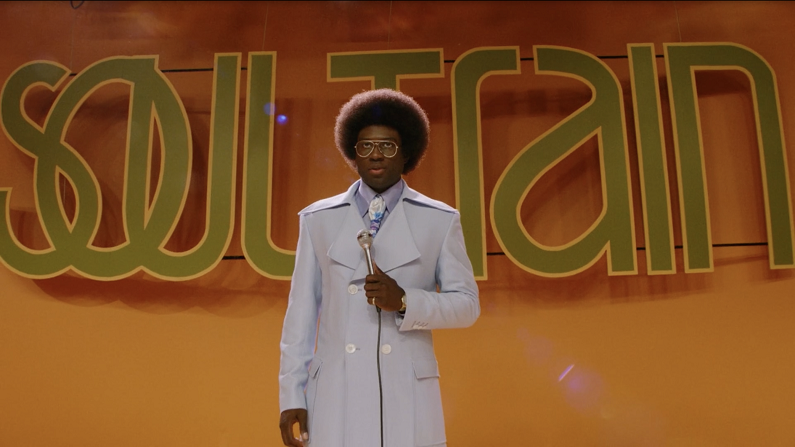 American Soul is all about the creative powerhouse in the 70s that was Soul Train and the man that started it all, Don Cornelius (Sinqua Walls). This was a cutthroat period in Hollywood and Cornelius had many successes and sometimes failures throughout the ups and downs of Soul Train. In that time, America was watching and learning things about African-American culture that they had never seen before. American Soul is about Cornelius, but also about the musicians, the crew, and most importantly, the Soul Train dancers. Episode 2 will air right after Episode 1. In this episode, Don teams up with an unlikely partner to save his Southern syndication. The Clarke family makes plans for Joseph's return from Vietnam. Meanwhile, JT ends up in a bad place after running into an old friend. No cable? Keep reading and we'll tell you how to watch the American Soul Episode 2 live stream or on demand online!
American Soul Episode 2 is titled, "Continuous Revolution in Progress." It will air tonight, Tuesday, February 5, at 10 p.m. ET, after the first episode. Future episodes of American Soul will air at their regular time, Tuesdays at 9 p.m. ET. If you're a cord cutter, you can still watch the American Soul Episode 2 live stream or on demand after the fact (usually starting the next day) with the following services. While not all streaming services carry BET, many of them do. Sign up is simple, so once you pick the right service, you'll be up and running in no time. Thanks to free trials, you should even be able to watch American Soul episode 2 online for free!
1. Philo
Philo is the best choice for someone looking for the most channels they can get for the cheapest available price. Packages only cost $16 a month, but you can also try it free for 7 days and watch American Soul online free tonight live or on demand later.
Now, if you're a sports fan or you want local channels, Philo won't work for you because they don't offer either of those options. However, if you're looking for cable networks, Philo has plenty of what you're hoping to watch. Along with BET, your package includes Animal Planet, Comedy Central, A&E, AMC, Food Network, and others. If you're willing to pay $4 more per month, your package will increase with another 9 channels for a total of 49 channels for $20 per month. You can't beat that! Philo works on most streaming devices. The included cloud-DVR offers unlimited space and recordings are saved for 30-days.
Stream 40 channels for $16 per month
No local or sports channels, but a variety of other options
No contracts or commitments required
Stream on Roku, Amazon Fire TV, Apple TV, Chromecast, and more
Watch BET, Animal Planet, Food Network, AMC, A&E, and many others
The cloud-based DVR offers unlimited space
Remember, signing up for Philo's free trial gives you a way to watch American Soul Episode 2 online free!
2. Sling TV
Sling TV is another inexpensive way to watch American Soul Episode 2 online. The cheapest way to watch with Sling TV is to sign up for Sling TV Blue. This package is $25 per month and includes 30+ channels along with BET. Sling Orange does not offer BET, though it can be added to your package for a fee. In fact, Sling TV offers dozens of channels that can be added to your package. There are no contracts, so you're free to try things out until you find the right package options for you! An on-demand library is included. A cloud-DVR is available but requires additional payment if you want it in your package. You can stream Sling TV on most mobile and streaming devices. You can learn more about Sling TV in our Sling TV review.
Sling Blue is $25/month – Get 7-days free
You'll need Sling Blue to watch American Soul Episode 2 online
Sling Orange is also available, but BET would need to be added on to that package
Watch AMC, TNT, BET, FOX, NBC, and many other networks with Sling Blue
An on-demand library is available
TV Everywhere apps are another included feature
Stream on Fire TV, Chromecast, mobile devices, Roku, Apple TV, and more
Sling TV gives you a risk-free option to try Sling TV before you buy, using the Sling TV 7-day free trial!
3. DIRECTV NOW
DIRECTV NOW offers large packages that give viewers plenty of options. The main package starts you off with over 65 channels. While that may be plenty for some, if you want more channels there are packages with 80+ and even 125+ channels. BET, ESPN, USA, TNT, AMC, Syfy, Comedy Central, Food Network, and many other networks are included. You can also watch your favorite shows using many TV Everywhere apps. An on-demand library is included along with a cloud-based DVR. You can add movie channels to your package for a small fee. Streaming is possible on Chromecast, Roku, Apple TV, mobile devices, and more! You can watch American Soul Episode 2 online free by signing up for the free one-week DIRECTV NOW trial!
Packages offering anywhere from 65+ to 125+ channels
4 packages are available and there are never any contracts – canceling is possible with a few button clicks
Watch on mobile devices, Fire TV, Apple TV, Roku, Chromecast, and others
Packages from $40 a month
An on-demand library, TV Everywhere apps, and a cloud-based DVR is included
Watch BET, USA, AMC, ESPN, TBS, Syfy, TNT, local channels, and more
Our DIRECTV NOW review is another chance to learn more about this service.
While there may not be many services currently offering BET, the ones that are available offer a low-cost option to stream American Soul Episode 2 online without cable. If you have more questions, feel free to let us know in the comments!