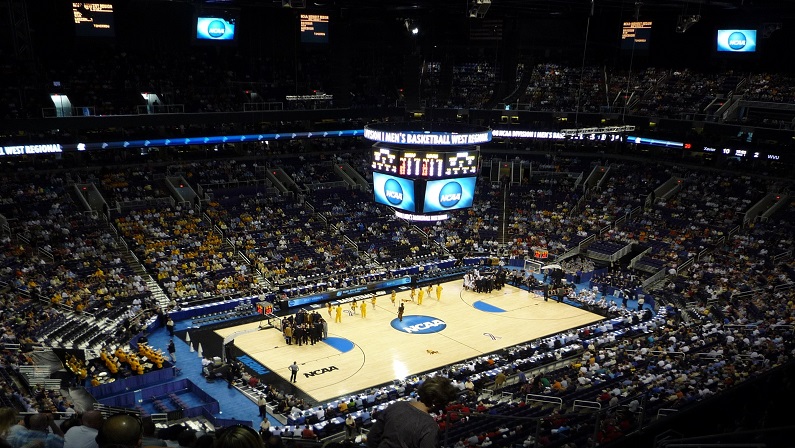 For College basketball fans, March Madness is one of the best times of the year! From the First Four on until the National Championships, fans will be all abuzz talking about their favorite teams, analyzing the bracket, and of course, watching each game as they happen. There will be plenty of games, but they will all be televised. If you've cut the cord that doesn't mean you can't watch the games. In fact, if you keep reading, you'll learn all you need to watch March Madness online this year!
5 Ways to Watch March Madness Online without Cable
The 2019 March Madness schedule can give you all the details on who is playing who and when the games will be. Suffice it to say, you're going to need access to a variety of networks to watch March Madness online. These networks include, CBS, TBS, TNT, and TruTV. Many of the games, including the Championship will air on CBS. Ultimately, it may be possible to get a service offering all of these channels, in order to watch March Madness online in its entirety.
Here are a few of the most popular options to watch March Madness online without cable.
1. fuboTV
fuboTV (free 7-day trial) is one of the top options for sports fans. The main plan offers over 80 channels, making it one of the largest starting packages in streaming. While that alone is impressive, over 30 of those channels are dedicated to sports streaming. An on-demand library offers most programming for at least 3-days after it has aired. This is a great way to catch games you've missed. You'll also have access to your own cloud-DVR. While TNT, TBS, and TruTV are all available nationwide, CBS access is limited to specific locations. Still, fuboTV either gives you access to all four channels necessary to stream March Madness or to three of the four.
100+ channels are included (fuboTV channels list)
More than 30 sports channels per package
Intro pricing of $45 for the first month
Regular monthly pricing is $55
Watch on iOS/Android, Roku, Chromecast, computers, Apple TV, and more
Watch sports from local to international teams
2. CBS All Access
CBS All Access (free 7-day trial) is the standalone streaming service for CBS shows. The CBS live stream is available in more than 90% of the country. This means you'll have access to your area's news, weather, and sports to go with all of the nationwide content, including the March Madness live stream. In addition to live content, an on-demand library is also included. Over 10,000 episodes, games, and events are included. Anything recently aired on CBS will also be available there in case you missed it. CBS All Access is a great choice for someone that doesn't have access to CBS and that wants to watch the sports, events, and shows they offer.
$5.99 per month
No contracts!
Most markets receive a local CBS live stream
More than 10,000 episodes, games, and event shows in the on-demand library
Original content is available
Watch anything available on CBS both live and/or on-demand
In order to watch March Madness online the right way, you're going to need CBS. With no contract, if you're only interested in the March Madness live stream, you could cancel right after. Otherwise, CBS All Access will be here to offer you all the best CBS content that is available. You can learn more in our CBS All Access review.
3. Hulu with Live TV
Hulu with Live TV is a great choice if you want a well-rounded package. For instance, if you're looking for a cable replacement even after you've watched the March Madness live stream, this might be the service for you. Hulu Live offers 60+ channels and Hulu's on-demand service in one package, for $55 per month. Hulu Live also offers local channels to more homes than any other streaming service currently. This means that there's a good chance that you'll have CBS. Additionally, TNT, TBS, and TruTV are all included.
60+ channels and Hulu on-demand for $55/month
Watch local channels in most markets
TruTV, TNT, TBS, and dozens of other channels
A cloud-DVR offers 50-hours of space or you can upgrade for more
Use TV Everywhere apps for extra content from TNT and other networks
Watch on two simultaneous streams or add unlimited streaming for a fee
Don't forget, Hulu with Live TV includes a free one-week trial, which means that you have a way to watch some of the March Madness games online free.
4. YouTube TV
YouTube TV is the newest streaming alternative on this list, but it's growing in popularity by the day. Thanks to things like an unlimited DVR, a fantastic mobile experience, and over 50 channels, people continue to sign up! Packages start at $40 per months and many sports channels are included. Most areas will have CBS, as YouTube TV is second only to Hulu Live when it comes to bringing local access to homes. Here is some more on YouTube TV:
50+ channels are available with something for everyone
$50 per month with no hidden fees or contracts
Mobile devices, computers, Apple TV, Chromecast, and Roku are compatible
Amazon Fire TV devices won't work with YouTube TV
TruTV, TBS, and TNT are included nationwide – CBS will be available in most homes
Unlimited cloud-DVR space is included at no additional charge
Like the other services mentioned, YouTube TV also offers a 7-day free trial. Remember, there are no contracts with YouTube TV, so if you try it for a few days and find it's not for you, just cancel and you won't have risked a thing!
Obviously, you've got a few choices if you want to watch March Madness online. You don't need cable to watch your favorite sports for less!