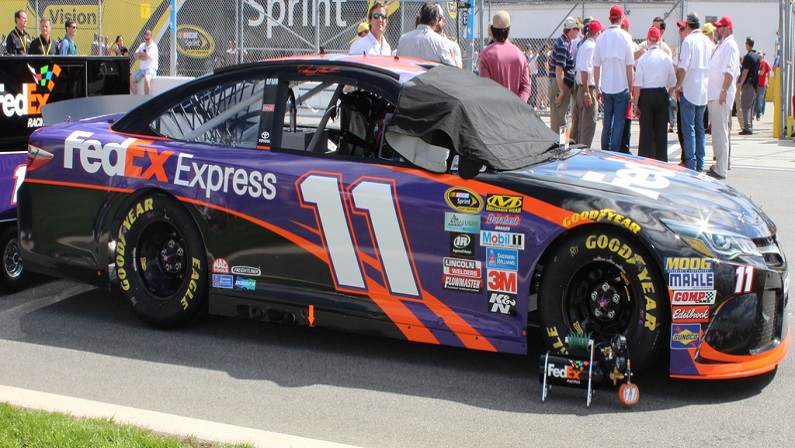 If you love races, then for sure you are a big fan of Daytona 500. It is a 500 miles long race, part of the Monster Energy NASCAR Cup series, and it is held every year at Daytona. The Daytona 500 is considered as one of the most prestigious and important races of the NASCAR events. It is the series of races, this is the first one, which makes it unique, as usually big and important events of this nature are held last. Starting in 1995, the Daytona 500 is bringing the highest television ratings. Tens of millions watch the race every year, making it one of the biggest live global sporting events.
Nowadays, an increased number of people follow these events online. The race airs on FOX at 2:30 pm ET, but you'll still be able to stream it. If you want to watch the Daytona 500 online, there are various options available. A free 2019 Daytona 500 live stream can be a click away. We share 5 options on how to make that happen:
This is a streaming service created for sports fans. If you want to follow your local team, especially in niche sports – you have your platform. Having most of the regional sports networks and local FOX in most markets, fuboTV allows you to cheer for your home team without any additional cost. You can read a lot more in our  fuboTV review, or continue in here:
The first month is $40, which continues to $45, though some add-ons are available;
fuboTV contains a big range of niche networks, many that other streaming services do not have;
The cloud DVR allows recording of sporting events or shows;
It has HQ HD streaming, plus fuboTV stream is with less lag than its competitors – usually by 30 seconds.
fuboTV offers FOX, letting you watch the Daytona 500 live stream and on replay through on demand access
If you want to check this service through the first-hand experience, feel free to use their 7-day free trial option. It's a great way to watch the Daytona 500 online free today.
If you want to watch the Daytona 500 without cable, Hulu Live is another great option. It is perhaps among the most rich-content-wise streaming services you can come across. A large portion of its content goes towards most popular cable networks, plus it has an extensive availability of local TV channels. ABC, CBS, NBC, and Fox are just a few of the many offered to more than 600 markets. Some of the benefits include:
Perfect for binge-watchers i.e. those who love to combine live TV with on-demand content;
$40 starting point that gives users access to Hulu's on-demand service;
Hulu Live combines live TV with its services, plus it is the least expensive streaming option on the market that is tied with YouTube TV;
Cloud DVR service is included – you can store up to 50h. With a small fee, you can up that up to 200h;
It is available on a great range of devices, as well as selected smart TVs.
Hulu Live offers 7-day free trial, which we are sure is more than enough to recognize a good streaming option.
Many people are still unaware of the capabilities the new PlayStation has. PlayStation Vue is a great option if your family is a big streaming fan, so few series need to be watched at the same time. With a decent selection of regional and national sports channels, your local teams can be just a click away. When it comes to the availability of local channels like FOX, Playstations Vue is somewhere in the middle offering the channel in many, but not all, US markets. This should make it a fairly solid option for watching the Daytona 500 online
In our PlayStation Vue review we expanded more on its services, while in here we kept some of the most important ones:
The basic package starts at $45;
Although a bit more expensive than certain competitions, the option for simultaneous streams make it a bit of unique situation on the market;
Around 60 "TV Everywhere" apps can be accessed through the Vue account;
PlayStation is not needed in order to use the Vue service;
The cloud DVR allows shows recording, with content available for 28 days.
Your free 5-day trial is just a click away.
If you want to have a great number of channels available to you, and you don't mind paying a bit extra, you found the right service. In our DIRECTV NOW review, we explain why this service can be the right for you, but in a nutshell, with no satellite required, DIRECTV Now is a streaming service that is similar to the cable service people have. As such, switching usually is not a problem for new users.
There are 60 channels offered for $40;
In its various packages, there are 120 channels in total, although they keep on adding new ones. Some of those channels can reach a point to $75;
They have great local coverage, and does not have any restrictions;
FOX is available in many markets, making this a solid option to watch the Daytona 500 live stream
There is no contract, so users can cut the service at any time.
7-day free trial is available for new users any time. Trying should always be your option.
If you don't like to overspend on streaming services, yet have a variety of content, this is your choice. With an option to choose what kind of package and programs you prefer to pay for, flexibility is installed in the core base of the Sling service. Being a streaming service first of its kind, its reliable performance is with a strong track record. Feel free to check our Sling TV channels list guide for more details, or check some of its advantages below:
With $25 per month for the basic package, Sling is one of the most affordable services on the market;
There is an option to combine two packages in one (Sling Orange and Blue) for $40, saving you $10 on a monthly basis;
There is channel live streaming, as well as on-demand content for many channels;
Cloud DVR as service is available, and for $5 for a month you can receive 50h of storage;
If you use the "TV Everywhere" app, you can use Sling for login and authentication, so you can access even more content.
The free 7-day trial period is available like in most of the other streaming services.
No matter what you want or prefer, there are plenty of great options to stream the Daytona 500. The only thing you need to do is choose.