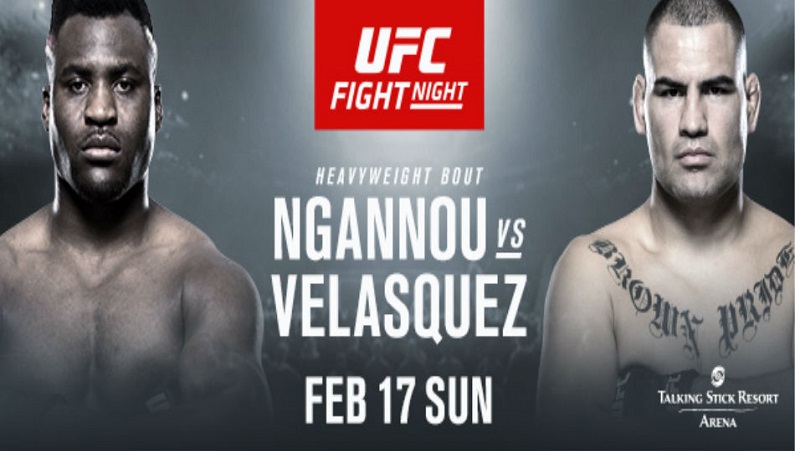 The UFC has arrived at its new home on ESPN, and they're kicking things off with a fantastic card headlined by a highly anticipated heavyweight fight. Don't have cable? Not a problem. The Ngannou vs Velasquez live stream is available even if you don't have cable to access ESPN. The main card starts at 9 pm ET this Sunday, February 17, 2019, and you can bet your coworkers will be talking about it on Monday. We're going to show you how you can watch UFC Fight Night on ESPN online through any of the streaming services listed below.
The early prelims start at 5:30 p.m. ET exclusively on the ESPN+ app (free 7-day trial), and then the rest of the event moves to the main ESPN channel, with prelims starting at 7 p.m. ET, and the main card at 9 p.m. ET.
So, where can you stream UFC Fight Night on ESPN? Check out these 5 online services.
1. Hulu Live
Hulu got its start with television shows, and Hulu Live makes it easier to see the shows you love. The service offers most cable networks in addition to local TV channels. Naturally, ESPN makes the cut, making it a great way to watch UFC Fight Night online tonight. On top of the live channels, you get access to extensive on-demand collection, including Emmy-winning original shows and classic sitcoms. You'll get access to the big fight Sunday night and library of binge-worthy shows to keep you busy the rest of the week.
Hulu with Live TV streams on plenty of devices, including many smart TVs.
Miss the start of the fight? No problem! Hulu Live includes 50 hours of cloud DVR storage space.
Hulu with Live TV costs $40 per month, combining your cable bill and streaming service fees into one, low price.
You can get Hulu Live free for 7 days. That means you can watch UFC Fight Night on ESPN online for free this weekend!
2. PlayStation Vue
PlayStation is a great gaming console, but it's evolved into much more than that. PlayStation Vue transforms your console into a cable box and DVR with one of the best channel ranges on the market. This streaming service starts at $45, and it's definitely one of the pricier options on our list. However, it's designed for a busy family with multiple viewers watching lots of different shows on separate devices. So, if your kids want to watch cartoons in their rooms while you stream UFC Fight Night, PlayStation Vue may be your best option.
Although it starts at a higher price point, PlayStation Vue offers some really great features. The free cloud DVR is a great example. It gives you the power to record live shows and watch – or re-watch – everything up to 28 days later.
Vue has a great mix of sports channels. If you're a major sports fan, this may be the streaming service for you. If you aren't sure, check out this full PlayStation Vue channels list and review.
You don't need a PlayStation to use Vue! It works with plenty of other devices.
If you have a big, busy family who like to stream, take advantage of PlayStation Vue's 5-day free trial. There's no way to know if there's enough bang for your buck if you don't give it a try.
3. Sling TV
Offering a great way to watch the fight and ditch your cable, Sling TV gives users more options than most of the competition. The basic Sling Orange package gives you access to not only ESPN, ESPN 2, and ESPN 3, but also the WatchESPN app, so you can enjoy the Ngannou vs Velasquez live stream anywhere. If you want more channels, you can purchase add-on packages for various fees. Since SlingTV Orange only costs $25 a month, that's not a bad deal.
Many channels offer on-demand content through Sling TV on top of their live programming streams.
Sling TV's cost efficiency is balanced out by their lack of many local channels, but it is a very affordable and convenient option for cable lovers.
If you aren't sure whether this is the option for you, check out our Sling TV review for more coverage, channel, and pricing details.
Most major streaming devices support Sling TV, including Apple TV, Chromecast, Roku, Xbox, and Amazon Fire TV.
Right now Sling TV is offering a free 7-day trial period. This is a great weekend to give it a shot!
4. DIRECTV NOW
The basic DIRECTV NOW package gets you over 60 channels for $40 a month. It's essentially the cable experience via a streaming service, and it comes with all the channel variety and package options you'd expect. You can get just about every sports channel imaginable, including ESPN, of course. It's a fairly new streaming service, so it isn't compatible with all devices yet, but it often runs deals promoting heavily discounted or even free devices for users.
You never need a satellite to enjoy DIRECTV NOW, but you get very similar menus and layouts you're probably already familiar with.
DIRECTV NOW has shockingly few mobile streaming restrictions, so it's great for the fan on the go.
With all the available packages, DIRECTV NOW ultimately offers over 120 channels.
Use our DIRECTV NOW review to find the best package for you.
Like most of the other streaming services on this list, DIRECTV NOW offers new users a free 7-day trial, so if you want to enjoy the UFC Fight Night live stream for free, now is your opportunity.
5. YouTube TV
Another fairly new streaming service, YouTube TV offers some on-demand content along with some great television channels, including ESPN. For $40 a month, users get over 50 channels, including both cable and local stations. These include several sports channels and AMC, which not all services offer. A subscription to YouTube TV includes access to YouTube Red originals, and while there aren't many shows yet, they are growing.
If you want a lot of DVR space, this may be the perfect streaming service for you! YouTube TV includes unlimited DVR space, and you can store shows for up to 9 months.
The service offers at least three local channels in every available market.
YouTube TV features a great mobile experience, probably due to the company's extensive experience building similar apps.
Save money with a free 7-day trial of YouTube TV. This gives you a chance to stream UFC Fight Night and also see if YouTube Red has anything up your alley.
No matter where you are, you can keep up with the action through a UFC Fight Night live stream! Pick your streaming service today!