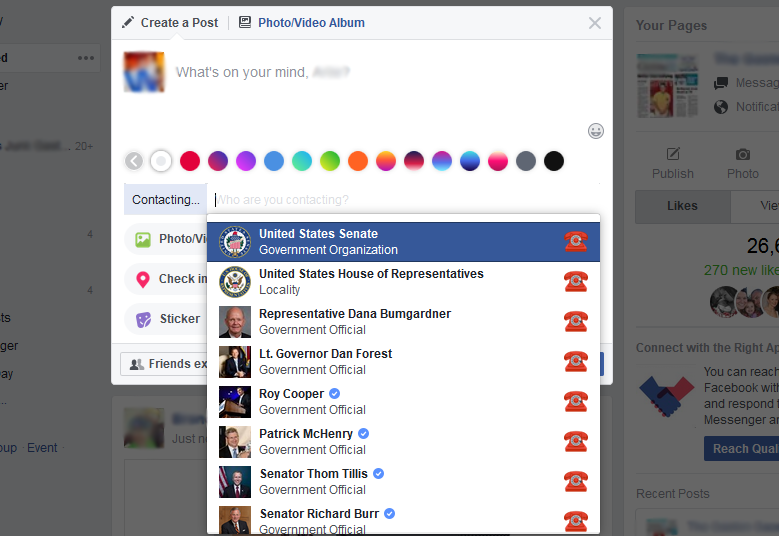 Having your voice heard by a government official just got a little easier thanks to a new Facebook feature. Instead of going on a Facebook rant to your friends, you can now speak to someone who can do something about it.
In the Facebook window that pops up when you write a new post, there has long been the option to add an activity in addition to your status, like "eating" or "watching." But now, if you click on "feeling/activity," there's an option for "contacting." Click on it, and you'll get a list of local representatives you can tag in your post. Beyond that though, their contact information is listed, including office phone number. At the touch of a button, you'll be dialing their official number listed on their Facebook profile.
The feature uses your listed location to compile a list of local representatives, but if the official you want isn't listed immediately, you can search for their name.
The new feature, which is available to both individuals and pages, essentially works just the same as manually tagging the Facebook page of a representative in a post for the "Facebook" portion, but it certainly makes things a little easier as far as the phone listing is concerned.
The idea is that as you're expressing your political views on a matter via a Facebook post, you can share that you're contacting your representative about the matter and encourage your family, friends and followers to do the same.
When the feature was officially unveiled, CEO Mark Zuckerberg noted that "Building a civically-engaged community means building new tools to help people engage in a thoughtful and informed way. The starting point is knowing who represents you and how you can make your voice heard on the decisions that affect your life."
This addition comes not long after Facebook rolled out a feature that allowed used to order food straight from the Facebook app and a feature that made finding local attractions easier.