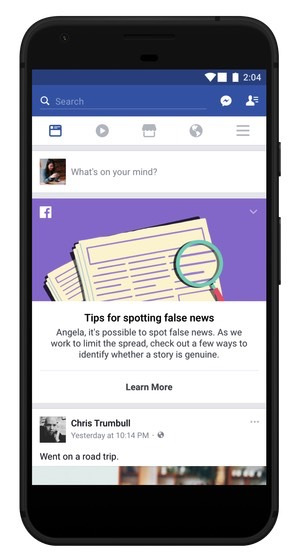 Facebook is taking their campaign to fight fake news to the UK in the form of advertisements in several major newspapers. The ads, which appeared in The Guardian, The Times, and Daily Telegraph, include a list of 10 tips for spotting a news story that isn't real.
Reading past the headline is the first tip. As the ad points out, if you read an article beyond the catchy headline, you may quickly discover a disclaimer that says the article is intended for satire (if you're considering starting a satire blog by the way, be aware that it's now a lot harder to monetize a bog like that).
Checking the article's date and verifying the legitimacy of the source are two other tips, but of course the latter is more work that a lot of people are willing to do.
As the UK heads towards their general election, Facebook has been under immense pressure to curtail the spread of misleading information on their site. This comes as the BBC called Facebook a "secret weapon" in the US, saying the site had a direct impact in the Presidential election of 2016.
"People want to see accurate information on Facebook and so do we," said Facebook's UK director of policy Simon Milner. "To help people spot false news we are showing tips to everyone on Facebook on how to identify if something they see is false." The site has added support for two third party fact checkers, he noted.
Facebook admitted that plenty of political propaganda was shared on the site, but stopped short of accepting that it had a real influence. "We have observed many actions by fake account operators that could only be performed by people with language skills and a basic knowledge of the political situation in the target countries," a statement read, "suggesting a higher level of coordination and forethought."
Some post from those accounts "required action" Facebook said. But it didn't say what that action was.
What's becoming clear now is something marketing experts have known for a long time. Word of mouth is one of the most effective tools you can have. And it looks like scammers are keying in on this as well.