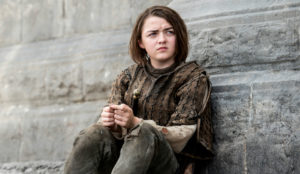 While the internet bites its nails in anticipation of the new season of HBO's wildly popular swords-and-sorcery series Game of Thrones, many of the show's biggest stars have been busy dishing behind-the-scenes dirt to keep the blogosphere abuzz with free publicity. Just last week, Lena Headey (Cersei Lannister) revealed how she feels she's lost roles in her career for refusing to cave in to unwanted advances and flirting from Hollywood casting directors. While such behaviors might be an unfortunate part of the territory, one of Game of Thrones youngest stars, Maisie Williams has spoken up about another potentially harmful effect the media has on young actresses.
Williams is best known for her role on Game of Thrones as Arya Stark, daughter of the late Ned Stark. Arya begins the series as a rough-and-tumble tomboy seeking adventure but by season six has become a merciless highly-trained assassin who will stop at nothing in her quest for revenge. Williams, now 20, began playing Arya Stark at age 12. In an interview with British newspaper The Sunday Times, Williams opened up about the difficulties of going through puberty while in front of cameras, noting that the self-esteem and self-image issues associated with adolescence are made all the more difficult when one becomes a worldwide celebrity overnight. Williams points out that while she has so far been fortunate enough to play a role which allows her to avoid the over-sexualization many young actresses face in Hollywood, many haven't been as lucky:
I have been really lucky, in that I play characters who aren't necessarily the eye candy. It's hard for young actresses who still feel like scrappy teenagers but are sort of forced to play characters who are a lot more mature, because, you know, 'young sexy woman' really sells in Hollywood.
Williams' character on Game of Thrones likewise rejects the typical expectations of women in the world of Westeros, preferring swords to sewing needles and taking up arms instead of engaging in diplomacy.
Season seven Game of Thrones premieres on July 16th at 9 p.m. exclusively on HBO.
RELATED: 5 Ways to Watch Game of Thrones Online without Cable