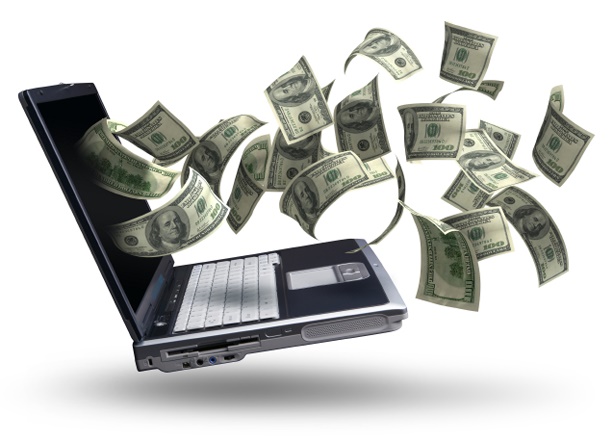 You started your blog. You've created your first few posts. Maybe you've even attracted a small following.
You're ready to take the next step. It's time start making money on the side from your blog.
But how exactly do you do that?
You may be feeling confused by the different monetization options. You've heard terms like "CPC", "CPM", and "affiliate marketing."
You're not sure what they all mean or what you should do next.
I'm here to help. In this article I share 10 ways to make money on the side blogging.
#1 Ad Networks
Most bloggers earn their first dollar through ad networks. An ad network is a company that connects advertisers to bloggers. The most well-known is Google AdSense.
It's relatively easy to apply for an account. And it costs you nothing.
An ad network typically work on a CPC or a CPM model.
CPC stands for Cost Per Click. You'll also hear the term PPC which stands for Pay Per Click. You place an ad on your website and you receive a small commission every time someone clicks on the ad.
CPM stands for cost per thousand impressions. In a CPM model, you get paid for every thousand people that your website serves the ad to.
#2 Sponsored Ads
The next step up from ad networks are sponsored ads. This is where you sell space on your blog directly to the advertiser. It's a great way to make money on the side blogging, especially if you know how to drive traffic to your site.
You'll need to demonstrate that your site receives a decent amount of traffic in order to attract quality advertisers. Try reaching out to businesses in your field and seeing if they want to promote their products or services on your site.
You're not limited to placing banner ads on your blog. You can also offer to publish sponsored content. This may be in the form of a product review or other article that points back to the advertiser's website.
#3 Affiliate Marketing
The third way to make money blogging is as an affiliate for other people's products. We discuss affiliate marketing in our article on how to start a blog.
Here's how it works. When you sign up for an affiliate program, you receive an affiliate link. You place this link on your blog. Every time someone clicks on the link and makes a purchase, you earn a commission on the sale.
To find affiliate programs, simply Google the name of a business you're interested in and the phrase "affiliate program." You can also check the footer or menu options on different business websites.
As with all advertising options, make sure you promote products that are relevant to your audience. To be a successful blogger, you want to build a relationship with your followers. The last thing you want to do is spam them with low quality products.
#4 Information Products
Selling your own products takes a little more work than affiliate sales. But it can be extremely profitable.
For example, you can write an ebook and sell it on your website using a PayPal button or via a service like Gumroad. Or you can create a training course that goes deeper into your blog topic.
There are several ways you can deliver a course. You can leverage an existing platform like Udemy and point customers from your blog to your course on Udemy.
Alternatively you can create a self-hosted course on your own website. This is a little more complex to set up. For example you need to use a WordPress plugin like WishList Member. This is a plugin that turns your website into a membership site where users log in to access course content.
#5 Membership Program
Another way to start making money on the side is to develop a membership program. This is great because it gives you a recurring revenue stream.
People who join your membership program pay you a regular fee (typically monthly). In return they receive a number of perks. For example, you may offer an insiders forum, access to training materials. monthly webinars, regular teleconferences, and more.
#6 Coaching or Other Service
The next option is to offer your blog readers a service. Some bloggers offer coaching that relates to their topic. For example, Nick Loper of the Side Hustle Nation offers strategy sessions and ongoing one-on-one coaching.
If coaching is not your thing, you can offer a different type of online service. Some examples are website reviews, logo design, user testing, and freelance writing.
If you're not sure what services you can offer, take a look at Fiverr.com. Browse the "gigs" on Fiverr to get an idea of the kinds of services people buy online.
#7 Physical Products
So far we've focused on online offerings. But there's no reason why you can't use your blog to sell a physical product.
You don't have to have a full blown e-commerce site. For example, if you're an artist then you can sell commissioned art via your blog.
You can also leverage a platform like Amazon's Fulfillment By Amazon (FBA) program. This program makes it relatively easy for a budding entrepreneur to sell a physical product. Amazon takes care of the warehousing and shipping for you.
You can use your blog to direct people to your own products that you sell through Amazon or other third party platform. In February 2016, Daniel who writes a blog called A Little Slice of the Pie, earned $176,848.47 from physical products. He sells products on both Amazon and eBay.
#8 Speaking
If you dream of sharing your message from on stage, then why not seek opportunities to get paid as a speaker. As a blogger you can develop a reputation as a thought leader. You may start out at a low speaking rate or for free. But as you build your reputation, you can increase your rates.
For many, speaking is immensely rewarding. It's also an effective way to reach a new audience for your blog. People who hear you speak are likely to visit your website to find out more about who you are and what you offer.
#9 Flipping Blogs
Option 9 is one many people haven't heard of. It's ideal if you love the business side of blogging or are a master of Search Engine Optimization (SEO).
In a nutshell, you buy a blog from a service like Empire Flippers. You improve the blog by increasing the traffic, enhancing the content, and improving the monetization. You then sell the blog for a profit. You can also sell blogs you create from scratch. It's the same principle as flipping a house!
#10 Offline Business
Lastly, you can use your blog to build up an offline business. In this article on reasons to start a blog we talked about how a blog can help you realize your long-term goals, no matter what your passion.
One of your goals may be to create your dream business. There are many offline businesses that you can start on the side. Examples include party planning, cleaning, catering, wedding photography, tutoring, dog walking, and landscaping.
A blog helps you attract new leads for your offline business. By creating valuable content around your topic people get to know and trust you. Over time they are likely to become paying customers.
Start Making Money on the Side
There you have it – 10 ways to make money on the side blogging.
If you haven't already started, it's time to turn your blog into a money making machine. Implement one or more of these ideas and take your first step towards financial freedom.