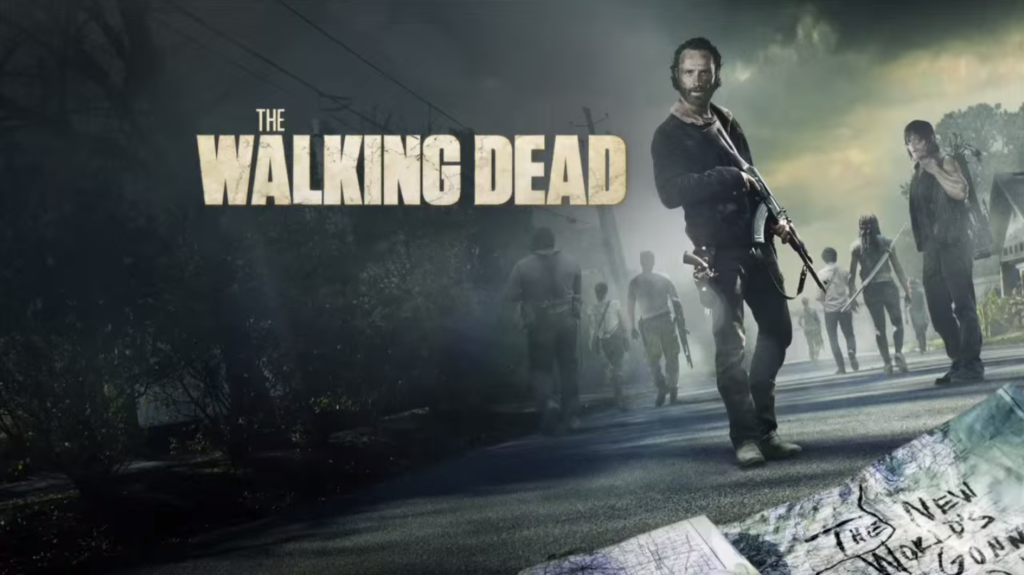 AMC's wildly popular The Walking Dead adaptation is one of those rare television series that comes along once a generation. For whatever reason, the gory, heart-wrenching zombie-filled horror series has resonated with a wide range of audiences and has become the most talked-about show on social media and one of the most-watched series on television. With the eagerly-anticipated eighth season set to debut later this year, many cable cutters are looking for ways to watch The Walking Dead without a cable subscription. Luckily for them, there are more ways than ever to watch The Walking Dead without cable – live or on demand.
PlayStation Vue is one of the best streaming services out there, and you don't need a PlayStation console to use it. You can stream Vue on mobile devices, Roku, Apple TV, Fire TV, and yes, PlayStation consoles and immediately access all of your favorite pay TV channels. This includes AMC, which makes it a great way to watch The Walking Dead online live and on demand without cable.
Vue subscriptions start at $45 a month and offer a live stream of AMC
Cancel any time
Watch the Walking Dead live stream or on demand on your own schedule
See the full PlayStation Vue channels list for complete details on packages
Vue comes with a cloud-based DVR which can keep recordings for 28 days
Vue is most compatible with PlayStation game consoles, but can also be accessed on most tablets and mobile devices, Roku, Apple TV, and Amazon Fire TV
Sling TV offers one of the most affordable streaming cable replacement packages on the market. Sling's basic package costs just a fraction of what most cable subscriptions cost but still includes many of the most-watched networks on cable or satellite including sports and news channels.
Sling TV's "Sling Blue" package features a The Walking Dead live stream each week a new episode premieres on AMC for just $25 a month
Sling TV does not require a month-to-month contract
Sling TV can be streamed on multiple devices at the same time, making it a perfect choice for households with different viewing habits
Sling TV is supported on Apple TV, Amazon Fire TV, Chromecast, iOS and Android phones and tablets, supported Roku devices, Xbox game consoles, or over web browsers
See the full Sling TV channels list for info on packages
If you'd like to try Sling TV's "à la carte TV," sign up for their free 7 day trial and never miss an episode of The Walking Dead.
DIRECTV NOW has stepped up as one of the most flexible and wide-ranging cable cutting solutions on the market. Aside from being an easy way to stream The Walking Dead without cable, DIRECTV NOW offers dozens of the most in-demand cable and satellite networks in one convenient streaming package.
DIRECTV NOW channels list offers more than 60 channels including AMC in its base $40 a month package
DIRECTV NOW subscribers can upgrade at any time to packages offering well over 100 channels
DIRECTV NOW requires no contract whatsoever
Cable's best premium networks like Starz, HBO, and Cinemax are available as add-ons
DIRECTV NOW can be streamed on iOS and Android devices, Roku, Apple TV, Amazon streaming devices, Chromecast, or through a web browser
New users can sign up to try DIRECTV NOW free for 7 days.
The Walking Dead has 8 seasons of previous episodes to binge, and Netflix is the perfect place to watch the classic episodes. If you're aching to get your zombie fix right away, you're in luck: Netflix offers the first several seasons of The Walking Dead streaming online.
A basic one-screen Netflix streaming subscription costs just $8.99 a month
Every episode of the first 8 seasons of The Walking Dead is on Netflix
More seasons are likely to come
Aside from The Walking Dead, Netflix has a wide range of award-winning original content
 5. Amazon Instant Video or iTunes
There might be ways to watch The Walking Dead online free, but these are illegal, unethical, and often fraught with malware. However, if you want to keep up with The Walking Dead legally and don't want to subscribe to a whole streaming service, individual episodes or seasons can be purchased and streamed through online stores like Amazon Instant Video or iTunes.
Episodes of The Walking Dead are available for $2.99, while entire seasons can be purchased for between $16 and $42
Buying seasons or episodes through online stores is an easy way to take content on the go, as it can be viewed offline
Purchases through Amazon or iTunes can be viewed across multiple devices
Some seasons and episodes can even be rented