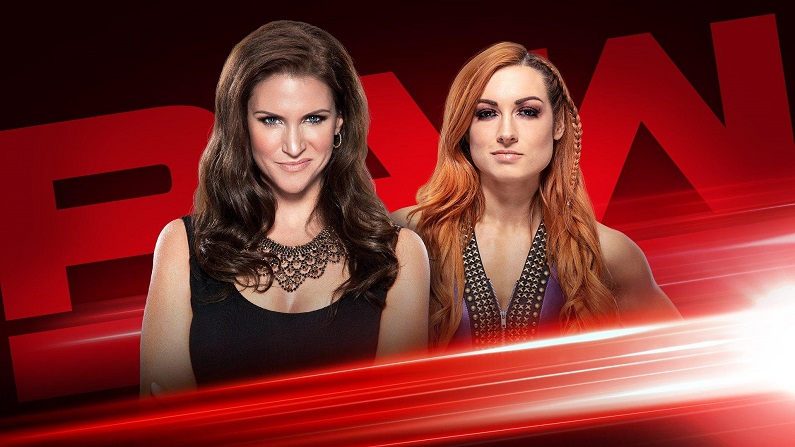 WWE fans won't want to miss tonight's WWE Raw. As with every Monday night, you can expect to see plenty of action in and out of the ring. Of course, as the Road to Wrestlemania has begun, you can bet there will be more to see than usual! One of the biggest parts of the evening involves Stephanie McMahon. She invited Becky Lynch to the show. A former wrestler, a Hall of Famer no less, will also return. In the midst of these two things you can expect a lot of matches that lead us closer to Wrestlemania and the matches and drama that will ensue. If you don't have cable, you might think watching Monday Night Raw is impossible. It's not! In fact, you can watch the Monday Night Raw live stream online.
If you want to watch the Monday Night Raw 2/4/2019 episode live at 8 pm ET, all you need is the right streaming service. WWE Raw airs on USA. Luckily, USA is one of the more popular networks, which means that it is commonly found in many streaming packages. Keep reading to learn the best ways to watch Monday Night Raw online on February 4th.
1. fuboTV
fuboTV is one of the best chances you'll have to find a complete sports streaming service with a variety of both sports and non-sports content. In fact, fuboTV provides you the best of both worlds. Overall, they offer 80+ channels in their package. Over 30 of those channels offer regular sports content or are dedicated solely to sports. So, whether you're looking for sporting events or commentary, fuboTV has you covered.
USA is one of the channels in this package, so you'll have access to the Monday Night Raw live stream on 2/4/19. Episodes of Raw are also made available for on-demand viewing, usually at some point on Tuesday, so even if you don't catch it live, you'll still be able to watch.
You'll also be able to watch football, baseball, basketball, soccer, and many other sports.
80+ channels per package including 30+ sports channels (see the full fuboTV channels list)
A fuboTV 7-day free trial is available so you can watch Monday Night Raw on 2/4/19 for free!
Introductory rates of $40 are available for the first month – the regular price is $45/month
Watch with computers, Roku, mobile devices, Apple TV, Chromecast, and more
fuboTV offers access to all kinds of sports from local teams to international football clubs – watch college sports, tennis, soccer, golf, basketball, cycling, and more
An on-demand library is also available as part of every package
A cloud-based DVR is also included
Don't forget to sign up for the fuboTV free 7-day trial, so that you can watch the Monday Night Raw 2/4/19 live stream for free!
2. Hulu with Live TV
Hulu with Live TV is a service that combines live streaming TV with a powerful on-demand solution. This allows viewers more chances to find what they want to watch, the minute they want to watch it. The live TV part of Hulu Live offers 50+ channels including USA and many others. You can watch Raw live or on-demand after the fact with Hulu Live.
The on-demand portion allows you to receive Hulu's on-demand service as a part of your package. This means that the on-demand library offers thousands of TV shows and movies. You'll also have all of Hulu's original content. Hulu Live is one of the more versatile streaming services. You can stream on most devices and plenty of upgrades are available.
$40/month for 50+ channels
Channel lineup includes USA, TNT, TBS, ESPN, local channels, and much more
Add HBO, Starz, or other movie channels for an added fee
Hulu's on-demand service is included in each package
The cloud-based DVR offers 50-hours of storage space for recordings
Watch on 2 screens at the same time or upgrade for unlimited access
Hulu Live offers a free one-week trial. As there are no contracts or commitments, this is a fabulous risk-free way to try the service, if you're interested.
3. Sling TV
Sling TV was one of the original live streaming cable replacement services. They offer one of the cheapest ways to enjoy some of the most popular networks. With Sling TV, you have multiple packages to pick from. The cheapest among the options will offer you around 30 channels. You can choose from two packages – Sling Orange or Sling Blue for $25 a month. The only difference in the packages is the included channels. You can also combine them and pay $40 per month for 50+ channels.
To watch the Monday Night Raw live stream on 2/4/19 you'll need Sling Blue, as that is the package offering USA.
Packages from $25/month – Get 7-days free
Sling Blue offers many popular networks including USA, TNT, NFL Network, FOX, NBC, and more (see the full Sling TV channels list)
An on-demand library is included
TV Everywhere apps allow you to watch network apps like USA Now
Stream on Chromecast, mobile devices, Roku, Apple TV, and many others
Stream on multiple devices at once
No commitments – canceling is hassle-free
Sling TV even offers a Sling TV 7-day free trial!
4. DIRECTV NOW
DIRECTV NOW is not the cheapest option on this list, but it's also not the most expensive. You'll find some of the biggest packages in streaming available through DIRECTV NOW. Multiple packages are available, allowing you to choose whether you want over 65 channels (the smallest package) or if you'd prefer more than 125 channels (the largest package). USA is available in each package, as most packages include all of the channels from the previous package plus more!
You'll also have an on-demand library and you'll have the freedom to use TV Everywhere apps like USA Now with each package. Packages start at $40 per month. You'll be able to stream on all major devices from mobile devices to Apple TV. You can even watch Monday Night Raw 2/4/19 online for free when you sign up for the free one-week DIRECTV NOW trial.
Packages with 65+ and 125+ channels – 4 package options to choose from (check out the DIRECTV NOW channels list)
No contracts, cancel on your terms with no hassles
Watch on mobile devices, Apple TV, Roku, Fire TV, and others
Packages from $40 a month
Watch USA, AMC, TNT, ESPN, local channels, and more
5. PlayStation Vue
PlayStation Vue is another great way to watch the Monday Night Raw 2/4/19 live stream. Choose from multiple packages starting at $45 per month. Each package has over 50 channels and includes a mix of news, sports, TV shows, movies, and more! You can also add additional movie channels to your package for a fee. An on-demand library is included, and you can use USA Now and other TV Everywhere apps with your account. While PS Vue does work on both PS3 and PS4 consoles, you can also stream on mobile devices, Chromecast, Apple TV, Roku, and more.
Packages start at $45/month – USA is available in each package (see the PlayStation Vue channels list for more info)
The included cloud-DVR stores recordings for 28-days at a time
Watch PS Vue on PS3/PS4 consoles, mobile devices, Fire TV, Roku, and more
Watch a variety of networks – something for the entire family is available
No commitments!
Stream on 5 devices simultaneously!
If you're considering PlayStation Vue, there's an available free 5-day PS Vue trial, you should try!
These are your best options if you want to watch the Monday Night Raw live stream tonight without cable! If you have any questions feel free to leave them in the comments!