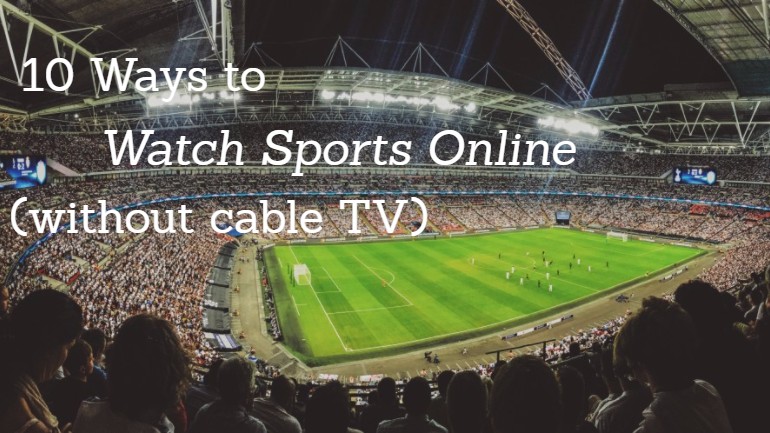 Watching live sports is one of the world's favorite pastimes. Wherever you go in the world, you will find sports fans kicking back with friends and family to enjoy their game of choice. Most people watch on cable TV (and probably pay a small fortune for the privilege), but now, there are ways to watch sports without cable. In fact, there are more ways than ever before to watch sports online!
As technology advances, so do the options available to consumers. When it comes to sports streaming, the trend is no different: a few years ago it was pretty much impossible to find sports streaming services that would allow for streaming live sports. Today, there are tons of options. Today, we'll go over the top 10 ways to watch sports online without cable TV!
If you haven't heard of fuboTV before, it's time to pay attention: this service might just be your ticket to live sports streaming. fuboTV is an online streaming service that gives you access to live TV channels without a cable subscription. The service focuses on live sports, offering 30+ sporting channels amongst its 60+ channel lineup. Here are the basics:
Runs $40 a month, with no contract
Get 60+ channels to watch live (see the fuboTV channel list)
Watch on streaming devices, smartphones, tablets, computers and more
Enjoy live soccer, basketball, football, tennis, golf, college sports and more
Key channels include FS1, FS2, NBCSN, CBSSN, NBA TV, BeIN Sports, FOX Soccer Plus, regional sports networks, and NBC/FOX in some areas
Basically, fuboTV provides a package of channels that includes ~30+ sports channels and ~30+ general channels, for $35 a month, and without a contract. The channel selection is diverse and provides lots of opportunities to watch sports without cable – whatever your sport(s) of preference may be.
DIRECTV NOW is another excellent way to watch sports online, as well as a way to watch your favorite TV shows, news, movies and more. It basically functions as a full-blown cable TV alternative. Unlike fuboTV, the focus of DIRECTV NOW is not necessarily on sports, but rather on providing a wide range of channels for the whole family to enjoy.
Plans from $35 a month
Get 60+ channels in the basic package (up to 120+ available in larger packages)
See the full DIRECTV NOW channels list
No contract required
Stream live sports on ESPN, ESPN2, FS1, FS2, NBCSN, Golf Channel, MLB Network, NBA TV, NHL Network, and more
Watch all these channels LIVE, plus select content on-demand
Watch on your favorite devices (streaming players, mobile devices & more)
Enjoy TV shows & more on FOX News, AMC, HGTV, CNN, TBS, TNT and more
If you're looking to completely replace cable, DIRECTV NOW is a great option. With a variety of plans available and a huge selection of channels, there's truly a selection for the whole family!
Sling TV is another good way to watch sports without cable TV. The service is similar to DIRECTV NOW, and essentially aims to be a cable alternative. There are tons of general-purpose channels as well as sports channels, so there's always something to watch.
Plans from $25 a month
No contract required
Watch 30+ channels in the base package (150+ channels available, see the Sling TV channel list)
Add on more channels for as little as $5 a month
Enjoy streaming live sports on ESPN, ESPN2, ESPN3, TNT, NBA TV, NBCSN, FS1, FS2, NFL Network, and much more
In select areas, enjoy NBC, FOX and regional sports networks
Enjoy other channels like AMC, TBS, CNN, HGTV, Disney Channel and more
Watch on nearly any device
Sling is a super budget-friendly option to watch sports online. It's also very customization, with the ability to expand your channel selection how you want it.
CBS All Access is a unique service that is offered by CBS itself. Unlike the other services on this list, this service is only for one channel: CBS. That said, CBS hosts a TON of sports, as well as some of TV's most popular shows. Also, this service is super affordable!
Just $5.99 a month
No contract required
Provides the CBS live stream in many areas around the US
Provides on-demand access to thousands of episodes of hit CBS shows
Watch live sports that air on CBS – particularly useful for NFL, college football, March Madness, PGA tour, and more
Stream on most devices
CBS is an important network to have access to if you want to watch sports online, and it's also generally a tricky network to get. CBS All Access was originally just a way to watch TV shows online, but now that they've added live streaming in some areas, this was an easy addition to our list of sports streaming services.
Here's an interesting one! You probably know Amazon Prime for its 2-day free shipping, or its on-demand library of TV shows and movies. But did you know that Amazon Prime will be streaming 10 Thursday Night Football games this year? Existing Prime members will get the streams automatically (through Amazon Prime Instant Video), while non-Prime members might want to consider signing up!
$99 per year or as low as $8.99 a month
Gets you 2-day free shipping on Amazon.com
Gets you access to Amazon Instant Video, a massive Netflix-like on-demand library of TV shows and movies
Gets you access to 10 Thursday Night Football live streams
If you don't have Prime, it's definitely worth signing up as the service is packed with benefits. It's not an amazing way to watch sports online, obviously, as the service now only has rights to 10 TNF games (schedule here) but the other benefits make Prime worth having.
Twitter is working hard to become more than just a social network. Last season they hosted NFL games (which are now hosted by Amazon Prime, see above), and this season they will be experimenting with a variety of live sports options. The cool thing about this is that it's completely free – so while it's far from a complete solution to watch sports online, it's hard to complain about something that's free!
Twitter is a free social network
They will stream select live games from WNBA and other leagues
They will host live news/analytical shows for MLB and NFL coverage
They will host pre-game analysis and post-game highlights for NFL games
100% free to use
Again, this is far from a complete sports streaming service, but hey – it's free!
Are you a football fan? If so, you will probably be interested in NFL Game Pass, the official streaming service of the NFL.
Costs $99 per season
No contract required
Watch on-demand replays of all regular season games
Watch select preseason games live
Enjoy a massive library of past season games (including Super Bowls)
Access exclusive condensed replays, unique camera angles and more
See our NFL Game Pass review
Keep in mind that this service is not really for streaming live sports, as it only offers on-demand replays during the regular season. That said, if you don't mind waiting, it's a great way to keep up with your favorite teams.
More of a basketball guy/gal? Maybe NBA League Pass is more your speed. The service lets you purchase access to live and on-demand streaming of a single team's games, or the whole league's games. Local teams may be blacked out, though.
Cost $27-$45 per month, depending on the package
Reduced full-season rates also available
Watch all out-of-market games live
Access on-demand replays
Choose a team to follow or have access to the whole league
NBA League Pass is not available for signup currently, so more details will be announced as we get closer to the 2017/2018 NBA season.
For baseball fans, MLB.TV offers great value. The service provides access to every out-of-season game live or on demand. Local games are blacked out, so MLB.TV is best for fans who don't live near their favorite teams.
Costs $25/month or as low as $60 a year
Single-team and full-league packages available
Watch all out-of-market games live or on demand
Local teams blacked out
Watch on most devices
Again, local blackouts apply, so if you live near your team this may not work for you.
For folks who love the heated action of college sports, CBS' College Sports Live service may be of interest. The service is partnered with specific schools (currently 50+ different colleges and universities) to broadcast that schools games, both in audio and video coverage.
Plans from $9.95 a month
Watch over 10,000 live sports events each season
Access to 50+ schools' sports
Tons of different sports from basketball to football to golf and more
Listen to audio coverage or watch live coverage
Details vary depending on the school
The events that are available for live streaming vary depending on the school and the sport, so it's best to look into the details that interest you during the signup process.
Questions About How to Watch Sports Online?
If you have any questions about how to watch sports without cable, we are all ears. The above list is far from comprehensive, but we believe these options provide the best value to fans.