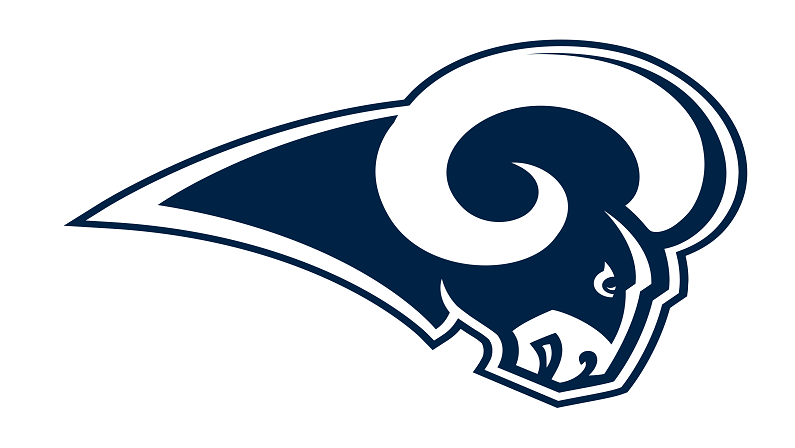 Editor's Note: Want to watch the Rams in the Super Bowl? Check our guide on how to watch the Super Bowl online.
It can be hard being a Los Angeles Rams fan sometimes. While every team has its highs and lows, the Los Angeles Rams have seen a lot of lows in the past. Of course, they've been working to turn that around, so who knows what the future may bring for them. For Rams fans without cable, you might find you're worried about missing out on the games each week. If that's the case, a streaming service should allow you to watch the Rams online without cable without much trouble. In fact, it's pretty simple.
Streaming sports is a little bit different than a standard TV show. While a TV show airs on one network, NFL and other sports often air on multiple networks. So, if you're a Los Angeles Rams fan you'll need access to a variety of channels including CBS, NBC, FOX, and ESPN to watch the whole season without interruption. So, if you're looking for a way to watch the Rams online, here are 5 ways that you can stream the Rams without cable!
1. fuboTV
fuboTV is a sports-centered streaming service. If you are a huge sports fan this is definitely the package for you. While ESPN is not available, you will have over 30 sports channels out of the 80+ available channels. Regional sports channels are available as are international channels. While ESPN is not available, many areas will receive CBS, FOX, and NBC. If you live in an area that doesn't receive FOX or NBC live streams, you will be able to use TV Everywhere apps to watch those channels. In terms of sports, you'll have access to NFL, MLB, soccer, rugby, cycling, Olympic sports, college sports, and more.
80+ channels with over 30+ sports channels (check out the full fuboTV channels list)
Introductory pricing is $40 for the first month – After that you'll pay $45/month
fuboTV is available on Roku, Chromecast, Apple TV, mobile devices, and more
Watch all kinds of sports – NBA, NHL, NFL, MLB, college sports, soccer, and much more
2. Hulu with Live TV
Hulu with Live TV is exactly what it sounds like. You start with the original Hulu on-demand library, which offers thousands of hours of movies and TV shows. You also get a growing library of Hulu original content. The live TV part comes next with over 50 channels of live television. Most areas will have access to some or all local channels. You'll also have ESPN, FOX Sports, NBC Sports, and many other sports and non-sports channels. You can use most streaming services with Hulu Live including Apple TV, Amazon Fire TV, Chromecast, mobile devices, computers, Roku, gaming consoles, and more.
50+ channels for $40/month
Watch local channels, ESPN, USA, TNT, and several other channels
Movie channels are available for an added fee
The complete Hulu on-demand library is part of your package
50-hours of storage space in the cloud DVR
Watch on 2 screens simultaneously
Hulu with Live TV does offer a free one-week trial, and with no commitments, you can watch risk-free and cancel if you're not satisfied!
3. PlayStation Vue
PlayStation Vue started out mainly as a streaming service for PlayStation users, but it has grown to offering service to anyone, regardless of whether you have a PlayStation or not. PS Vue offers multiple package options, which means that there is a package for everyone! The basic package offers a mix of over 50 channels for $45 per month (check out the complete PlayStation Vue channels list). This package includes multiple ESPNs as well as local channels in most areas, and many other channels. You can watch PlayStation Vue on PS3 and PS4 consoles. If you don't have a PlayStation you can use Roku, Chromecast, Fire TV, Apple TV, mobile devices, and more.
Packages start at $45 per month
No contracts – change or cancel your subscription whenever you want
Saved recordings on the cloud-DVR will last for 28-days
Watch on PS3/PS4, Apple TV, Fire TV, Roku, mobile devices, and more
Watch ESPN online, local channels, TNT, USA, AMC, Disney, and many others
If you want to try PlayStation Vue there is a free 5-day trial.
4. YouTube TV
Considering the business that YouTube is in, it's no surprise that they expanded their offerings with YouTube TV. This newer service offers a trendy mobile app and a cloud-DVR with unlimited space. You'll get 50+ channels to start with the option of adding movie channels for a fee. Local channels are available in most areas and you'll also receive ESPN and dozens of other networks.
If you're a fan of Fire TV, you'll be disappointed to learn that YouTube TV and Fire TV are not compatible. Most other streaming devices will work though.
Over 50 channels including local channels, ESPN, and more
$40 per month – add movie channels for a small upcharge
Watch on Apple TV, Roku, Chromecast, and mobile devices
Try YouTube TV free for a week and cancel if you're not satisfied
The cloud-based DVR includes unlimited space
As YouTube TV includes a free trial, this gives you a chance to try the service risk-free!
5. CBS All Access
All of the other streaming services on this list offer a variety of channels, like cable might. CBS All Access is different because it only offers CBS. Currently, over 90% of markets are able to get the CBS live stream and before long it will be available throughout the country regardless of your location. Also included with the live stream is a large on-demand library. Shows tend to arrive within 24-hours after airing live. Naturally, you won't watch all Rams games on CBS, but if you want to watch the ones that air on CBS, this is a good way to do it.
Available for $5.99/month
No contracts or commitments – you are free to cancel whenever you want
90% of markets receive the local CBS live stream
Over 10,000 episodes in the on-demand library
Exclusive CBS All Access content is available
Check out our CBS All Access review for more info
You won't need CBS to watch all the Rams games this season, but you'd miss out on some games if you don't have access to the network. Keep in mind, you can try CBS All Access for a week free, before you pay anything for your subscription.
Any of these streaming services will allow you to watch the Rams without cable. Sports fans around the country can get access to their favorite teams without dealing with an expensive cable contract!