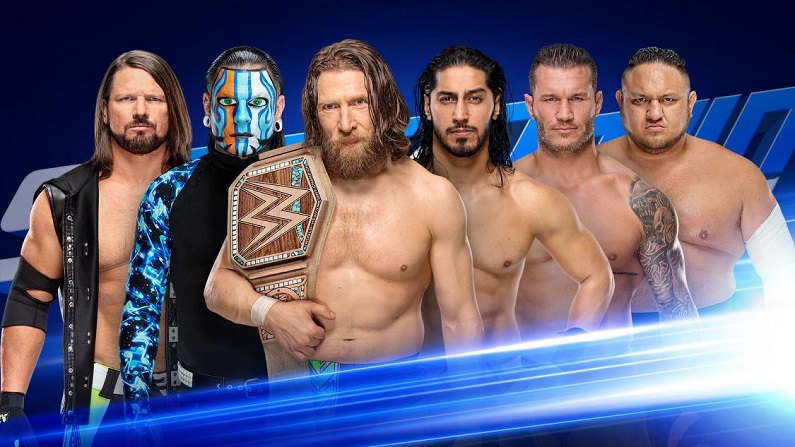 When WWE Smackdown airs tonight it will be from Toledo, Ohio. One of the main matches tonight is a gauntlet match between Daniel Bryan, Mustafa Ali, Jeff Hardy, Randy Orton, Samoa Joe, and AJ Styles. The results of the match will determine which pod door will open last in the WWE title match during Elimination Chamber. While cable is one way to watch the WWE Smackdown live stream on 2/12/19, there are other options. In fact, with the following services you can watch the Smackdown live stream for free tonight or on demand starting Wednesday morning! The show starts tonight at 8 p.m. ET on USA.
1. fuboTV
fuboTV has more sports content than you'll find in other streaming services. 80+ channels start you off and almost half of those channels offer sports content. Over 30 channels are dedicated to sports. There are also a number of channels, including USA, TNT, and others. You can find out what's available in our fuboTV channels list. Each package offers an on-demand library and access to USA Now and other TV Everywhere apps. This gives you the choice of watching the Smackdown live stream on the network app or through fuboTV's interface. You should also be able to watch a Smackdown replay starting Wednesday. Whichever option you choose, you should be able to stream on most devices including Fire TV, Chromecast, and mobile devices. Package prices start at $45 a month, but 30-day introductory pricing gives you a small discount for the first month.
Watch 80+ channels including 30+ sports channels
A fuboTV seven-day free trial is available – so you can watch the WWE Smackdown on 2/12/19 streaming FREE!
The first month is just $40
After introductory pricing, you'll pay $45/month with no contracts
Watch Smackdown online with Apple TV, Roku, mobile devices, Fire TV, and more
TV Everywhere apps can be used with fuboTV
An on-demand library and cloud-DVR are also included
If you're on the fence, you can sign up for the fuboTV free weeklong trial, which will give you a chance to test things out while you watch the WWE Smackdown 2/12/19 live stream online free!
2. Hulu with Live TV
Hulu with Live TV gives you the best of both worlds when it comes to streaming TV and movies. Most people are familiar with Hulu's on-demand service. They offer movies, next day TV episodes, and original content that could rival most networks. Its major limitation was not offering live TV, but now there's an option to add 50+ channels to your Hulu package. You'll pay $40 per month and get live TV and Hulu on-demand. Your package will include USA, Food Network, ESPN, TNT, TBS, and many other channels. Even local channels are included in most areas. You can stream your favorite shows on most devices including mobile devices, Apple TV, Roku, Fire TV, and Chromecast.
$40/month for Hulu on-demand plus over 50+ live channels
Channels include USA, ESPN, local channels, and more
Several upgrades are available ranging from optional movie channels to the ability to stream on unlimited devices simultaneously
The cloud-DVR offers 50-hours of storage unless you upgrade for more
Watch Hulu Live on Roku, Chromecast, mobile devices, gaming consoles, smart TVs, computers, Apple TV, Fire TV, and other devices
Don't forget to claim your free one-week trial. There are no contracts with Hulu Live, so you can cancel when you want without any hassles.
3. Sling TV
Sling TV is one of the cheapest options in streaming. You can choose from two packages of around 30 channels for $25 a month. You'll want Sling Blue to get USA and the Smackdown 2/12/19 live stream. This package also includes popular networks like AMC, BBC America, TNT, and even some local access depending on your location. A complete look at Sling TV can be found in our Sling TV review. While you don't get a lot of channels initially, you can build your package up with bundle packages. This allows you to decide how much you're going to spend, and you'll pay for what you want instead of getting a bunch of channels you're not going to watch.  You can stream Sling TV on most major streaming and mobile devices.
Sling Blue is $25/month – Get 7-days free
Sling Blue is necessary to watch WWE Smackdown on USA
30+ channels from AMC to Syfy are included
An on-demand library is included in each package
TV Everywhere apps can also be used to watch content through network apps
Watch the Smackdown live stream on Chromecast, Roku, Fire TV, Apple TV, mobile devices, and more
Sling TV provides a 7-day free trial so that viewers have a chance to try before they buy.
4. DIRECTV NOW
DIRECTV NOW has some of the largest package options in streaming. Packages start with 65+ channels and a starting price of $40 a month. There are other packages with 80+ or even 125+ channels. Feel free to pick whichever package you like because they all offer USA. Other channels you might find include ESPN, Syfy, TNT, AMC, TBS, A&E, and local channels. Our DIRECTV NOW channels list has more information on channel availability. Package features include an on-demand library with content from a variety of networks and a cloud-based DVR offering limited space. You can stream your favorites on DIRECTV NOW using Apple TV, Xbox, Roku, Chromecast, mobile devices, computers, and more! If you're still unsure of whether DIRECTV NOW is right for you, try signing up for the free one-week DIRECTV NOW trial!
Larger packages offering anywhere from 65+ to 125+ channels
Take your pick of the four package options – they all offer USA and no contracts are required
Watch on computers, Fire TV, gaming consoles, mobile devices, Roku, Chromecast, Apple TV, and others
Packages from $40 a month
Standard features like an on-demand library and cloud-DVR are included
5. PlayStation Vue
PlayStation Vue is another way to watch the WWE Smackdown 2/12/19 live stream. All of the four packages offer USA, so you have some options. The basic package is available for $45 a month and includes 50+ channels. That said, larger options are available at a higher price if you want more channels. TV Everywhere apps can be used with each package. You'll also find content in the on-demand library. A cloud-DVR is included, as well. You'll be able to record and store content for up to 28-days. Streaming PS Vue is easy. You can use a PS3 or PS4 console or if you don't own a PlayStation you can use Roku, Chromecast, Apple TV, Fire TV, or a mobile device.
Packages start $45 a month
You'll find USA in every package – check out PlayStation Vue channels list to learn more
Store recordings on the cloud-DVR for up to 28-days
Watch on PS3/PS4 consoles, mobile devices, Chromecast, Apple TV, Fire TV, and Roku
No contracts!
Stream on 5 devices simultaneously!
There's even a free 5-day PS Vue trial, which means you can try the service risk-free before you pay a dime.
As you can see, watching the WWE Smackdown 2/12/19 live stream without cable should be easy! However, if you have any questions we're here to help, so be sure to add them to the comments!